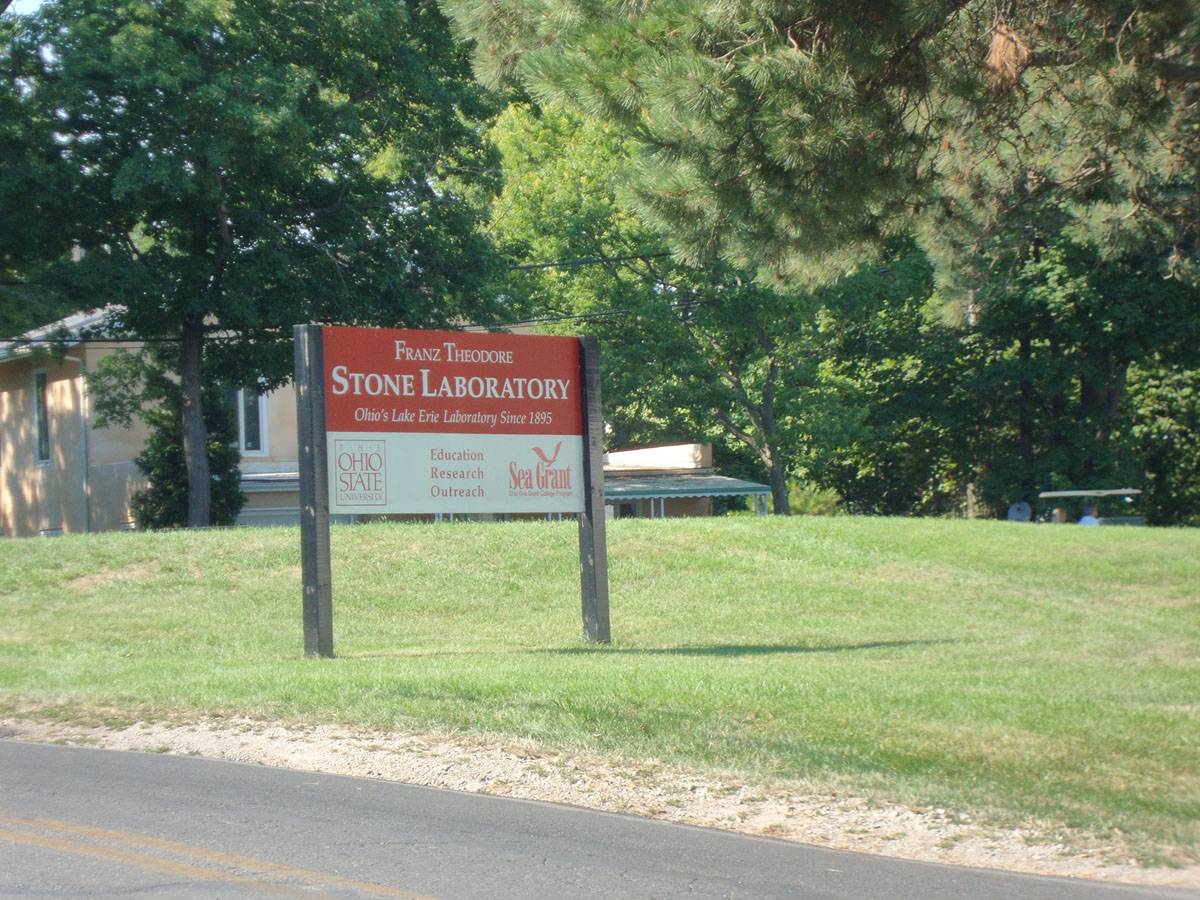 Ohio State Stone Labs on Put-In-Bay is a fresh water research facility.  For over 100 years they have been conducting testing and observations.  Their efforts have contributed to the health of the lake.  Stone Labs is a great asset.
History of Ohio State Stone Labs
This location first became a freshwater field station in 1895.  Then, in 1925 The Ohio State University began to run the facility.  In 1864 construction was began by Civil War financier Jay Cooke. Additionally, he built what became known as Cooke Castle.  Both of these building reside on Gibraltar Island.  This small island is located north of the downtown Put-In-Bay harbor.  In addition to research, Stone Lab is integral in outreach programs.  Thousands of students have passed through.  Overall, they gained love for the sciences.  Also, Ohio State hosts college level courses for students.  This gives those with relevant majors a chance for practical experience.  Also, they can contribute to research.
Today, researches from around the country utilize the lab.  Here, they conduct research into topics like algae blooms and invasive species.  OSU students can work alongside the scientists for an unparalleled learning experience.
For most that visit Put-In-Bay, the Aquatic Center is more accessible.  Here, guests can see live shows about Lake Erie.  Also, they can learn about the buildings former use.  The building was used as a fish hatchery.  Once, workers hatched thousands of fish to be put into the lake.   Today, visitors can borrow fishing poles and fish of the dock.  Fortunately, no fishing licenses are required for this activity.  The Aquatic Center is part of the OSU Lake Erie Island campus.  So, be sure to check it out.
The island is lucky to have Ohio State University.  Their efforts will preserve the lake for the future.  Also, the outreach is an excellent resource for the community.  Overall, the message is Go Bucks!
Testimonials
Arch G: "In my experience, the Stone Lab is only open to the general public on one weekend per year (weekend after Labor Day). The remainder of the time it is providing college classes and conducting research as a part of The Ohio State University's mission. There are really a myriad of reasons to visit. First is obviously the lab; it does fascinating research on Lake Erie. Gibraltar Island (home of Stone Lab), is also the home of Cooke Castle that has an interesting connection to the Civil War. There's even a glacial groove to add one final point of interest. It is always worthwhile to make arrangements to be at Put-In-Bay on the weekend when Stone Lab is open."
Adela H: "Took my class to the Stone Lab last fall. I teach at an all girls public school in Cleveland. Many of my girls never had the experience to be on a boat or travel to Put-in-Bay. My girls fell in love with all the activities about the Lake and grew an understanding in preserving all that is involved with Lake Erie. My girls and I are truly in awe of the students that work and study at Stone lab. Thank you again for the opportunity to take my students up there!"
Mike M: "My wife and I were part of a group that participated in the Island Hop – a weekend to volunteer the lab with various projects, but also assisted in several projects in the greater Put-in-Bay community."