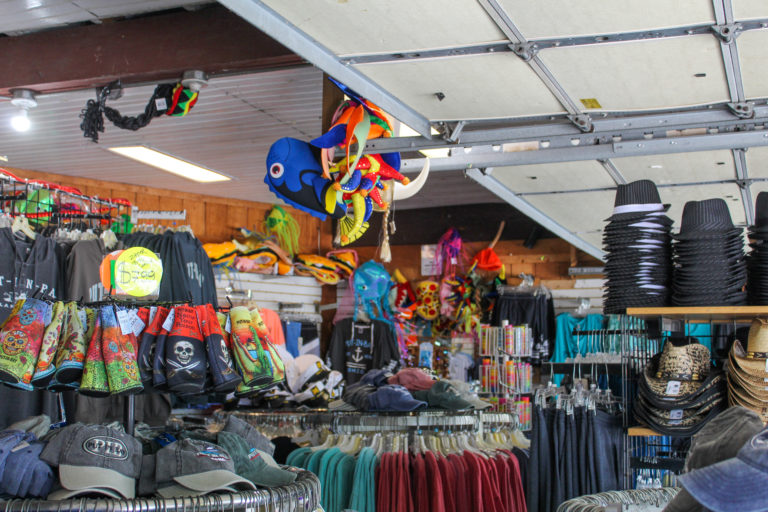 The Maple Cottage Shirt Tales has wonderful selection of apparel for the whole family.  Wearing a shirt bearing Put-in-Bay is a sure conversation starter.  To really set yourself apart from the crowd, pick up one of their fun hats.  Be sure to stop by and check out their sales.  Oftentimes, great deals can be found from the sidewalk racks.
Maple Cottage Shirt Tales Location
The downtown Delaware Avenue strip is home to this fun sales store.  From here, shoppers are steps away from the Roundhouse Bar, Boathouse Grill and many more great Put-in-Bay Bars.  Also, the fabulous DeRivera Park is just across the street.  So, send the kids to play at the park while shopping for that perfect Put-in-Bay memento.
A list of places to shop for souvenirs:
Perry's Cave and Family Fun Center
The Country House
The Carriage House
Perry's Cave Gift Shop
The Bucket Shop at the Roundhouse Bar
DeRivera Park
South Bass Island Clothing stores:
Lovella Fashion
Put in Bay T-shirt Shop
Put-in-Bay surf shop
Mariners Locker
Sunstoppers
Food related near Maple Cottage Shirt Tales:
Mr. Ed's Bar
Frosty Bar
The Candy Bar
Dj's Ice Cream
Chocolate Cafe
Miscellaneous:
The Butterfly House
Wharfside
Local History
Harsh lake pollution made some people steer clear of the Lake Erie Islands, but university students and adolescents were steady coming. In the late 1970s, the water had shown improvement and proved suitable and the fishing sport became a strong attraction. The Lake Erie Islands have always been a big attraction for fishing fans and will continue to hold the reputation for being one of the best places for high quality fishing game. Put-in-Bay attracts many because of its efficient location near major areas. Whether you're on a daily trip or staying for the summer, visitors by a Put-in-Bay ferry, car, camper, on boat, or even by plane can easily enjoy themselves with all of the sights and attractions Put-in-Bay has to offer.