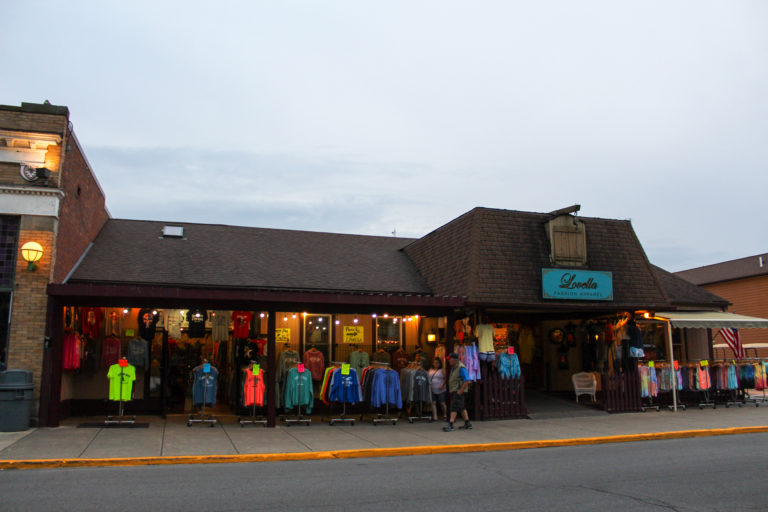 Lovellas is located on Delaware Ave next to the Edgewater Hotel downtown Put-in-Bay.  Lovella features a wide selection of high end sunglasses, bathing suits and ultra chic clothing. Known for some of the best sales at Put-in-bay, this is one store you need to place on your "must do" shopping list. Guys and Girls alike will find everyday fashion clothing along with Put in Bay branded apparel. In addition, accessories such as sunglasses, swimwear, shoes, belts, handbags, jewelry, watches, sundresses, and more add to your choices.  The owners, Danny and Tamar, are always there to help with your choices. In front of the store along Delaware Ave, you will always find sales racks and discount items.
Lovella Sunglass B
rands
FOR HIM- Prada, Carrera, Gucci, Christian Dior, RayBan, and Giorgio Armani.
FOR HER- Gucci, Christian Dior, Versace, Robert Cavalli, Juicy Couture, and Giorgio Armani.
New Arrivals
Check out our new arrivals at http://www.lovellafashion.com/index.php/top-menu/women/new-arrivals
Testimonials
Brittany L: "This was a very fun place to shop and get a nice souvenir shirt from. Tamar was a lovely sales associate! I appreciate her help and time very much."
Sara: "The only time I get compliments on ANYTHING I wear, it's from Lovella. I even named my daughter after the store because they mean so much to me, and the clothing, the earrings, and the sunglasses make me feel so confident. Everything! THE BEST SHOP EVER! And, the clothes hold up even if you don't wash them correctly. I still wear stuff from over ten years ago."
Angela B: "Every time I come back to Put in Bay, it is a MUST that I visit Lovella! The clothes are top-shelf boutique quality, with decent prices. If you are in search for something that will stand out and last forever, Lovella is the place. Thank you, Ladies, for making me look beautiful and memorable. I'll be back again, for sure!"
If you need more Put in Bay Shopping, you can view more Put-in-bay shopping options.