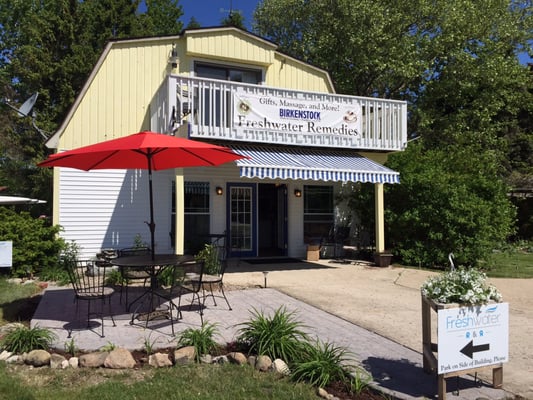 Freshwater Remedies offers all natural products aimed at improving one's wellness.  These products include organic skin and hair care products lovingly made by the owner.  Also, browse among the fine selection of essential oils.  No matter the choice, shoppers can rest assured that every item has been selected carefully.  So, stop in and boost your well-being today!  This is among the most unique Put-in-Bay Shopping experiences.
Freshwater Remedies Location
This shop is located at the Freshwater Retreat on Langram Road.  Here, guests can enjoy a comfortable stay with exceptional hosts.  Also, they offer great services like a masseuse to increase the relaxation.  The Put-in-Bay Condos are located a short distance from here.  The condos are the premier lodging choice for groups.  Here, stunning water front condos are available for rent.
Testimonials
Kim A: "This was our first time to the island and the pictures were spot on. I was so excited and pleased with everything from stepping out of our car and meeting Christine to her showing us around. I could not stop saying how adorable it was. The steam/rain shower was "da bomb!" Charlie the cat was a great addition to the whole place. I know we will be back and maybe before the summer is done. Our 29th Anniversary getaway weekend was perfect from the gorgeous weather to the comfy, warm welcome at Freshwater Retreat & Remedies."
Heather K: "Christie and Charlie the cat made us feel so at home! We are heading back to the mainland with a new outlook as well as new friends. This was a truly restorative weekend for us. Comfy beds, amazing products for sale in the Shoppe, and a light organic breakfast which we really appreciated each morning. We can't wait to come back – highly recommend this B&B if you need to unplug and recharge!"
Jenny B: "Freshwater Retreat is truly THE place to get some much needed R&R. The director/owner, Christine, has created a haven on this island. Hammocks, porch swings, a wonderful outdoor hot tub, luxurious bedding , and all natural, organic products are all part of the experience. The new bathrooms are amazing."
Margot P: "Such a fun and relaxing weekend in the fall! What a beautiful location. Charlie the Cat was loving and I spent so much time cuddling with him! Christie is an amazing hostess, a fifth generation islander, who owns an organic gift shop on site (I bought a few things for myself)! Coming here was like I removed myself from the stressors of my hectic life with work, kids and hockey, etc. and I was able to relax for the first time in months. The bed was amazingly comfortable and the details were spot on! Clean! Coming back again for sure!"
Debra U: "Freshwater Retreat is lovely! Christie is a breath of fresh air as your hostess at this beautiful getaway. We stayed one evening at the charming retreat. The rooms are beautiful and the beds are so comfortable! This beautiful, clean, and quiet B&B will help you relax and enjoy your stay on the island. We will visit Freshwater next time we visit Put in Bay! Thanks, Christie, for your warmth and kindness at Freshwater Retreat!"