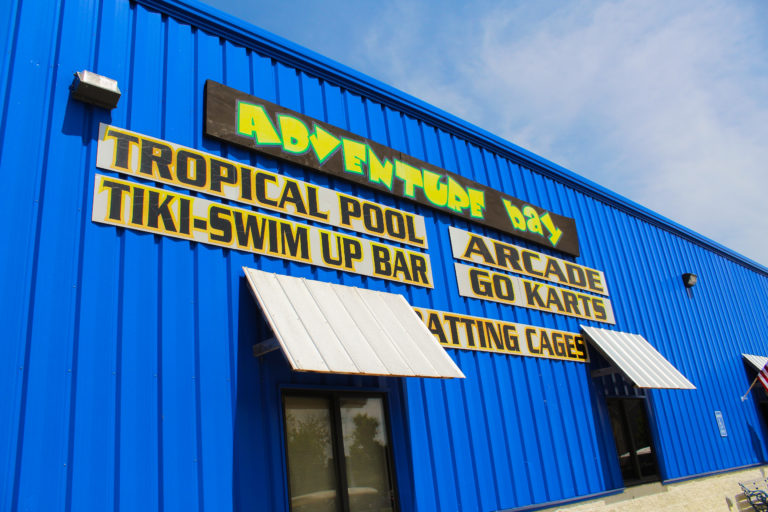 Adventure Bay Amusement Park has options for the whole family.  From a large arcade to a go cart track, there is fun around every corner.  Bring the family for a memorable time.
Adventure Bay Location
This family fun center is located just outside the downtown Put-In-Bay area on Main St.  Nearby, the Put-In-Bay Post Office and Island Hardware are the closest neighbors.  Also, the Put-In-Bay Resort and Conference Center is a short stroll away.
Adventure Bay Attractions
One of the most striking features of Adventure Bay is the large pool.  The pool encompasses over 9,000 square feet.  Also, the pool area is tastefully decorated with a tropical theme.  Real palm trees sway in the breeze at Adventure Bay.  Also, there are private cabanas for rent.  Here, guests can reserve there very own piece of the pool deck.  Feel special with your own server, bottle service and place to hang.  Cabanas are the way to go!  Furthermore, when hunger strikes after all the fun, they have a full menu.  Options include pizzas, salads and paninis.  Furthermore, their menu options change each season.  So, be sure to look for their newest tasty offerings.
Inside, the large arcade greets guests.  Here, the latest and greatest games are ready to challenge the best gamers.  Win tickets at the games to redeem for great prizes.  Games range from tabletop games like Air Hockey to traditional games like Golden Tee Golf.  Regardless, there is much fun to be had.
Another great feature is the go cart track.  Grab some friends and challenge them to this great course.  The track utilizes electric carts, so the fun can be had minus the noise.
So, during your trip to Put-In-Bay, be sure to consider Adventure Bay for a fun respite.  You and yours will surely find some fun activities.  Furthermore, your competitiveness  can come to light with one of the many head to head games.  Come and live the adventure!
Testimonials
Karen W: "It was a great free place to cool off. We were there on a Thursday. It is definitely more adult oriented, but I did see children there. We really enjoyed ourselves and the drinks were yummy. This place is also called the Sand Bar. A couple there said it was one of the cleanest pools in town. Will definitely be back!"
Taylor A: "The Sand Bar is an amazing place. Feels like you are truly on a tropical island. The pool is huge & clean with a swim up bar. Not your typical swim up bar/tiki bar at Put in Bay. We played volleyball & cornhole and drank a lot. The music wasn't too loud like other pools. Truly a really fun place!! My friends & I are already planning our next trip. Thanks for the great time & good service!!"
Nancy M: "Tiki bar and swim up pool were fun! There are things to do for all ages! The bartenders were great, but the mechanical bull was down. We even sat at the bar while a storm rolled through! It's a great spot, not as crowded as the other swim up bars on the weekend and the crowd is more laid back."
April J: "Love coming here and hanging out on the hot days! Friendly staff! Always have fun coming here, and very pleased to say that everyone else hanging out there, always have great attitudes! Love the volleyball, and swim up (dance on) bar!"
After a long day of racing golf carts and enjoying some pool time at Adventure Bay, some rest will be in order. Reserving a Put-in-Bay Cabin is a great respite.  Here, the comforts of home beckon guests to relax and unwind.  So, set the watches to island time and watch the worries fade away. Besides, with so much to do on the island, you may want to spend and extra night so you can get the full island experience! Make sure you book fast because weekends tend to fill up fast in the summer. The sooner you book, the sooner you can get on a Put in Bay ferry!