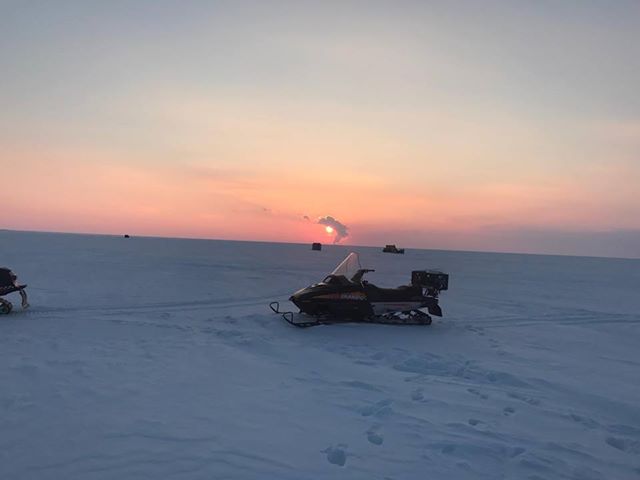 Ice Rescue at Catawba Island State Park
When the summer season of Put-in-Bay comes to an end and the lake begins to freeze, ice fishermen are ready to go.  For many years, the ice fishermen have enjoyed the frozen winter wonderland while in their ice shanties on the hunt for fresh bass, perch and walleye.
Standing on a frozen lake is never going to be completely safe.  On March 9th, 2019 roughly 100 ice fishermen found themselves stranded as a large chunk of ice separated itself form the mainland.  The US Coast Guard, Put-in-Bay Volunteer Fire Department, Ottawa County Sheriff's Department, Catawba Island Volunteer Fire Department and Police, and North Central EMS all acted as first responders to the emergency.
Some of the Stranded Attempted to Self-Rescue
On-site witnesses came forward saying that some of the people stranded took matters into their own hands by swimming back to either solid ice or land.  At 32 degrees, hypothermia can happen just 15 minutes of being in the water.  The Ohio Department of Natural Resources notified the Coast Guard stating that there was between 30 and 40 people in the lake swimming to safety.
Coast Guard Acts Quickly
Upon receiving the news of the incident, the Coast Guard's District 9 Command Center immediately sent 4 helicopters and two 20-foot airboats to the scene.  The Coast Guard was joined by the Catawba Island and Put-in-Bay Volunteer Fire Department and Southshore Towing who also has send multiple airboats to assist.  Reports state that some were able to safely walk to a large piece of ice that had yet broken away from the mainland. The fishermen were loaded up into multiple rescue airboats while helicopter crews rescued any remaining individuals.
The Put-in-Bay Volunteer Fire Department Aids in The Rescue of 15 People
Put-in-Bay is aware that ice fishing is the main attraction during the winter months. The Volunteer Fire Department at Put in Bay trains a few times a year for incidents such as the ice rescue mission.  According to Fire Department Assistant Chief Doug Wilhelm stated that on March 9th the volunteer first responders were able to rescue 15 stranded fishermen in their airboat!
Fortunately, no injuries were reported from the ice rescue at Catawba Island State Park, and everyone got home safe that day.  Following the incident, the Coast Guard warned the public no to go onto the ice for the rest of the winter season.  With temperatures rising and Spring on the horizon, ice thickness became nearly impossible to determine.  On the bright side, there were no injuries or casualties thanks to the great first responders in the area!
Thanks for reading our blog! For any lodging inquiries or general questions please click here for more information. If you wish to book any lodging directly, or speak on the phone with one our representatives, give us a call at 216-898-9951.