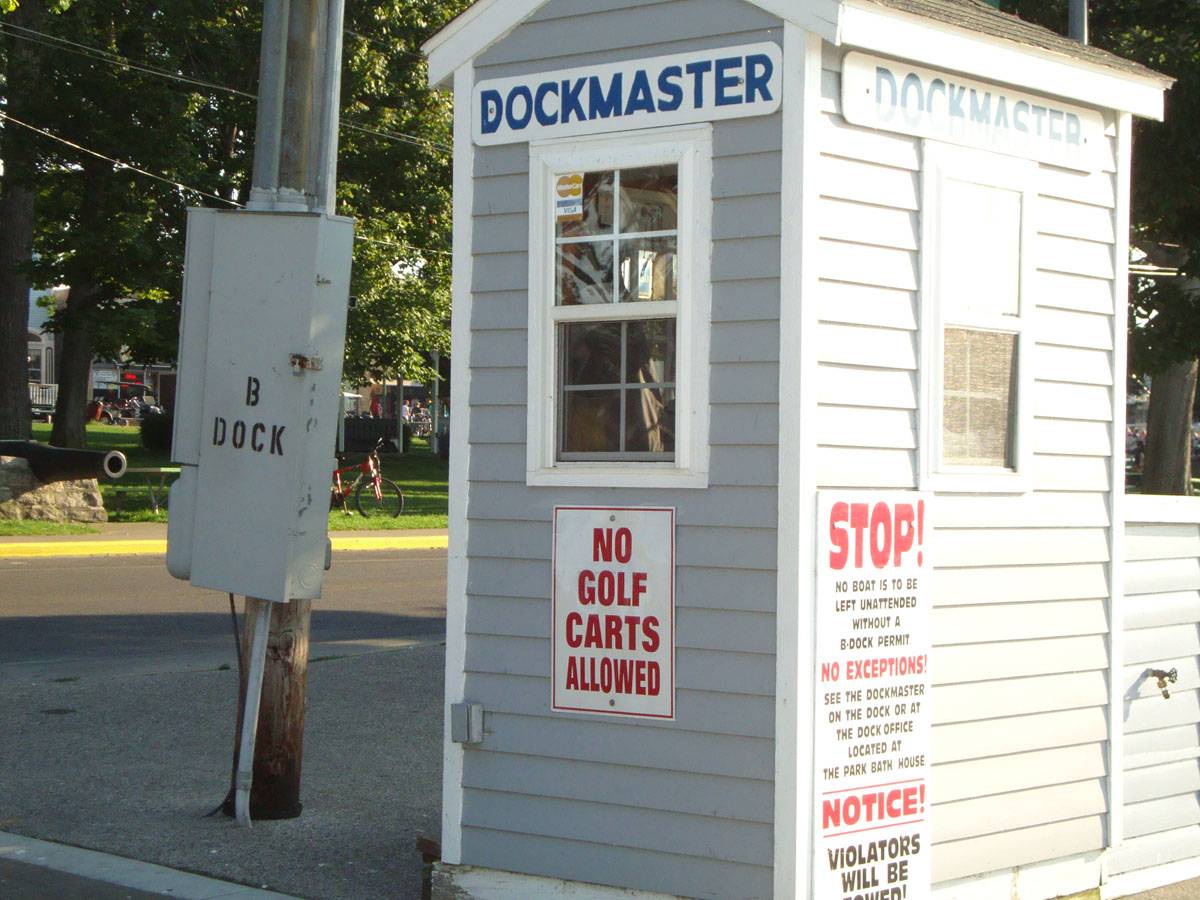 DeRivera Park B Dock is the heart of the downtown Put-in-Bay docks.  The Village of Put-in-Bay operates docks A and C on either side of this dock.  Here, boaters can dock for the day or overnight.
DeRivera Park B Dock Location
The location of B dock is nothing short of exceptional.  From this location, the majority of the Put-in-Bay Restaurants, Attractions and Shopping choices.  Furthermore, the Boardwalk Restaurant and Keys Restaurant are closest to B Dock.  Also, the beautiful DeRivera Park is just across the street.  Here, boaters can clean up at the bath house.  Inside, there is a restroom facility, showers and lockers available for rent.  Additionally, the park offers a great picnic area.  There are multiple tables and built in grills.  So, just bring the charcoal and meat!  Additionally, there are great play areas in the park.  This includes Will's Playground. This play area is specially designed to accommodate all children.  So, those with physical limitations can still enjoy the space.
Boaters can enjoy additional features on the dock.  Full service power, water and high speed internet make this like a second home.  Also, the helpful dock hands are ready to assist in docking and launching.  Below is the most current rates.
DeRivera Park B Dock Rates (Summer Season)
Daily Approximately 90 cents per foot
Overnight $1.85 per foot for boats under 40 feet
Overnight $2.10 per foot for boats over 40 feet
Opting to stay overnight results in daily fees applying to total rate.
DeRivera Park B Dock Rates (Off Season)
Weekend Overnight $1.75 per foot
Weekday Overnight $1.00 per foot
Ask for daily special rates from dock master.
So, where does this money go? Monies collected from B Dock are the sole funding for the DeRivera Trust.  Furthermore, these funds pay for the employees, upkeep and all related costs.  So, boaters help to keep this beautiful green space functioning.  So, support a worthy cause by dropping anchor at B Dock!


Testimonials
Robert D: "Just wanted to give a big "Thank you" to everyone involved in my engine repair this weekend on B Dock. A water pump failure on the starboard engine was the issue. Mark, Artie, Jeremy, Alex, Dale and Matt. Without their tools and knowledge the repair would have never happened. And a special "Thank You" to John the DeRivera Park director / B Dock, dock master who not only drove around the island looking for a specific tool, found it and drove me to the location, but also then came back and picked me up. All this happened during one of the busiest weekends of the year. I'm forever in your debt.GREAT dock and GREAT people!"
Cindy D: "Another great boating season and again B dock is and was the best place to be. John, Tom, Jordan York and Jackie, Tom and I would like to thank you for another great year. This year especially proved interesting and put all of you to the test of how fast you can get a boat off the wall with having to move 3 boats out of the way first. Record time for sure. I didn't see it because I was a little preoccupied, but I have been told many times from many people how awesome all of you are. So to our B dock family thank you so much for doing what you do best, when we needed you the most. And for an update all is clear Dr. says my heart is good. So yep this Canadian will be back to bug you next year and for many years to come. Thanks from Tom and Cindy 'Just Add Summer'."
Donna S: "Thanks for a great week. The crew of B Dock is outstanding. It was a crazy stressful week and weekend and you all handled it with smiles in your faces"