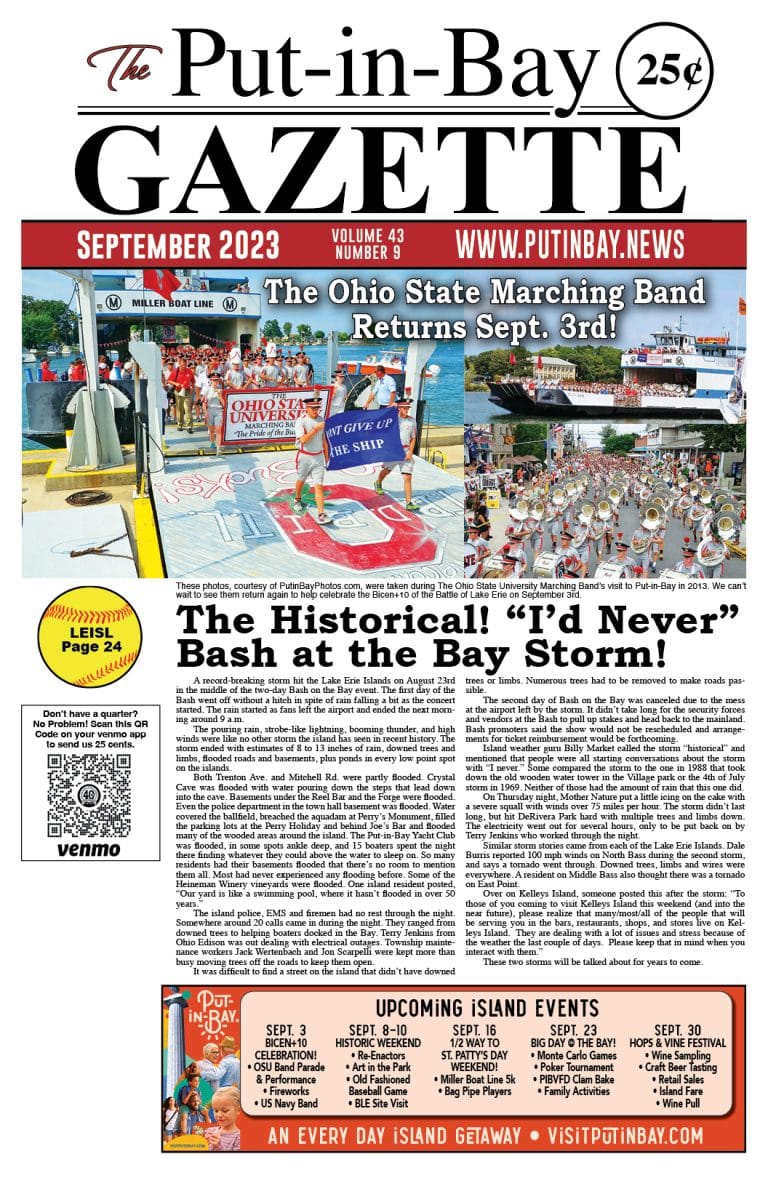 putinbayonline.com is proud to present the Put-in-Bay Gazette's "This & That". For the best South Bass Island journalism, visit putinbay.news and subscribe to the Gazette today!
Of Soap Operas, GFR and SOFTBALL:
A Look at the Lake Erie Islands Softball League (August 2023) By Matt Amsden
Summer is passing. "Like sand through the hourglass, these are the days of our lives" (best line in soap opera history). But this ain't no phony-baloney TV drama, this is SOFTBALL. Shall we begin?
SUNDAY, JULY 30TH
When weather gets in your way, retreat and wait. That's what LEISL did for this game between Joe's Bar and Boardwalk, originally started on June 25 and suspended when wind and rain hit the island like Jack Tatum of the Oakland Raiders.
So play began where it left off, in the top of the third inning with Joe's due to bat and trailing, 14-5.
Joe's right fielder NICK PETTENSKI singled and scored as Joe's put two runs on the board in the third. But as they so often do, Boardwalk scored a pair of its own. The score stood 16-7 entering the fourth.
Joe's drew another deuce, scoring twice as NASJIER "NAS" GRAZA and NOAH "THEO" THEODORE both rolled home, making it 16-9. Then Boardwalk got out the whipping stick.
The Lobsterheads scored five in the bottom of the fourth to pull away. RON RIVERA, DAVID HILL, BRETT WILLIAMS, ZACH KOWALSKI and MIKE MURPHY all came trotting home, and as the game entered the fifth, Boardwalk led, 21-9.
What can you say about Boardwalk? Uhhhhhh…they're good! They won four straight league titles from 2018 to 2021, and despite roster turnover, always seem to hang around the top of the standings. They won this one, 24-13.
And on we go to the nightcap, where two Cinderella teams awaited their glass slipper at the prince's ball. Crew's Nest and Topsy Turvey met in a game originally rained out in June.
This game drew lots of smiles from fans and players alike. Both teams have struggled season-long, often falling just short in a league bulging with talent. Who would win it?
Put-In-Bay Class of 2022 graduate JACOB KING kicked off the scoring as he singled and scored in the first, staking Crew's Nest to a 1-0 lead.
But ELIZABETH "BEAZ" FAZEKAS and BILL SWEENEY came home to score in Topsy's half of the first, and with one inning in the books, Topsy led, 2-1.
KA-BOOM went Crew's Nest in the second, pouring seven runs home as they batted around, spinning the scoreboard to an 8-2 lead. MATT FUCHS and JACOB KING led the scoring parade, and Topsy found itself in a hole.
Topsy climbed out a bit, scoring twice in the bottom of the second. MATTY VARBROKER and JUAN GUTIERREZ both came across the plate, and Crew's Nest's lead shrank to 8-4.
But Crew's stayed throttle-on, picking up two more in the third as catcher SAVION BERNARD and MATT FUCHS scored. Crew's Nest led, 10-4, after Topsy retired quietly in the third.
Smelling victory, Crew's Nest piled on five more runs in the fourth, when BERNARD and KING, each of whom scored three runs in the game, came shuffling home, and Crew's Nest led, 15-4.
TOBY COMMISKEY and LOGAN KUCZKOWSKI scored for Topsy in the fifth, making it 15-6. But Topsy would score only twice more, and fall, 15-8. Cinderella Crew's Nest had its glass slipper.
MONDAY, JULY 31ST
There's a lesson to be learned in tonight's games. No matter how flashy some of the newcomer teams may be, never EVER overlook a reigning champion on the eve of the playoffs.
Kelleys Island, which won the 2022 league title in convincing fashion, played a doubleheader away from its home field against two very good opponents. Could it survive with the playoffs only days away?
Mojito Bay, which beat Kelleys with a walk-off homer on July 17, had first crack at the '22 champs on this final night of the regular season. Could Mojito knock off the guys in green for a second time in two weeks?
TREVOR BURTCH homered for Kelleys in the first inning, and Kelleys led, 1-0. But TYLER WEBB doubled for Mojito's in the bottom of the first, and scored on KURT BETHARD's single to tie it, 1-1.
DARRIN MOJOY walked to start the second for Kelleys, and scored when his brother, NATHAN MOJOY, doubled, staking Kelleys to a 2-1 lead.
In the third, it happened. You knew one team would explode on this warm, sunny evening, scoring runs in droves. Kelleys went off like a Fourth of July fireworks display, scoring 11 runs to put the game away.
Kelleys right fielder OWEN BURNETT did the heavy damage, sending a homer deep into the right-field woods, and Kelleys players were parading around the bases like a green blur. When the dust cleared, Kelleys led, 13-1.
Mojito's plated three runs in the fourth, but fell to Kelleys, 21-5. Kelleys had passed its first audition of the night and faced House in the nightcap.
The second batter of the game, TREVOR BURTCH, walked and scored on HAYDEN HOFFMAN's double, and Kelleys was off and running with a 1-0 lead in the first. But House came to play, not pay homage to the reigning champs, and scored five in the home half of the first, making it 5-1. DEVON DOHANOS brought the heavy lumber for House, sending a three-run homer into the right-field trees, and House was jumping (literally).
Pitchers KEITH MORELAND for Kelleys and MASON HART for House kept things quiet in the middle innings, dotting the strike zone and keeping hitters silenced. In the top of the fifth, Kelleys scored three as BURTCH, BURNETT and DARRIN MOJOY all rolled home, and Kelleys regained the lead, 6-5. But House scored twice to close the fifth and led it, 7-6, entering the sixth.
But champs are like ticking time bombs, always set to detonate. Kelleys scored four in the sixth, then six in the seventh to win it. TREVOR BURTCH hit a two-run homer to cap it in the seventh, and Kelleys won, 16-9.
With the evening light fading, the 2023 regular season came to its end. In only two days' time, the playoffs would begin, and oy, what a tale they would tell…
WEDNESDAY, AUGUST 2ND
Appalachian State. Buster Douglas. The 1960 Pittsburgh Pirates. In America, the ultimate comeback-kids vs. Britain in 1776, there is great love for the underdog. Say hello to Crew's Nest.
Modest Crew's Nest opened the 2023 playoffs on this night in very un-mild fashion. Earning but one regular-season victory, the Crew faced Topsy Turvey for the right to advance and play top-seeded Blue Marlin in round two. Is upset brewing?
I don't know, but something's brewing, that's for sure. Ask 2023 Defensive Player of the Year, SOPHIA PRESSLER, she'll tell you. Something is happening with Crew's Nest.
PRESSLER, who fell a triple short of hitting for the cycle on playoff opening night, led Crew's Nest to a 23-2 win over Topsy. "Wow" is spelled with two w's.
Crew's Nest's box score looked like an argyle sweater with so many filled-in diamonds, indicating run after run. After putting four runs on the board in the first, Crew's Nest went off for six runs in the second, when PRESSLER cleared the bases with an inside-the-park home run. The home-plate umpire, barely capable of walking across a room, marveled as PRESSLER turned on an inside pitch and pounded it to right field, and sprinted around the bases. Anybody got a stopwatch?
And as if the second wasn't enough, the Crew exploded for 10 more runs in the fourth to seal the game. They batted around and finished the game in under an hour in a head-turning performance. Somebody put Blue Marlin on notice.
And Crew's Nest's victory only set the table for a classic second game. Let me introduce the combatants: Mojito Bay and House.
Two good teams who were involved in some of the league's best regular-season games. And after this night, one of them would be eliminated from the playoffs. Who would advance and who would bow out?
Mojito Bay, the only team to beat Blue Marlin in the regular season, opened the scoring in the first with three runs, as BRANDEN ALLEN, TYLER WEBB and DANIEL EVANS all trotted home. Mojito led, 3-0.
When House went quietly in the bottom of the first, it felt like Mojito's night. But summer evenings are full of surprises.
Mojito scored twice in the second, as JOHNNY TALAMANTES and NOAH KNEISLEY rolled home, and suddenly Mojito led, 5-0. Then the sleeping giant began to awaken.
House answered with four runs in the bottom of the second as DEVON DOHANOS, KEVIN "BUBBA" BAUMAN, DILLON DOHANOS and ZACK HISS all scored. With two innings gone, Mojito Bay led, 5-4.
Mojito went one-two-three in the third, as House pitcher MASON HART made quick work of the guys in mint green. And House tied it, 5-5, in the bottom of the third as QUINTIN "Q" CANTELLI doubled and scored on a sacrifice fly.
Tight games often hang on defensive fireworks, and this game was no different. At least three outstanding defensive plays highlighted this terrific contest.
First, Mojito's JOHNNY TALAMANTES saved a run in the fourth with a pick of MASON HART's ground ball at first base. To beat HART to the bag, TALAMANTES dove with his glove outstretched, tagging the base as HART leaped to avoid a collision, falling into shallow right field. Luckily, neither player was hurt.
Second, Mojito shortstop TYLER WEBB fired a strike to catcher PATRICK CHIMAHUSKY to cut down a House run at the plate in the fifth. You can't execute a relay throw better than that.
Swirling around all this defensive excellence was some killer offense, too. DEVON DOHANOS hit a two-run homer to right in the fifth, as House scored four to take a 9-7 lead. In the top of the fifth with Mojito batting, House catcher KEVIN "BUBBA" BAUMAN turned the defensive play of the night, grabbing a foul-pop along the first-base foul line. Almost nobody makes that catch except BAUMAN, whose ability to accelerate is 90th-percentile stuff. Great play, BUBBA!
In the sixth, Mojito cast aside all the cool defense and used brute strength to retake the lead. With BRANDEN ALLEN and TYLER WEBB on base, DANIEL EVANS hit a towering home run to left. A mint-green party started as EMANUEL "MANNY" CARMONA tripled to follow EVANS' homer and scored on a PATRICK CHIMAHUSKY sacrifice. Mojito led, 11-9, in the middle of the sixth.
But House isn't a 10-to-1 Vegas pick to win the league title for nothing. In the bottom of the sixth, GUNNAR LILLY doubled home GRANT MADIGAN and QUINTIN "Q" CANTELLI to draw House even, 11-11. And DEVON DOHANOS, who apparently swings a phone pole for a bat, hit a punishing two-run homer high into the trees in right to put House on top after six, 13-11.
Mojito was down to its last three outs. With two down in the top of the seventh, GUNNAR LILLY's sliding catch of TYLER WEBB's fly ball to shallow left ended it, and House won, 13-11. House will advance to the Aug. 7 semifinal to play the winner of the Crew's Nest-Blue Marlin game.
SUNDAY, AUGUST 6TH
So how does it work when you have a monster game? Do you do something differently during the day to become Superman at night? Don a cape? Shine your shoes?
Ask BRIAN WOODRUFF, who led Joe's Bar against perennial playoff powerhouse Boardwalk. BRIAN's a nice guy, right? Kind to stray animals or whatever? C'mon, bro: Dude's a KILLER!
WOODRUFF presumably tied or set a LEISL playoff record, hitting one…two…THREE home runs against Boardwalk on this night. Was it enough to pull off an upset?
But we're talking Boardwalk, a team that doesn't lose often during the regular season, and almost never loses in August, judging by its five straight championship appearances from 2018 to 2022.
WOODRUFF and his band of merry men and women would give it a shot. And in the early going, Joe's Bar was rolling.
Joe's pounded six runs in the top of the first, with WOODRUFF driving in NOAH "THEO" THEODORE and SEAN MONDELLO with his first homer to left. The ball crashed into the Getaway Inn over the left-field net with a loud thump.
Then JOEY WHITE and DAVID "BUGS" BENMAYOR scored on a DREW HOLCEPL double, and HOLCEPL came trotting home on a LUKE LYDON double. Joe's racked up six before Boardwalk took its first swing.
But the bright skies and breezy atmosphere would foster high scoring on this night. Boardwalk joined the party and answered the challenge with eight runs in the bottom of the first.
Boardwalk third baseman PADDY MURPHY doubled home ZACH KOWALSKI and GABE QUINONES to light Boardwalk's fuse. Then STEVE SPRADLIN drove in a pair, and pretty soon Boardwalk led, 8-6.
Joe's hit the replay button in the top of the second, as both THEODORE and MONDELLO were again chased home, this time by WOODRUFF's second homer, a no-doubter to left. Black-and-red jerseys were jumping all over the place as Joe's Bar led, 10-8, after two.
Things stayed quiet until the bottom of the third, when Boardwalk reloaded for four runs. MIKE MURPHY doubled and scored on BRETT WILLIAMS' single, then WILLIAMS and KOWALSKI skipped home on GABE QUINONES' big-bang homer to left. Boardwalk regained the lead, 12-10.
Joe's stayed quiet in the fourth, then Boardwalk took control. With father-and-son combo PADDY and JOHN MURPHY leading the way with home runs, Boardwalk cashed in eight runs in the fourth to lead 20-10.
ASHTON PUPOS homered for Boardwalk in the fifth when the Lobsterheads scored four more. And despite WOODRUFF's third home run, this one to right field, Joe's could score just twice more, and lost, 24-12.
So we saw a three-home-run performance in the first game. When will you ever see that again? How about the second game?
KYLE KRAMP, a gym rat if ever there was one, matched WOODRUFF's stunning performance in Blue Marlin's game against Crew's Nest. KRAMP homered in the first, third and fourth innings vs. the Crew, and Blue Marlin rolled, 20-3.
What can you say about Blue Marlin? A first-year team, they've won every game but one all year. They own the word swagger, and when they swing for the fences, they often succeed. They're as subtle as their orange uniforms.
And Crew's Nest bowed out of the playoffs with good hopes for next season. MATT FUCHS scored twice for the Crew, who will return a good core of players for 2024.
In the third game of the evening, played on Kelleys Island, Kelleys beat Middle Bass, 26-13.
MONDAY, AUGUST 7TH
Checklist of things to bring to the House vs. Blue Marlin semi-final playoff game:
1. Oxygen tent
2. Extra softballs
3. Novocaine for pain
4. Earplugs
Prepare yourselves for a wham-bam FANTASTIC softball game. They do not come better than this.
Let me summarize for those pressed for time: this game featured 13 home runs, nearly 60 runs, and enough energy to light up the city of Pittsburgh for a week. Free entertainment doesn't come any better.
Shall we roll? We shall.
Blue Marlin, by virtue of its league-leading regular-season record, was the home team, which means House batted first, and wasted no time. House scored five in the first, and the track meet was on. DILLON DOHANOS caused the heavy damage for House, hitting an opposite-field homer to left, sending his House teammates scampering to greet him at home plate. House led, 5-0.
Blue Marlin scored twice in the bottom of the first, as DALTON "DEUCE" HAY and JALEN SANTORO both rolled home on a TYLER KRAMP single. After one, it was 5-2.
GUNNAR LILLY walked and scored in the top of the second for House, raising the stakes to 6-2. Blue Marlin welcomed the challenge.
The guys in orange racked six runs in the bottom of the second, taking an 8-6 lead. COLIN ISH walked to start it, and CHRIS BLIMKA pounded a homer to left. Following a single and a walk, JALEN SANTORO hit a three-run homer to left. Then JAC ALEXANDER walked and scored on KYLE KRAMP's double. It was 8-6 and the game was barely 20 minutes old.
House played House ball in the third and raised the ante further, scoring eight runs in a dog fight. House leftfielder GUNNAR LILLY stepped into the batter's box with bases loaded and delivered a grand-slam homer to left, his first round-tripper of the year. And just like Blue Marlin did in the second, House matched the drama with another homer on the next pitch: DEVON DOHANOS sent a missile into the right-field trees. Then KEVIN "BUBBA" BAUMAN walked and scored on a ZACK HISS single. House led 14-8.
Everyone expecting a tight game felt really smart after three innings were complete, because Blue Marlin tied it, 14-14, with six runs in the third. With two on and one out, STEVE ALEXANDER, owner of the Blue Marlin Bar and Grill, homered to left. Then JALEN SANTORO tripled home "DEUCE" HAY, who had walked. JAC ALEXANDER walked and scored on TYLER KRAMP's double. The game was roughly half over and it was deadlocked, 14-14.
House greeted the fourth inning with four more runs, all driven in by homers. QUINTIN "Q" CANTELLI started it with a two-run bomb to left, and DEVON DOHANOS followed suit two batters later with another two-run shot, this one to right field. House led, 18-14.
But championship teams keep the pressure on. Blue Marlin scored six times in the bottom of the fourth to take a 20-18 lead. JALEN SANTORO hit a three-run homer and KYLE KRAMP bombed a two-run homer to left. The complexion of the game was changing.
DILLON DOHANOS walked and scored on a MASON HART single for House in the fifth, making the score 20-19. And when T.J. ADKINS scored for Blue Marlin in the fifth, the score stood 21-19.
Enter the sixth inning, which would tell the tale of the night. House scored four when DILLON DOHANOS hit a grand-slam homer, his second ding-dong of the night. The House bench erupted as it took the lead, 23-21.
But Blue Marlin remained relentless, and showed why it stayed atop the team standings all season. The orange-jersey-wearing brutes plated 11 runs in the sixth to put the game away.
Every player on Blue Marlin's roster scored in the sixth except T.J. ADKINS, who missed scoring by an eyelash, being tagged out at home plate by House catcher KEVIN "BUBBA" BAUMAN. KYLE KRAMP homered twice in the sixth, lodging his second consecutive three-homer playoff game (a sentence perhaps never before written). All the humble home-plate umpire could say was "wow."
As the sixth inning concluded, Blue Marlin led, 32-23.
House's valiant rally in the seventh fell short. Not even DEVON DOHANOS' third home run of the game was enough. Blue Marlin won it, 32-27.
Blue Marlin will face Boardwalk in the championship series starting August 9. In the evening's other game, played on Kelleys Island, Boardwalk defeated 2022 champion Kelleys, 31-15.
WEDNESDAY, AUGUST 9TH
"Out on the road for 40 days, last night in Little Rock drunken haze." Oh sorry, I just went all Grand Funk Railroad there for a minute.
Welcome to the 2023 LEISL Championship Series, amigos. It's Boardwalk vs. Blue Marlin in a best-of-three format: need I say more? Who wants to keep track of home runs? Bring a calculator.
With its superior regular-season record, Blue Marlin earned home-team advantage in Game 1. The umpire's shaky knees achieved maximum shakiness.
Boardwalk charged into the first inning like a tiger charges to fresh meat. Singles by ZACH KOWALSKI, DEREK DOHANOS and PADDY MURPHY set up a BLAKE BOOKER triple, and just like that, Boardwalk led, 4-0, in the first.
When Blue Marlin went quietly in the bottom of the first, something felt odd. Blue Marlin quiet? Freaky.
Boardwalk pounced, racking five more runs in the second. PADDY MURPHY brought the lumber, crushing a three-run homer that cracked shingles at the Getaway Inn over the left-field net. Thump!
Down 9-0 in the second, Blue Marlin couldn't respond. Like my prom date when I asked her to dance, it was the old silent treatment.
Which set up Boardwalk for three more runs in the third. Shortstop GABE QUINONES homered high into the trees in left, raining bird nests and who knows what else onto the ground. Boardwalk led 12-0 before 20 minutes of game time had expired.
Which seemed to bring smelling salts to Blue Marlin's nostrils a bit. They woke up, and so did a JAC ALEXANDER's bat.
And KYLE KRAMP's bat, too. ALEXANDER and KRAMP homered back-to-back in the bottom of the third, and Blue Marlin got on the board, trailing 12-3.
But Game 1 was all about Boardwalk, which pounded out eight more runs in the fourth. Right-fielder RON RIVERA led off the fourth with a homer to left, and the floodgates opened wide. Boardwalk batted around, and when the top of the fourth ended, Boardwalk led, 20-3.
BEN SENZMAN singled and scored for Blue Marlin in the bottom of the fourth, but despite a TYLER KRAMP homer in the fifth, Blue Marlin could get no closer than 23-6. GABE QUINONES pushed across Boardwalk's final runs with his second homer of the game in the fifth, and Boardwalk won it going away.
But a championship series is just that, a series of games, not a one-and-done affair. Game 2 featured both teams at full throttle.
Game 2 was suspended at 8:25 p.m., a time agreed upon by both teams pre-game, due to failing evening light. Boardwalk, led by home runs from GABE QUINONES and PADDY MURPHY, leads Game 2, 19-16, with Blue Marlin batting in the top of the sixth. Game 2 will be completed on Sunday, August 13. If Blue Marlin wins, a deciding Game 3 will follow immediately after.
SUNDAY, AUGUST 13TH
How do you win a league title? Just bring the best home-run hitters? The best pitchers? The best defenders? Answer: Yes, and much more.
The answer sounds simple, but it's anything but. Who would have thought that a first-year team like Blue Marlin, although crammed to the gills with talent, would wind up in the championship series?
And while a team as storied as Boardwalk, which has played in the championship series six straight years, may be no surprise, some looked past them as the playoffs approached.
No matter. It was Blue Marlin vs. Boardwalk in the suspended Game 2, which re-started on this night with Blue Marlin trailing 19-16 and batting in the top of the sixth, needing to win to force a Game 3.
Let the game begin! (Or re-begin, or something.)
Blue Marlin's TYLER KRAMP hit the second pitch of the night into the right-field corner for a ground-rule double. It seemed Blue Marlin wanted to waste no time.
KRAMP came trotting home on T.J. ADKINS' double, and when CHRIS BLIMKA singled home ADKINS, it was a one-run game, with Boardwalk leading 19-18.
But Boardwalk is Boardwalk, never to be underestimated. They entered the bottom of the sixth, pressurized but unbowed. Time to go to work.
With one out, JOHN "MURPH" MURPHY doubled to the left-field gap, and one out later, RON RIVERA singled MURPHY home. JACK BOOKER singled RIVERA home, and Boardwalk made it 21-18 after six.
So what's the measure of an athlete? Is it the ability to do-it-all? To perform well when it matters most? Meet Blue Marlin's JAC ALEXANDER, who stepped into the batter's box in the top of the seventh with two runners on and his team down three runs. How good is he?
ALEXANDER powdered an exclamation-point home run to left, tying the game at 21-21. Wild hoots and hollers all around from the Blue Marlin bench, especially when KYLE KRAMP followed ALEXANDER's homer with a triple. When COLIN ISH singled KRAMP home, Blue Marlin led, 22-21, entering the bottom of the seventh.
Boardwalk needed one run to tie, and two to win.
PADDY MURPHY started Boardwalk's seventh with a single to left, and advanced to second on BLAKE BOOKER's single. Boardwalk had two on and nobody out.
BILL "TEETS" MCGAHEE singled home MURPHY to tie the game, 22-22. Tension reaches the red zone.
JOHN "MURPH" MURPHY's sacrifice fly to left moved BOOKER, the potential winning run, to third, and with one out, MIKE MURPHY stepped to the plate.
MURPHY hit a line drive to Blue Marlin center-fielder KYLE KRAMP, who made a leaping catch for the second out, and immediately threw home, attempting to double-up BOOKER at the plate.
But the throw was late, as the fleet BOOKER rolled home with the game- and championship-winning run. Boardwalk won the 2023 league title, 23-22.
This was the tale, amigos. As another terrific LEISL season meets its end, we must bid adieu to Mother of Sorrows Field for another 10 months. Until then, keep swingin', no matter what pitch life throws you.
THANK YOU:
MY WIFE, the former Jody Helmick, my high school crush, for basically everything. She runs down player names, scores each game officially, and keeps a great sense of humor throughout. She also keeps track of outs and runs in real-time. Whew!
SCOTT McGOOKEY for assisting my wife in keeping track of outs and runs, from his seat on the "BOSS BILL" MARKET BENCH behind home plate.
SUSAN BYRNES: I first noticed her shooting photos at her daughter Kate's basketball games. Sports action photography isn't just point-and-shoot, it's artistry. From me and all the players, thank you, Susan!
DEACON JIM O'DONNELL: Thanks for leasing Mother of Sorrows Field to LEISL, and for your leadership in blessing the action each week. On a wayward island like this, we all could use God's blessing.
FIELD UMPIRES: Jac Alexander, Tyler Webb, Nick Pettenski, Jenny Fuchs, Matt Fuchs, Kayla Beck, Zach Kowalski, Paddy Murphy, Mike Murphy, Billy Market, David Hill, Emanuel "Manny" Carmona, Mason Hart, David "Bugs" Benmayor, Gunnar Lilly, Devon Dohanos, Zack Hiss, Jo-Jo Jordan, Vi Bradley, and Geoffrey Luecke.
FIELD MAINTENANCE: A big-time thank you to the Murphy Family, John, Mike and Paddy, for grooming Mother of Sorrows Field for each game. You thought the field groomed itself? And congrats to Mike Murphy, a '23 graduate of Cleveland State's School of Law. You made your father and grandfather very proud.
SCOREBOARD OPERATORS: Dino Uszak, Elena Schroeder, Scott McGookey, Noah Kneisley, El Kostura, Liam Market and all the cute little kids whose names escape me.
EVERYONE WITH WHOM I'VE HAD AN ON-FIELD DISAGREEMENT: Thanks for leaving it on the field and forgetting it for the next game.
PAUL HOYNES (beat writer for Cleveland Indians/Guardians) and JIM JOYCE (retired MLB umpire): Everyone needs a role model. You dudes are mine.
THE PLAYERS: It's improbable that this many talented players gravitate to one island-based league. Try finding this concentration of talent in a co-ed softball league anywhere. I've never seen it, and I never will again.
THE FANS: Thanks for watching the games each week. Middle Bass fans are the loudest, Boardwalk fans the most dedicated. And I don't know who wins the "Raunchiest Award" but keep it coming.
PATRICK MYERS: Seeing the speakers lashed to the home-plate backstop reminds us that you're still calling the action on WPIB, only it's a frequency we simply can't hear.
DAVID HILL and BILLY MARKET: God love him, David serves as LEISL commissioner. Which means he conducts pre-season manager meetings, makes the schedule, decides on weather postponements, creates the playoff brackets, and other "fun" stuff. And Billy, being Billy, quietly pays the field lease, supplies countless softballs at $9 a crack, and funds the league. Thanks, guys, without you there is no Lake Erie Islands Softball League.
Happy off-season, everyone! See you in 2024!
AUTHOR BIO: Matt Amsden is home-plate umpire for all LEISL games played on Put-In-Bay. He marvels at the speed and strength of youth, his youth having blown the scene quite awhile ago. No matter, there are rocking chairs to rock and shuffleboard games to dominate, so growing old has its charms. Like root canal work. The ancient umpire tips his cap to all LEISL players: may you talented youngsters never EVER grow old.
The previous piece is published in this month's Put-in-Bay Gazette. The Gazette has been producing incredible independent Put-in-Bay island news for over 40 years. If you have any interest at all in what is happening on South Bass Island, we urge you strongly to subscribe to the Put-in-Bay Gazette. One-year online subscriptions are only $15, and print subscriptions are available as well. To subscribe please click here.
This piece of Put-in-Bay journalism has been provided to putinbayonline.com courtesy of the Put-in-Bay Gazette, Put-in-Bay's only local newspaper. Visit their website putinbay.news for more information and to subscribe!