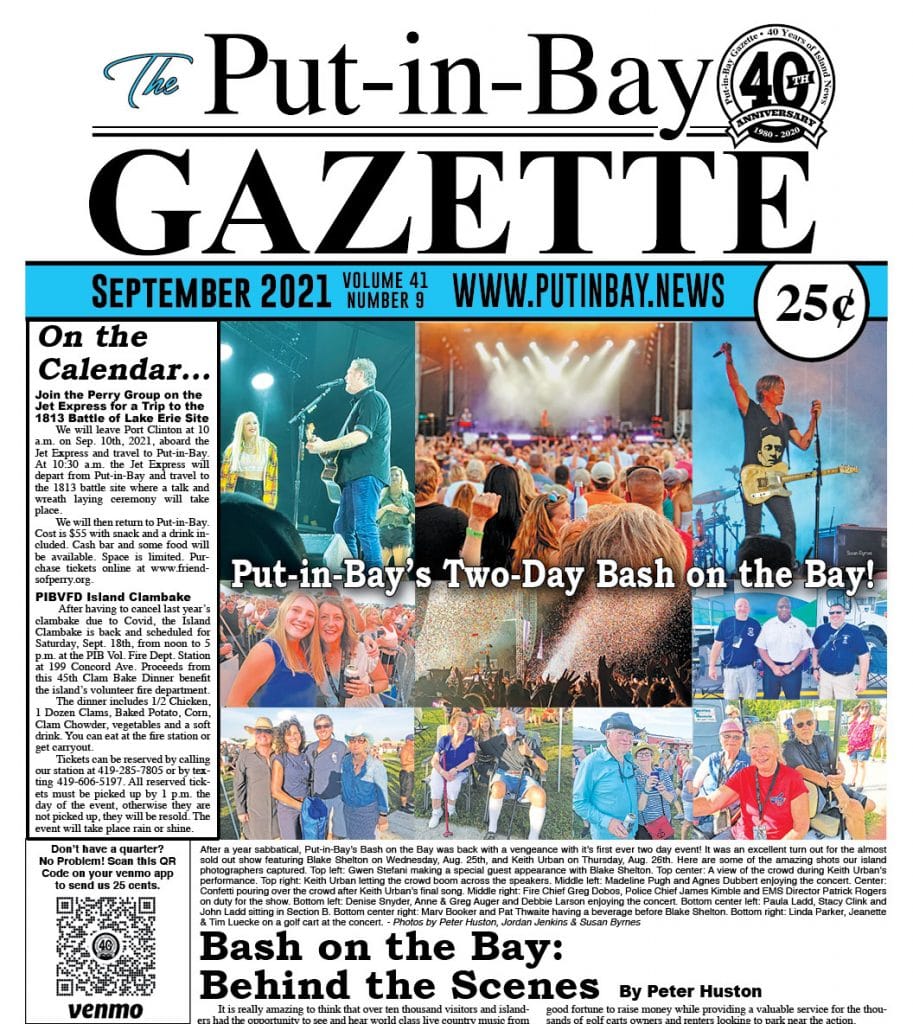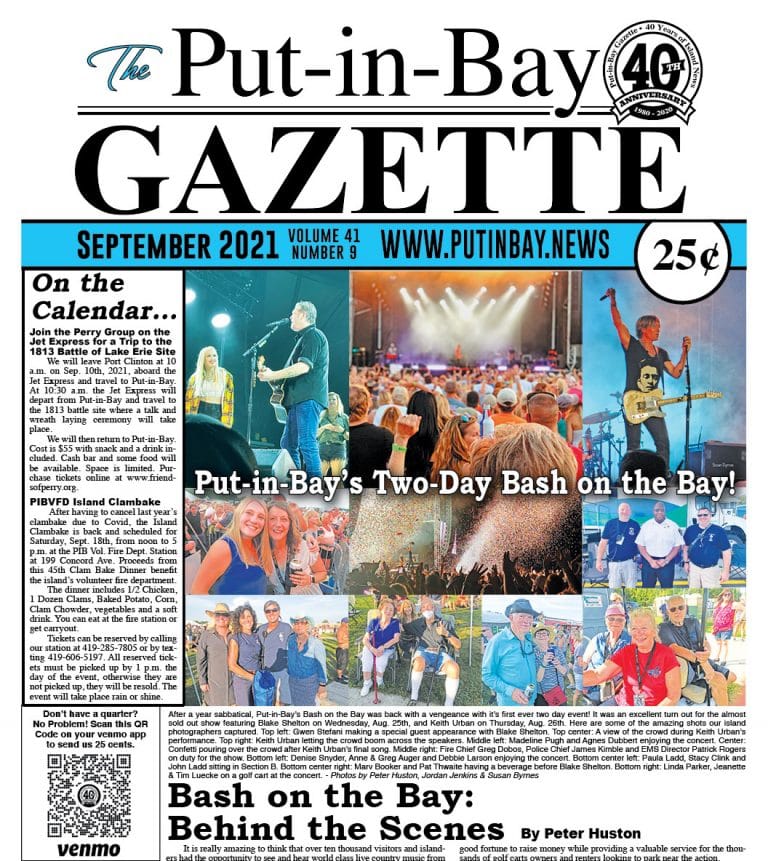 putinbay.com is proud to present the Put-in-Bay Gazette's Island Diary. For the best South Bass Island journalism, visit putinbay.news and subscribe to the Gazette today!
This & That
Islanders noticed another boat washed up on Buckeye Island at the northeast end of South Bass Island in August. Buckeye seems to attract boaters for some reason.
Little known facts… Holly Kirsch from Chapman Rd. on East Point had a pet butterfly for short time when she was a kid. The butterfly had an injured wing and could not fly, so she nursed it back to health and kept it as her pet.
Stone Lab recently hosted researchers from The University of North Carolina at Chapel Hill and the University of Tennessee in Knoxville who are working to establish nutrient-bloom thresholds for the key cyanobacteria involved in harmful algal blooms. That made our day when we heard this news!
Dennis Giancontiere is still looking for more food service workers to spend the winter season working on St. Croix in the Virgin Islands. He's in charge of putting together staff for five different food venues at an all inclusive resort on the island. See his ad on page 22 for more info if you'd like a chance to try something different this winter.
Make sure you stop by Elizabeth Heineman's booth at Founder's Day on Saturday, Sept. 11th, and check out her beautiful bird photos she's taken here on Put-in-Bay. For duck lovers, she got photos of the ones found in the island area.
Speaking of things to check out, watch for Sharon Cox driving a sports car in this month's Road Race Reunion. She and Kris Hodgson from East Point actually took some sports car race driving lessons at Pocono Raceway in Pennsylvania several weeks back. Sharon's car will have her name on it, plus the number 24. We hear Kris will be racing, too.
Put-in-Bay Winery was hopping during the Bash on the Bay afternoons. There was a live band, samples of a new refreshing citrus drink and a hog roast for the crowd celebrating the Bash.
Jordan Jenkins, son of the island's Ohio Edison man Terry Jenkins and his wife Lisa, is the newest employee at the Put-in-Bay Chamber of Commerce. Tina Rogers, who was at the Chamber for several years, recently took a job on the mainland.
The Put-in-Bay Yacht Club Cruise Out for October will be at "Home" on October 1st & 2nd with dockage available right next door at Miller Marina.
You may have seen Christie Ontko's sign in front of her Freshwater Remedies shop during Bash on the Bay week. It said, "Welcome Gwen & Nicole," in reference to Gwen Stefani, the new bride of Blake Shelton, and Nicole Kidman, the wife of Keith Urban. Gwen was actually on the island, and we wonder if Gwen stopped in Christie's shop while she was here.
The 2021 PIBYC Yearbooks have arrived. Stop by the club to pick up your copy!
In the "Where are they now?" department, here's an update on Edward and Joyce Hill who built the Viking Longhouse on Put-in-Bay Rd., now the home of Steve and Karen Riddle. Ed, who taught at Put-in-Bay School, and Joyce live on a 30-acre farm near Xenia, Ohio. Their main business is raising free-range chickens.
Boardwalk Harbor Operations Manager Berni Steinbach said that his personal email will no longer be used for official Boardwalk Harbor Operations business. The updated email address is boardwalkharbor@gmail.com.
There will be a meeting of the board members of the Lake Erie Islands Historical Society on Monday, September 13th, at 11 a.m. at the island museum. Immediately following at noon there will be a general membership meeting.
The U.S. Army Corps of Engineers say Lake Erie's high water levels will be a bit lower next summer.
During the sports car races in 1956 the sports cars would race 10 laps around the course. One car rounded the corner by where Joe's Bar is now and flipped and landed against the cemetery fence.
A good decision was made when sometime along the way it was decided not to have helicopter rides going on at the airport during the two-day Bash on the Bay concert. Not only would it have been dangerous taking off from helicopter pads where concert goers were watching the show, but there would have been way too much noise for them to hear the music.
The previous piece is published in this month's Put-in-Bay Gazette. The Gazette has been producing incredible independent Put-in-Bay island news for over 40 years. If you have any interest at all in what is happening on South Bass Island, we urge you strongly to subscribe to the Put-in-Bay Gazette. One-year online subscriptions are only $15, and print subscriptions are available as well. To subscribe please click here.
This piece of Put-in-Bay journalism has been provided to putinbayonline.com courtesy of the Put-in-Bay Gazette, Put-in-Bay's only local newspaper. Visit their website putinbay.news for more information and to subscribe!