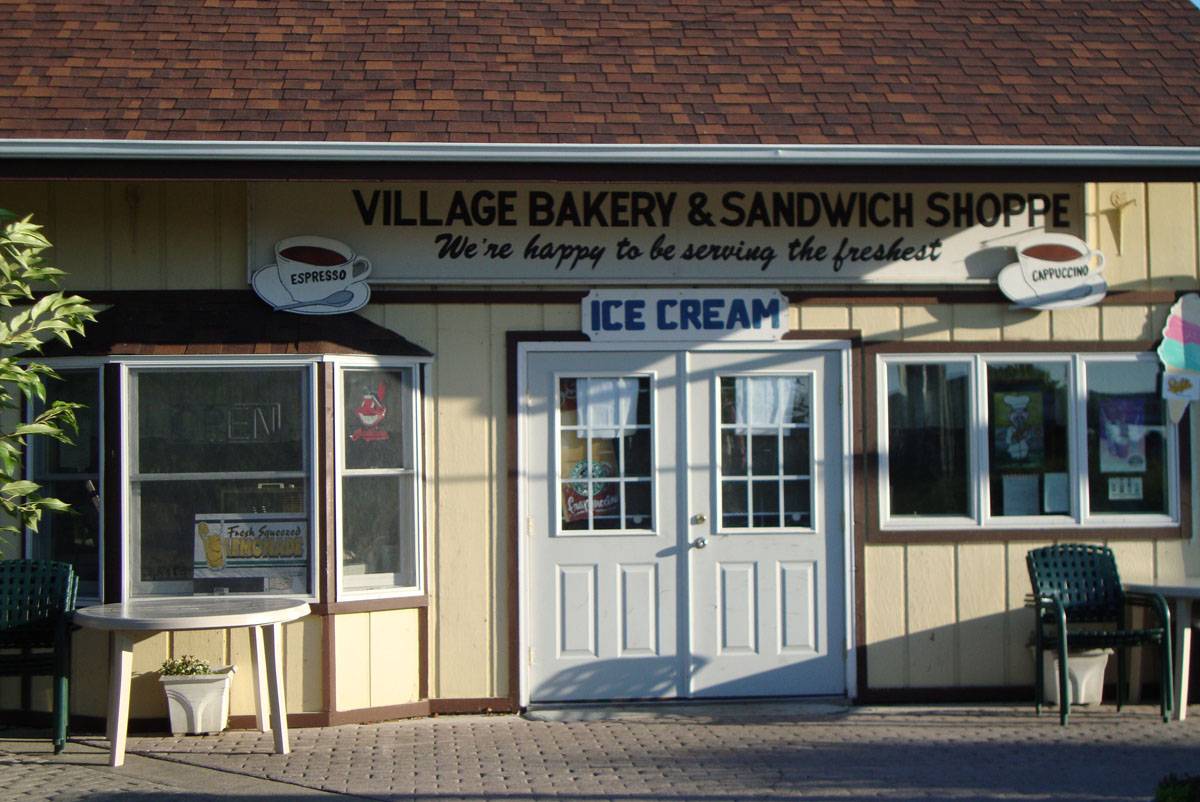 The Village Bakery on Put-in-Bay has fresh goodies daily.  Also, even the coffee beans get ground daily. So, a cup of java is excellent.  Fresh, fast and friendly best describe this island favorite.  Come find out for yourself.
The bakery location is very accessible.  Delaware Avenue is home to this island favorite.  Moreover, the Put-in-Bay bus depot is directly next door.  Also, Perry's Victory and International Peace Memorial is prominently in view from the outside patio.  This monument is a testament to winning the Battle of 1812.  Oliver Hazard Perry led his men to battle.  The famous saying, "Don't Give Up the Ship," comes from Perry.  Also, the nations involved celebrate peace with this monument.  So, overall the Bakery location is superb.  Find the way to fresh.   
Village Bakery Menu Highlights
Breakfast options are fresh and full of variety.  First, savory breakfast sandwiches are available. Options include sausage, bacon and vegetarian options.  Sandwiches come with egg and cheese.  Also, there is fresh fruit and yogurt.  Most notable though, is the coffee.  Each day the coffee is ground fresh.  Patrons can opt for a traditional hot coffee.  Also, specialty iced coffee is available.  Regardless, guests leave ready for a day on Put-in-Bay. Energized and eager to explore.
Another great option is the cakes and pies.  Celebrate a special occasion with a delectable dessert. Moreover, personalized cakes give that special touch.  Furthermore, cakes come in a variety of sizes.  So, there is the right size for any party.
Put-in-Bay- The Place to Celebrate
Put-in-Bay, Ohio is a favorite destination.  Many guests come to celebrate.  Moreover, a great number are part of wedding parties.  A cake from the Village Bakery is a nice addition.  Planning a trip to the island is easy.  Many resources are available.  Make this the year for a trip to the island!  The time is now! Put an island in your life.
Testimonials
Cindy O: "We stopped by Village Bakery & Sandwich Shoppe with 12 hungry people (kids ages 2-13 and adults). We all loved it! Everything they made is from scratch and you can tell! The bakery items are delicious and hard to choose just one. The breakfast sandwiches are also made homemade from scratch, even the croissant sandwiches. The Iced Vanilla Coffee is also amazing and so is the iced tea. The prices are very good too – an inexpensive place to stop for breakfast, lunch, or dessert for sure while at Put-in-Bay. We'll be going back for sure."
Tammi S: "The smell hits you on a Sat. or Sun. morning after being out on the town – and you know it is where you need to be. Delicious breakfast sandwiches and a brownie or two and you're set for the day. They offer a variety of coffees and much to my delight – chai – that they prepared perfectly blended with skim milk. I know a lot of places that don't do that right. Anytime of day – a great place to stop for a snack!"
Glenn K: "This is a true mom-n-pop café where the owners are behind the counter serving, cooking and baking. My friends and I have been to Village Café several times over the last few years and we learned that all of their offerings are made fresh daily. The owners are super nice people who go out of their way to take care of their customers. They even gave us free home made soup! If you are tired of tourist food and need real food, Village Café is the best place."
Magda Z: "Village Bakery is the best place for coffee, made from scratch muffins and pastries, real salads, delicious sandwiches and home made soups. Owners are super nice and always ready to help! During summer season you can find gluten free muffins. Coffee is the best in all the village!"