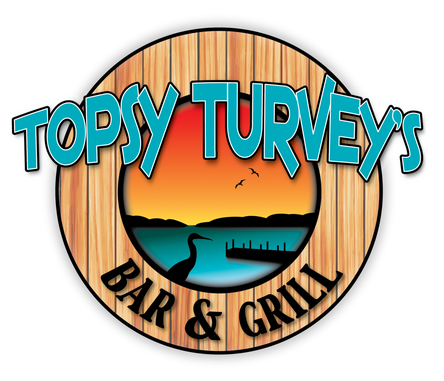 Topsy Turvey is a waterfront bar with spectacular views and great eats and drinks.  Stop by for a Bloody Mary, one of their most popular offerings.  Also, hearty Cuban and Reuben sandwiches are sure to fill the hungriest of travelers.
Topsy Turvey Location
Directly on Lake Erie in beautiful downtown Put-in-Bay is where you'll find this great establishment.  The Jet Express terminal is just a short stroll down the sidewalk.  Also, the Sonny S ferry to Middle Bass Island is just steps outside.
Testimonials
Erin C: "We ate here for the first time ever. We have come to the island for years and said let's try it. Jane was our waitress and she recommended the perch, so glad we tried it. By far the best one on the island. I tired the portobello boy and it was so good. We love this place so much we came back on our last night and lucked out to sit on the patio and watch the sunset and we had Jane as our waitress again. We tried the Topsy Turvey Cuban and had another perch sandwich. This is our new favorite place!"
Dan M: "Found this place because we couldn't find another place that didn't have a wait. Wow!!!! The best breakfast on the Island. Huge breakfast sandwich, great location. I can't for the life of me understand why the place wasn't more busy. I have been coming to the Island for years and it was my first visit. My biggest mistake was waiting so long to visit. Would highly recommend and have now made this my first stop whenever we arrive."
Jeffery T: "Hidden gem on Put in Bay. One door way west of The Boardwalk restaurant. Great food, great service, and a decent craft beer selection. Be sure to have a super tasty Brandy Alexander while there! Right on the water and marina. Great views. Topsy Turvey feels like a bar in the Florida keys. Not super busy on Saturday after noon, that is part of being a hidden gem! It's a must stop for me every Put in Bay visit!"