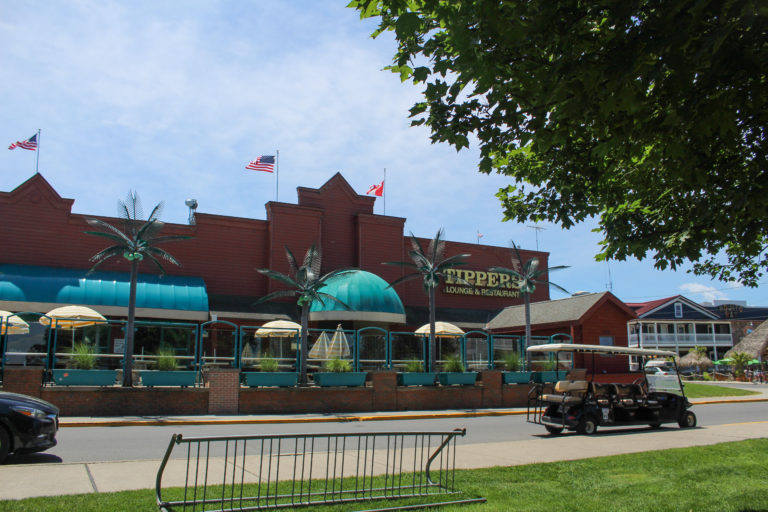 Put-in-Bay has many restaurants open during the summer catering to all of the visitors on the island. Tippers Steak House is well known for the quality of their beef and their incredible weekly specials. But in the winter months there has only been a couple restaurants open to serve the 150 or so island residents. Tippers Steak House is one of them. Or should we say, it was one of them with the exception of the 2019 Winter when Tip (aka Tipper) sadly passed away.
Island on Ice
As you may or may not know, Put-in-Bay is on an island (South bass Island) and the lake (Lake Erie) ices over in the winter. So the only way to get off or on the island is by airplane after the ferry stops running. This locks in the island residents who enjoy a very quiet winter. Only a few community events such as school sports and town hall meetings provide social outlets, other than Tippers.
Traditionally, for the past 20 years at least, Tip Niese has kept this island mainstay open all winter long for the local community. Tip passed away last summer and just last week his kids decided that they would close the restaurant for the winter and give everyone a break. With The Skyway closing down 8 years ago, there are now no island dining options available in the winter.
Testimonials
Karie H: "On a busy weekend we were driving around trying to find SOMEPLACE to eat…..WISH Tippers would advertise on their sign better, but we went in and asked to look at the menu to see if we wanted to stay. So glad that we did….the food was amazing, the waiter was extremely friendly. We had the ribs, steak, and buffalo chicken sandwich-everyone in our group LOVED their food and the presentation of the food was like things you'd see in a ritzy restaurant. The only downside of this place is the stale decor, but hey some of the best food is ate/found in dives and this food was worth taking the chance!"
Melanie B: "Spaghetti and meatballs was delicious, along with the clam chowder soup. Rib eye steak was cooked perfectly and thoroughly enjoyed. Jamie was our server and her service was wonderful. We never had to wait for anything she was certainly on top of it! Would highly recommend dining here!"
Betty J: "Best drinks at the best price! We randomly walked in on the recommendation of a few gentlemen outside and never regretted our choice. We were there just as the season was wrapping up and hope to go back when things are hoppin!"
Michael L: "Food at Tippers was great and the drink selection was good as well. I went with my fiancee and we had a food time together. I would go back again."
Specials Galore
Tippers Steak House became known to island residents and regulars for the meat-cutting skills of former owner, Tip Niese, who also ran the grocery store. Thursday nights always have a great steak dinner special, usually a strip steak or a porterhouse. The prices are incredible and the flavors delicious.
Friday evening, beginning at 5:00pm, is the Seafood Buffet. This buffet features Snow Crab, Chilled Shrimp, Steamed Clams, Seafood Entree, Roasted Boneless Pork Loin, Roasted Carved Round of Beef, Potatoes or Pasta, Vegetable, Salad Bar & Dessert.
Saturday evening, beginning at 5:00pm also, is the Prime Rib Buffet, featuring Prime Rib, Baby Back Ribs, Chicken Entree, Potatoes or Pasta, Vegetable & Salad Bar.
Guest of Tippers Steak House don't go home hungry!