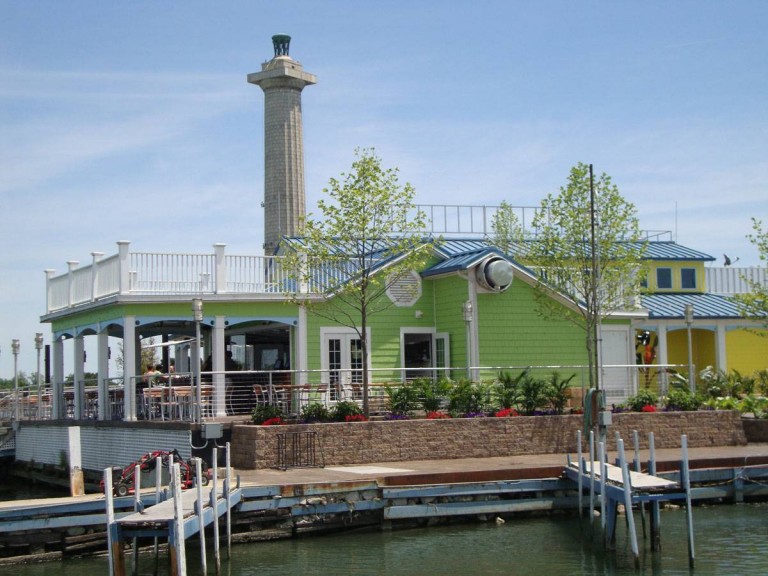 The Keys Restaurant brings Florida to Put-in-Bay.  Key West is well represented at this waterfront restaurant.  So, slow down and enjoy the island breezes.
A waterfront location makes the Keys an excellent choice.  Located in downtown Put-in-Bay next to the Jet Express Put in Bay dock, it is easy to find. Also, Perry's Victory and International Peace Memorial is within view.  Moreover, this monument relates to the Battle of Lake Erie.  Oliver Hazard Perry was victorious, protecting the island from invasion.  Additionally, the monument serves as a testament to the ever lasting peace between the countries.
Keys Menu Highlights
Step inside and feel the Caribbean energy.  Moreover, the menu options reflect the island tastes.  First, appetizers are delectable.  Conch fritters, Grouper Fingers and Buffalo Shrimp are examples.
Second, lunch choices include soups and salads. She Crab Bisque and Tortuga's Kale Salad are notable.  However, the Grouper Reuben can't be missed.  Grouper topped with coleslaw, guacamole and Swiss cheese is delightful.  Taxi driver Tim "Coconut" Pomps recommends this sandwich. Other sandwich options include the Cuban, big Burgers and wraps.  The hardest part is choosing just one!
Lastly, the dinner continues the Florida flair.  Try something local with the Perch Platter. Also, the Blackened Mahi Tacos are outstanding.  Blackened Mahi wrapped with coleslaw and traditional taco toppings for a memorable meal. There is something for everyone.
Keys Signature Drinks
There are many great food options.  Still, guests will impressed with the drinks.  The Keys is home to Fat Tuesday frozen drinks.  Options include Pina Coladas, Margaritas and Bushwackers.  Also, a full service bar completes the impressive offerings. So,options abound!
Set sail for the Keys Put-in-Bay.  The food and drinks, waterfront location and friendly staff make this an island favorite.  Stop in and unwind!  Watch your worries drift away.
Testimonials
Mark G: "We went to South Bass Island for a day of fun. With The Keys next to the boat dock, we chose to eat there, which proved to be a great idea! Our food and drinks were great (I had the bacon wrapped scallops…they were terrific, as were my salad and onion rings!!!). Having finished our food, we were just sitting there, when The Kenny Channels Duo were setting up on the stage. The music started, and there was my little grand daughter, dancing in front of the stage! She was invited onto the stage and sang with TKCD! It was so cool for her (well, us too) to get to do that…something we will always remember and cherish. A BIG THANK YOU to The Kenny Channels Duo for great entertainment AND giving our little Ariana her first "big stage" experience, AND The Keys for a great dining experience!"
Carola S: "Wow, if you're in need of a tropical getaway in Northern Ohio, this is your place! Adirondack chairs, colorful patio umbrellas, palm trees, frozen drinks & food served up on fish-shaped plates. Ride the Jet Express or Miller Ferry over to Put-in-Bay and lose yourself in "The Northernmost Bar" before you check out the rest of the island."
Ian P: "This place makes you feel like you're on a tropical vacation! The drinks are to die for! The Rum Runner that I had was very fruity and strong and a perfect combination of juices and alcohol! The Grilled Mahi Mahi fish tacos that I had also were so flavorful and delicious that I could have had two plates of them. Overall, a great tropical escape on a non tropical island! Highly recommended!"