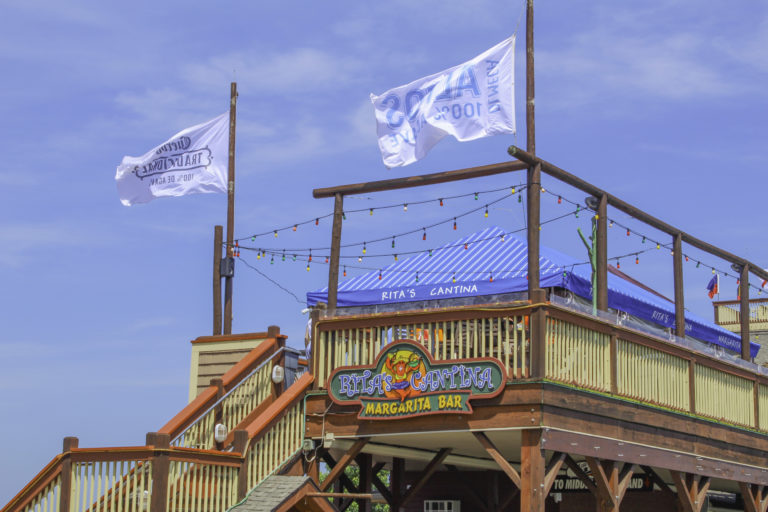 Rita's Cantina has refreshing margaritas, tacos and nachos that are sure to delight.  Take in the stunning views of Perry's Monument and the Put-in-Bay Docks, while getting your Mexican food fix.
Rita's Cantina Location
The Boardwalk Restaurant complex is home to this crowd favorite.  Here, guests have a plethora of dining options.  These include casual and formal dining options.  Food choices include local Lake Erie Perch and Walleye, their famous Lobster Bisque and traditional American fare like hamburgers and hot dogs.  No matter the tastes, the Boardwalk has the options to please.  Also, the stunning lakefront location affords diners some of the best views of the bay.
Testimonials
Chris D: "This bar closes a little earlier than the rest since it is linked to some of the more family-type restaurants. Sitting on the second level of the Boardwalk, there are great Lake Erie and Put-In-Bay views. This is a full service bar that specializes in all things margarita. The drinks are made fresh (not frozen like Fat Tuesday's style drinks) and our bartender was prompt at getting us refills and also recommending some fantastic specialty options for us to try. The margaritas are not cheap though. I believe ours were in the $8-10 ea. ballpark."
Kali H: "We brought our 3 month old German Shepherd to Put in Bay for the first time and were so happy to learn that The Boardwalk was pet friendly. Sadly, we were not able to take him to the upper deck to eat with us. The bartender at Rita's Cantina saved the day when she told us that if we ordered the food to go, we could eat at the bar area that allowed dogs! (They even have a water bowl that states "vodka for dog people") The drinks were great, but the service was 10x BETTER. To whom ever was the bartender this evening, thank you for everything! Our puppy loved all of the attention he got, and we loved being able to keep him with us while we ate!"
Tim B: "We went for a margarita and had a great time, the service was great and the people were very nice. We tried 2 pitchers of different margarita's and both were excellent. We did not eat there, and from what we saw it looked like average Americanized Mexican. Good selection of tequila. The sunset was spectacular that day for and extra bonus. We meet some other visitors and had a nice time. The only negative was the price seemed high, but the drinks were good."