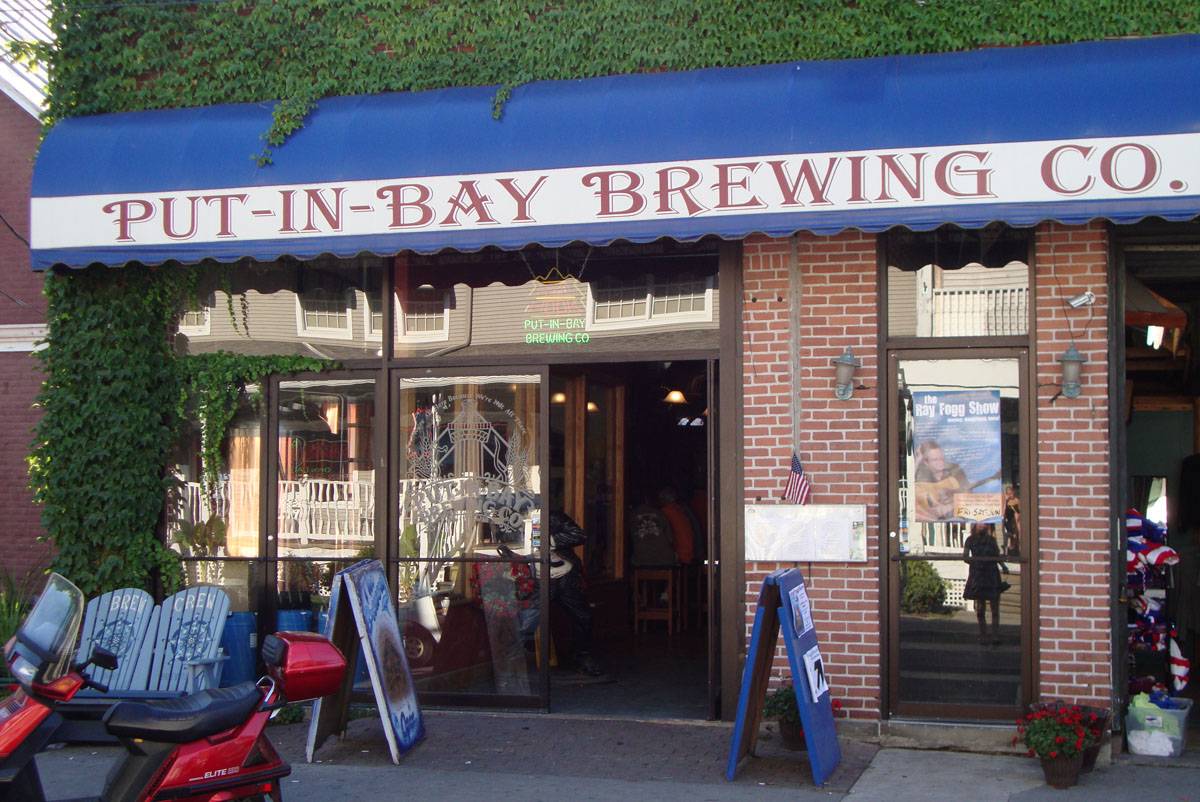 The Put-in-Bay Brewing Company has great eats and local beers to delight.  Every summer an impressive rotation of craft brews is produced. Also, the menu pairs nicely with the assortment.  So, stopping here for a bite is a true taste of the Lake Erie Islands.
Catawba Avenue is home to the Brewery.  The location is just around the corner from Delaware Avenue, the main thoroughfare of the island.  Here, the majority of Put-in-Bay attractions, shopping and dining can be found.  Also, the Jet Express terminal is just a short stroll away.  So, the location is ideal, near most of the offerings.
Put-in-Bay Brewing Company Menu Highlights
Diners can choose from a variety of attractive options.  Lunch and dinner service are provided.  Also, be sure to pair the meal with one of the exceptional craft beers.
Appetizer choices are excellent. Selections include Walleye Bites, Pot Stickers and Loaded Fries. Also, be sure to check out the Chicken Wings, with a variety of sauce options.
Lunch options include fresh salads, soups and sandwiches.  Notably, the Brewery Beer Cheese Soup is outstanding.  The soup consists of a blend of aged cheddar, as well as their very own Summer Brew.  For a filling meal, pair the soup with a Garden Salad.  Also, a Perch or Club Sandwich is a nice accompaniment to the Beer Cheese Soup.
Lastly, the pizza is superb.  Brewery Pizza can be customized to one's liking.  Otherwise, there is an impressive selection of specialty pies.  Options include a Greek Pizza, as well as crowd favorite Alfredo Pizza.
Testimonials
Bill S: "I've been here many times, almost from when they 1st opened. Their beers have improved slightly over their initial offerings, but don't expect to find anything that will "blow you away" (I've been going to craft beer events for 25 years, and home brewing for half that time). Service is average, as is the food. Prices aren't outrageous, but there aren't any bargains either. This is to be expected as everything on this 'tourist trap' island is priced to maximize profits for the short tourist season. Nevertheless, it's hard not to have a good time while visiting the Put-in-Bay Brewing Company."
Chris T: "Stopped by this place today with my wife for lunch because we've never been here before. Very clean and well organized. We were waited on the most pleasant girl, I believe her name was Sarah. You know, the bubbly type that you always wish you could be! Seriously, Sarah was superb in handling our orders, always returned asking how our meals were and if we needed anything else. We ordered the chicken salad wraps and fries. Wraps were so chucked full and big that we should have shared one order. Great food and did not disappoint. I read some of the other reviews and truly believe the negative ones belong to their competition. We would return without a doubt. Our 2 Boston Terriers had fun just sitting in the sun and watching the other people from their street patio section. Try it and be sure to ask for Sarah if she is on for the day. Thanks for a pleasant lunch out!"
Dean Z: "The pizza was amazing and was complemented by the great selection of beer. All prices were very reasonable and not overpriced like the boardwalk food. Service was also extremely friendly and welcoming. I would recommend this location to anyone visiting Put-in-Bay!"
Stay and Play on the Bay
Why not stay the night?  Staying on the island gives a new perspective on Put-in-Bay.  Additionally, guests can experience the culture and legendary night life.  Planning a trip is easy.  There are many attractive lodging options.  Furthermore, the midweek specials make the island worth considering.