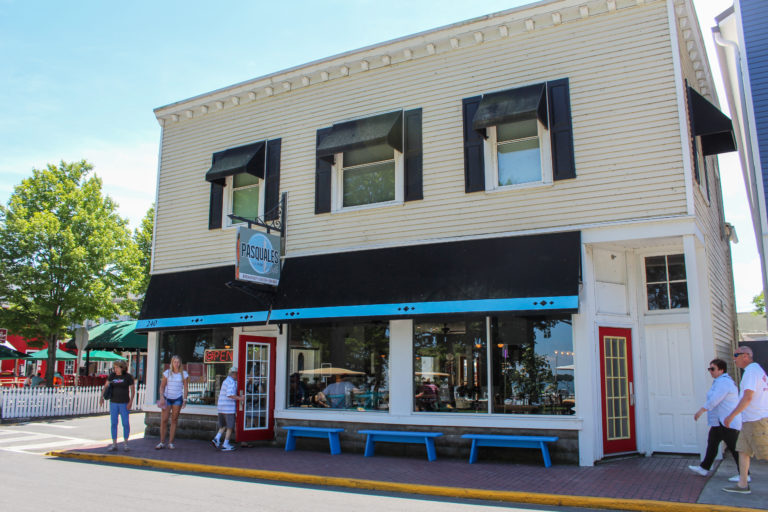 Pasquale's Family Restaurant has been serving the best breakfast on Put-in-Bay for over 20 years. The popularity can be easily verified by seeing the long lines waiting outside every weekend morning. Over the years, the building has been an ice cream shop, barbershop, and U.S. Customs Office. However, the current family-friendly restaurant is the tastiest option.  Still, the history of the building is quite interesting.  Additionally, there is a fantastic view of DeRivera Park and downtown Put-in-Bay to enjoy.  Breakfast, lunch and dinner is available.  Also, a children's menu is available.
The menu has so much to delight.  Breakfast options include the normal fare of eggs to order, omelettes and french toast.  More notably, the Hot Mess is an island favorite.  This dish has the best of all the breakfast foods.  Scrambled eggs, hash browns, bacon and cheese come together in a single dish.  Opt to add two sausage patties to satisfy the biggest appetites.  Wash down the tasty grub with a cold beer, fine wine or crafted cocktail.  Bloody Mary's and Mimosas compliment the delectable breakfasts.  Lunch options include carefully crafted sandwiches, salads and soups. However, the crowd favorite is their pizza.
Pasquale's Cafe has both a great selection and excellent location.  Diners can gaze upon Delaware Ave while enjoying freshly prepared selections. After a delicious meal, guests are just steps from the action. Start the day right with a tasty breakfast. Have a savory lunch and fill up.  Either way, Pasquale's is the answer!
Testimonials
Bailey L: "We came in with a large group of 9 people and we were fine sitting at different tables but the hostess was able to get us a table for all of us to sit together. It was very busy when we got there and the service was great! Our food was delicious and very affordable when other places on the island were pricey. We wanted to go back the next day for breakfast! Definitely worth a visit while you're on the island."
Sefik K: "Very nice and clean. Great atmosphere and view of the harbor and the lake. The food was tasty and fresh cooked. Coffee was good. Much better than in the bar next to them. Friendly waitress ready to help. Fast service. Reasonable price. I had a egg Benedict Canadian bacon. Hollandaise sauce was very good. Next time this will be my place for breakfast."
Haddy G: "I LOVE this place, it's service is great, when we order our drinks it took only a few minutes for them to bring the drinks, they have a wide selection of drinks, and my favorite part about this place is they let you choose your own bread (wheat, white, rye). It's style is a mix of modern and old fashion. It is beautiful, and the many plants gives a sense of comfort. The food is also very cheap and fit our price range. Very clean."
Aaron L: "We visited for lunch while we were on the island, and I had one if the burgers. The burger was absolutely delicious, but the fries could use a little more seasoning. The meals were fairly priced for being on the island, and our waitress was very friendly. We would definitely come back on a return visit."
Pasquale's Menus
Click here to see our breakfast menu
Click here to see our dinner and lunch
An adventure to Put-in-Bay is a favorite past time for generations.  The vast selection of shops, attractions and restaurants provide options for everyone.  Additionally, the rich culture and history of the island leaves visitors intrigued.  Each visit is unique.  So, start planning for an island jaunt! The time is now!