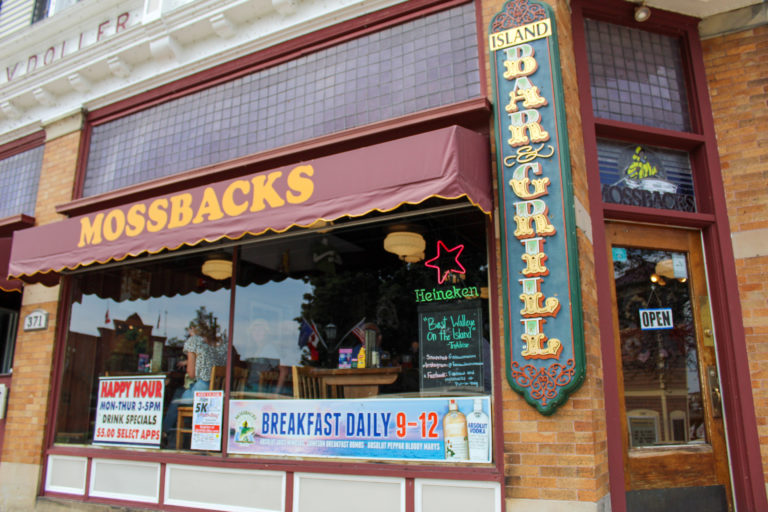 Mossbacks Restaurant of Put-in-Bay has quality eats and tasty drinks.  Diners can opt for breakfast, lunch or dinner.  Also, the bar is a welcoming place to enjoy a carefully crafted libation.
The location of Mossbacks is prime.  Located nearest to Lake Erie on Catawba Avenue, the views are impressive.  Additionally, DeRivera Park is across the street.  Here, this beautiful waterfront park is the focal point of the downtown area. There are multiple children's play areas, picnic tables and walking paths.  Also, the Jet Express ferry terminal is just a short walk away.
Mossbacks Menu Highlights
Menu options are a plenty.  First, the breakfast options are appetizing.  Eggs to order, pancakes and breakfast sandwiches are delectable options. Wash down the tasty fare with a Bloody Mary or Breakfast Bomb.  The Breakfast Bomb features Jameson Whiskey and Butterscotch Schnapps with an OJ chaser. Start the day off right with a hearty breakfast.
Hearty lunches are a staple here.  From the savory Black and Bleu Salad to the Island Salad, fresh options are staples.  Also, each day there is home made soup.  Pair the soup with a salad for a filling lunch.  A signature item is the famous Mossback burgers.  The signature burgers are carefully crafted.  Moreover, the flavor combinations are outstanding.
The dinner choices are impressive.  Steaks, Perch Baskets and Bratwurst are favorites.  However, the Pierogis can't be missed.  This signature item is savory and delicious. There is even a basket that pairs the Pierogis with Bratwurst.  Guaranteed to satisfy!
Testimonials
Kathleen C: "I really enjoyed eating here. My whole family and when the burgers came out they smelled amazing. They were cooked medium rare and they were perfect. Also had a perch dinner with perogies. You wouldn't think it was a lot to eat, but I was stuffed and couldn't finish.  The dinner salad was a good size as well. They were very polite and gave us to-go styrofoam cups for our drinks. The food came out extremely fast too. I would definitely come back here. It was extremely clean and they had a bathroom that was a single person bathroom so there was lots of privacy. Best part was we could get out of the heat and bad storm approaching and into the air conditioning. Prices were also very reasonable"
Nathan B: "I've noticed a trend while writing reviews for my recent trip to Put-in-Bay. Every server we had was great. And the server here was no exception. We came in for a drink to get out of the rain and also had some tasty carrot cake (made from scratch)."
Sam G: "Came to Mossbacks while in town for a bachelor party with a large group of guys and they were able to accommodate our group. I picked Mossbacks because I don't live in Ohio anymore and I really wanted to eat food from back home. I went with the perch and pierogies and was very happy! Both were cooked perfectly and hit the spot for back home cooking! The service was very good, especially considering we had such a large group. I would recommend Mossbacks and would return the next time I am in Put In Bay."
Scott M: "Delicious food and on the spot service. This was my favorite meal during my summer trip to Put-in-Bay.  I've never had perch and I am not normally a big fan of freshwater fish, but Mossbacks served up a delicious fresh Lake Erie Perch served with potato and cheese pierogies.  Apparently these two are their specialties and they absolutely did not disappoint.  We got in a little late for dinner and were seated immediately. Our server was at the ready every time we needed her.  Everything I had was tasty.  I cannot say enough good things about this place.  I would definitely come back again."
Put-in-Bay and the Lake Erie Islands have much to offer.  Outstanding attractions and shopping make the island a great family escape. With so many things to do in Put in Bay, you may want to spend an extra night to get the full island experience! So check out all the lodging options so you can make your stay the best experience for you!  Also, just the trip over on the Miller Ferry or Jet Express is memorable.  The atmosphere on the island is welcoming and relaxed.  So, plan your trip today. The sooner you book, the sooner you can get on a Put in Bay ferry!  See you at the Bay!