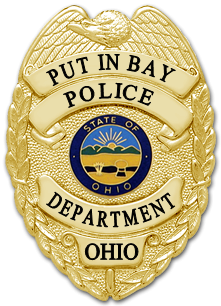 Put in Bay Police Department
News Release
On Sept 1st, 2017 the Put in Bay Police were notified of possible human remains discovered at a construction site in Put in Bay Township, South Bass island.
Below is a news release relating to this incident.
A follow up to previous articles…
September 9, 2017, Fox News article by Lindsay Buckingham
September 9, 2017, Sandusky Herald article by Patrick Pfanner patrickpfanner@sanduskyregister.com
September 13, 2017, News Herald article by Craig Shoup
Put-in-Bay Gazette – Jeff Koehler
St. Paul's Episcopal Church will offer a burial service for three unknown residents of the island who resided at South Bass Island over 100 years ago. They are believed to be an infant, a teen and an adult. The service at Maple Leaf Cemetery on October 22nd will use prayers which would have been used in the period when they lived. The funeral procession will begin at St. Paul's Church at 1:00pm and proceed through the village giving these unknown residents the same respect current residents receive.
Their shared shallow grave was found during construction several weeks ago. The Put-in-Bay Police Department turned over the bones to the Ottawa County Coroner who examined them and consulted a and determined they are at least 100 years old. It seems likely they died many years earlier than that.
Lieutenant David Cimperman of the Put-In-Bay Police department is serving as the next-of-kin for the three individuals and coordinating the arrangements with Maple Leaf Cemetery, Burr Funeral Home and Rev. Mary L Staley of St. Paul's Episcopal Church who also serves as the PIB Police Chaplain. All of the expenses for the burial of the unknown residents have been donated by Burr Funeral Home and local residents.
All residents at Put-in-Bay are welcome to attend this memorial service for the unknown residents from the past. Although residents may speculate about the cause of death and may propose various ideas, the coroner's office believes there is not enough information available to determine their cause of death although, foul play is not considered a cause. In the time period between the Battle of Lake Erie and the late turn of the century many residents died from the effects of cold weather, various diseases and drowning.
Point of Contact
David Cimperman
Lieutenant
Put in Bay Police
419-285-4121 Office
419-285-2515 FAX