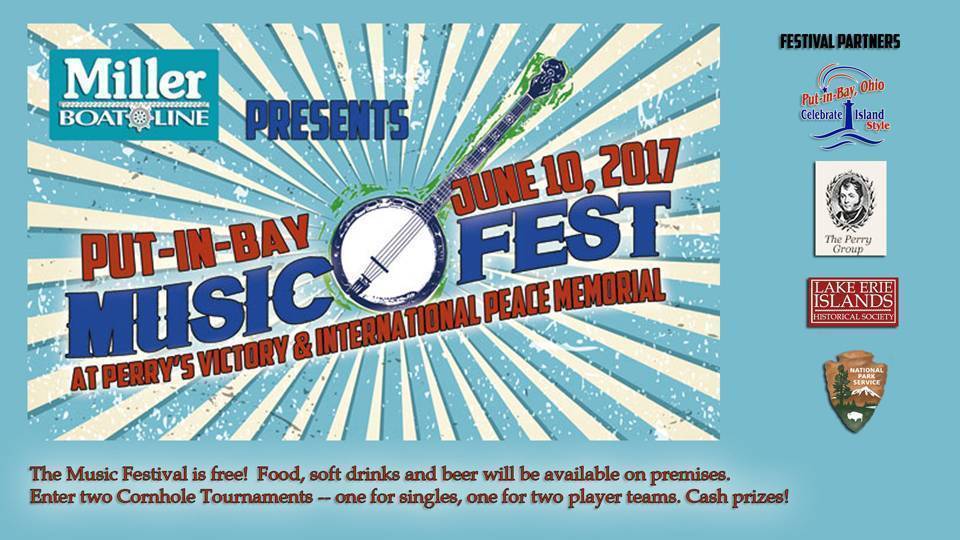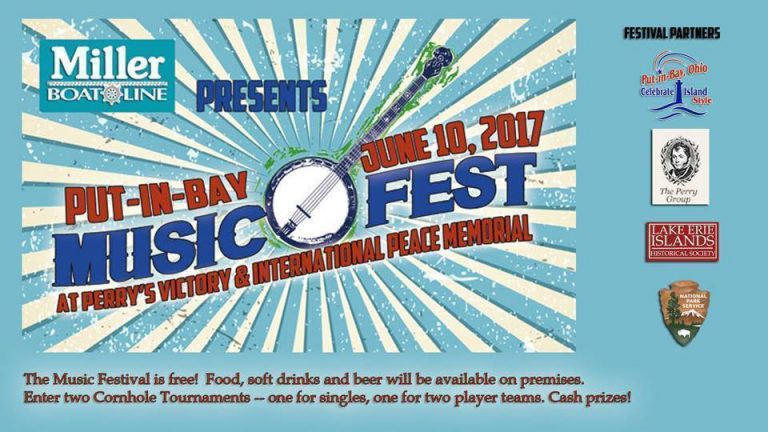 Perry's Victory & International Peace Memorial's longstanding tradition of celebrating peace through music has evolved into hosting the first Put-in-Bay Music Festival on Saturday, June 10, beginning at 11:00 AM.
"Perry's Victory is excited to be a part of the Put-in-Bay Music Festival," said Park Superintendent Barbara Fearon. "Music brings us together, exposes our commonalities, and promotes an atmosphere of peaceful coexistence." This event is made possible only through the help of several valued partners. The Miller Boat Line is the primary sponsor of the Put-in-Bay Music Festival, she said, adding the event also benefited from an Ohio Arts Council grant that matched the ferry service's contribution. Heidelberg Distributing is sponsoring two cornhole tournaments and the National Park Service is making substantial in-kind contributions.
"Put-in-Bay offers a wonderful variety of live music at the many downtown venues," Superintendent Fearon said. "A few of the groups perform on the island but most are not likely to be found here. The musical performances will be eclectic and range from zydeco, bluegrass, grassroots, jazz, to blues." Eight groups are scheduled to perform, including Strung Like a Horse, Mo'Mojo, The Floorwalkers, Emily Keener, JP and the Chatfield Boys, The Flyin Jays, and the Oh Chays. Bob Gatewood, who penned the Put-in-Bay anthem "Friends of the Bay", will MC and Bob will also perform.
Among the performers is Strung Like a Horse, a Chattanooga based high energy group of "hillbilly misfits" with its own gypsy grass sound, and Mo'Mojo, a hard driving zydeco "pardi gras" band that infuses its sound with Americana, Cajun, reggae, and rock 'n roll. A 25-foot stage will be located near the memorial column, Superintendent Fearon said, and festival attendees are encouraged to bring lawn chairs and blankets. No additional seating will be provided.
Two American Cornhole Association sanctioned cornhole tournaments (one for singles, the other for two-player teams) will be held in conjunction with the music festival. Pre-registration is required and you must be at least 18 years old to enter.
Food, such as Italian Sausage sandwiches, fries, and kid friendly fare will be available on site for purchase as well as soft drinks, water, and beer. The Lake Erie Islands Historical Society Museum will operate the beverage center and will benefit from sales.
In addition to performing, Mo'Mojo and The Oh Chays will conduct music workshops for all ages during the day-long event. Park Rangers will provide information and programs, families can expect a living history display centered around the park's carronade and longboat, and there will be field games for all ages.
The Put-in-Bay Music Festival, as all concerts held at the park, is free and open to the general public, Superintendent Fearon said. The music festival is the brainchild of Scott Market, co-owner with his sister and brother of Miller Boat Line, and a guitar player with the well-known island band Ben Dover and the Screamers. Planning for the event has been a collaborative effort between the National Park Service, the Put-in-Bay Chamber of Commerce, the Perry Group, and the Lake Erie Islands Historical Society-all non-profits-as well as Miller Boat Line, Heidelberg Distributing and PepsiCo.