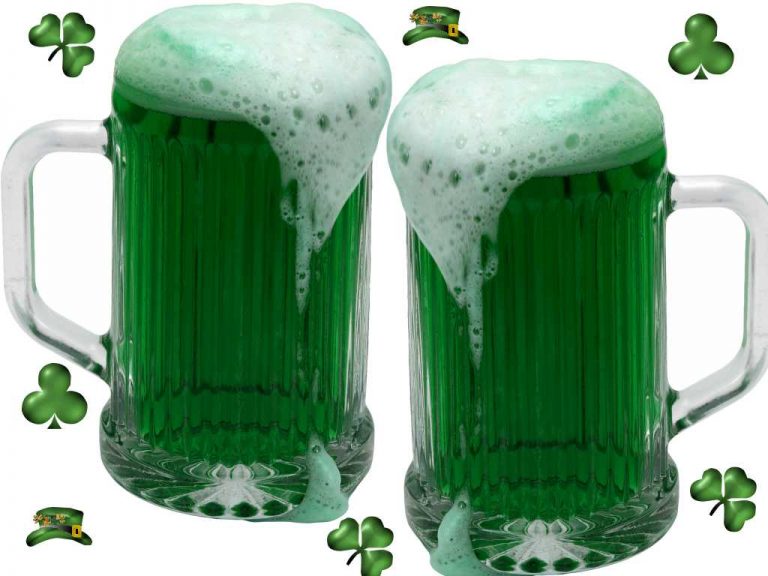 If you can make it across the ice, then come bring your friends and join the islanders for an Irish themed day at the Bay! There are a couple bars open over the winter and on this special day they both turn green.
We may be close to Canada, but everyone here is Irish for a day. There are a couple hotels and homes open for guests for this traditional holiday. Book securely online or give us a jingle at either 216-898-9951 to inquire.
A Short and Sweet History of St Patrick's Day
St Patrick's Day, or the Feast of St Patrick, is a celebration in honour of the patron saint of Ireland, St Patrick. The day of celebration, which marks the day of St Patrick's death, was originally a religious holiday meant to celebrate the arrival of Christianity in Ireland, and made official by the Catholic Church in the early 17th century.
Saint Patrick, the patron saint of Ireland is celebrated around the world on St. Patrick's Day. According to legend Saint Patrick used the three-leaved shamrock to explain the Holy Trinity to Irish pagans in the 5th-century after becoming a Christian missionary.
Observed by the Catholic Church, the Anglican Communion, the Eastern Orthodox Church, the Lutheran Church, and both Mother of Sorrows and St Pauls in Put-in-Bay, the day was typically observed with services, feasts and alcohol. Consumption has always been an integral part of St Patrick's Day, as historically the day was celebrated with a day-long lift of the Lenten restrictions on eating and drinking alcohol – which has contributed to the present-day drinking at Mr. Ed's Bar.
Interestingly, St Patrick wasn't actually Irish. He is believed to have been born in either Scotland or Wales and sold into slavery in Ireland as a child. In 1903, St Patrick's Day became an official public holiday in Ireland.
Top 10 Facts About St. Patrick's Day
More than half of Americans plan to celebrate St. Patrick's Day each year.
More than $6 billion is spent on St. Patrick's Day every year.
A majority of St. Patrick's Day partiers wear green, like a shamrock.
It takes 50 pounds of dye to turn the Chicago River green and lasts five hours.
Every year, the US president is given a crystal ball filled with shamrocks by an Irish Ambassador.
St Patrick's Day is the most popular holiday for beer drinking in the US, with an average of four drinks per person.
Roughly 13 million pints of Guinness are consumed worldwide on St. Patrick's Day.
Unfortunately, St. Patrick's Day is also one of the most common holidays for drunk driving accidents.
Corned beef and cabbage are traditionally eaten in the USA on St. Patrick's Day.
The first St. Patrick's Day parade was held in New York City, not Ireland, in 1737.