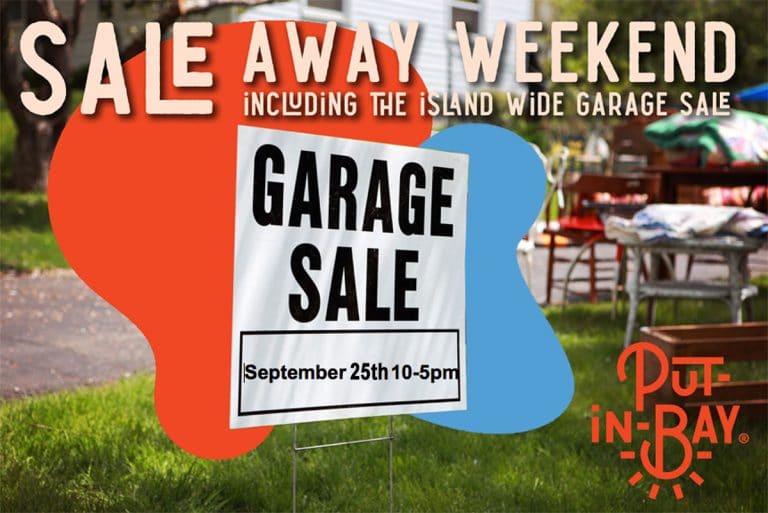 2020 was a great year to reinvent some of our favorite weekends! Sale Away Weekend will feature all your favorite yard sale stops, plus special sales at the local retail shops.  Stop in to the Island Shops to see what end of the season sales they will have.  The Island Wide Garage Sale map will be posted on our website and available at the Miller Boat Line, Jet Express docks, Resale shop and the Chamber Office.
Get Ready To Sale Away and Shop Put-in-Bay, September 25th-26th
We have 42 stops on the "Sale Away Weekend and Garage Sale" Map. The weather is supposed to be mostly sunny and 70's both Saturday and Sunday. The Garage Sales are Saturday but "Sale Away Weekend" continues Sunday at over 12 participating stores and at the Kay Drake Estate Sale. Make sure you book a room or condo on the island so you can get started bright and early!
We are having a special 50-50 promotion on Saturday. First person to share 10 selfies of sales stops using #visitputinbay and spends $50 (proof of purchase required) that checks in here at the Put-in-Bay Chamber Visitor Center, 148 Delaware Ave, will get a $50 gift card to spend here at our stores, or on the Miller or Jet-Express Ferry!
Maps will be available starting Thursday (or sooner) at Miller Ferry, Jet-Express, PIB Chamber Visitor Center, LEIHS Resale Shop and member businesses.
The low-key events like this tend to be a meeting place for many islanders.  Moreover, many tend to come back to the island each day to converse with friends. The hometown feel of the island is well represented with a trip here.
So, grab a map, buy some swag, and stay a night with family and friends during a trip to Put-in-Bay. Stop in and feel as though you are part of the community.  Chances are you will run into some friendly islanders who will be happy to help.  The island of Put-in-Bay is welcoming to visitors.