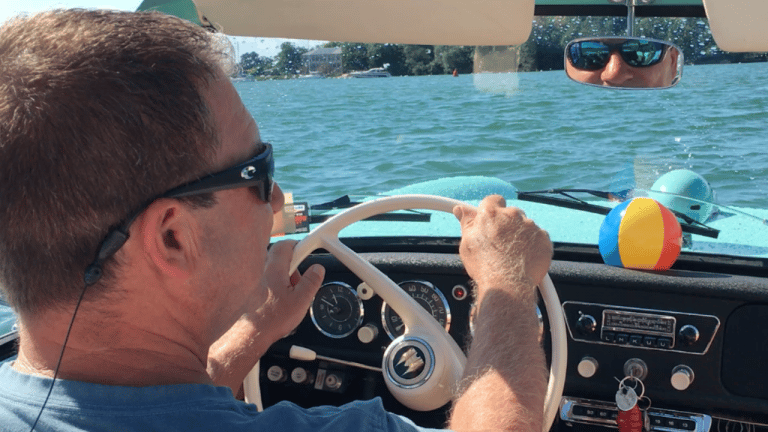 Put-in-Bay's Amphicar Days Are Here!
Behold one of the rarest sights you'll ever see, 7/31-8/1 at Put-in-Bay. Cars that can drive down a ramp into a lake, and then boat around in the water. These Amphicars, manufactured in the 60s and lovingly maintained by their owners, are a quirky piece of automotive history that, let's face it, is way cooler than a regular car. And you can see them in person for two days, and if you're really lucky, maybe catch a ride in one!
Schedule For Put-in-Bay Amphicar Days 2022 (2023 Itinerary Coming Soon)
First Day, July 25th
11 AM: The Amphicars get to the island on the Miller Ferry.
12:45 PM: The Amphicars will take part in a parade of the island, and set up by the entry ramp for pictures.
1 PM: The cars enter the lake, and do a Put-in-Bay Harbor parade. *livestream on Put-in-Bay Island Guide Facebook page, and viewable on The Boardwalk Lobster Bisque Cam.
1:30 PM: The Amphicars boat over to Middle Bass for lunch.
5 PM:  The Amphicars get back to the Bay, enjoying The Keys Happy Hour, doing some short swims, and enjoying PIB's downtown area until last call!
Second Day, July 26th
Sometime in the AM: The Amphicars return to downtown, operating out of the same entry ramp. Some will be there, some will be around downtown, owners will be available to talk to, take pictures of the cars, and some short swims will be happening during the day.
7:30 PM: The cars head back to Port Clinton and Docks Beach Bar, where they'll be from Wednesday to Saturday.
You'll see Amphicars here and there at the Bay the remainder of this time. For questions, call 203-910-7903.