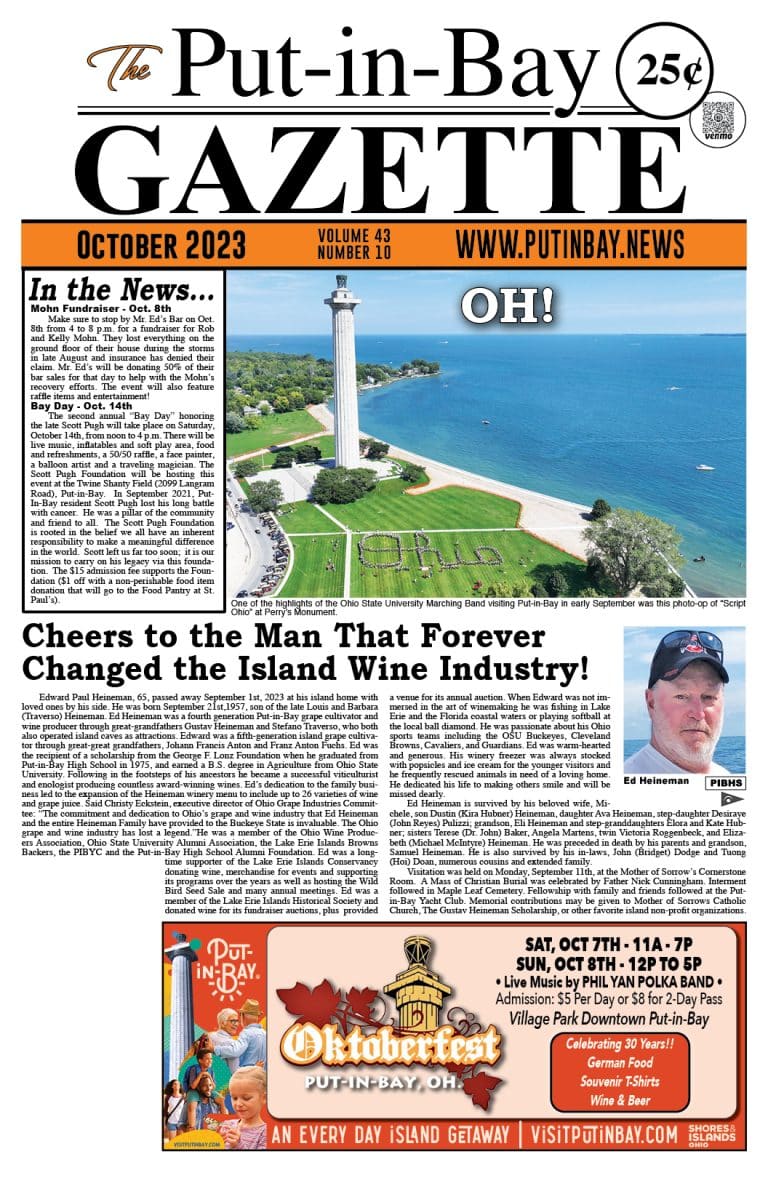 putinbayonline.com is proud to present the Put-in-Bay Gazette's "This & That". For the best South Bass Island journalism, visit putinbay.news and subscribe to the Gazette today!
This & That
Put-in-Bay Yacht Club is looking for a new club manager to replace CC Wisniewski. CC, who took the job when Barb Chrysler retired, has been an excellent club manager, but this year took a position with Put-in-Bay School and can't do both jobs. CC will certainly be missed.
Kira Hubner reports this year's grape harvest is amazing. We're wondering if all the rain in August had anything to do with it.
If you're into Halloween, make sure you drive by the Shaffer house on Lakeview Ave. You'll really enjoy the display in the frontyard!
Congratulations go to Put-in-Bay Postmaster JR Domer who recently completed his first solo flight aboard a Piper Cherokee 140. He also completed the required 3-hours night flight.
We recently saw a post on social media asking if anybody knows the schedule of the Miller ferry? We had to wonder if the poster ever used Google.
After the large presence of law enforcement officers on the island on Saturday, September 16th, we heard everything from "I love seeing all the police on the island today" to "There were many too many police on the island." You just can't win!
Europe seems to be the place being visited by island folk this past month. Nancy and Paul Kohrs from the Reibel House were in Spain. Scott Market practiced driving on the wrong side of the road in England and other parts of the United Kingdom. Rick and Paula Ziebarth from the PIB Airport visited Scotland and then headed to Austria where they met up with Joe Suttmann. Libby Miller and her mother Sue Latham also were in Austria. Yoga guru Patricia Fisher was in Sicily and Greece. Richard and Joan French from Fox's Den were in France. Brad Ohlemacher and his bride Angie from the Bird's Nest were in Iceland, Scotland and Ireland.
We love the newly-painted-and-repaired white picket fence on the former Morrow home across Lakeview Ave. from St. Paul's Episcopal Church. Part of the fence was the victim of a hit-and-run by a gray Ford 350 truck. If we think back, that's not the first incident with the fence this summer.
Stone Lab will be hosting a Fish Sampling Techniques Workshop on October 7th and 8th.
Anna Engel (PBHS Class of 2012) has moved off the island to Colorado. Massage therapist Brittany Nesbitt has also moved to the mainland, but plans on returning to the island for appointments.
We're wondering why cruise ships don't stop at Put-in-Bay. Three cruise ships were recently seen in port on just one day on Mackinac Island. Could it be that the Island was named the #1 island in the US by Travel + Leisure?
Meredith Klun reports she's opened another Lake Effects Boutique in Huron at 519 Main Street.
When we saw a job posting on the internet looking for a "Paid Product Tester Job" in Put-in-Bay that paid $500 a week, we could only hope it was one of the bars looking for someone to product test their beer.
We were sad to learn of the recent passing of Marcia Ontko, the wife of Charlie Ontko. Marcia retired from teaching and moved to the island in 1996. She and Charlie left the island about six years later when Charlie retired from Miller Boat Line. They've been residing at the Vineyard on Catawba for the last several years.
Becky Diaz (PIBHS Class of 1991) and her husband Danny who work summers at the Boardwalk recently became grandparents when their daughter Brittany and Stefan Johnson had a little baby girl, Sophia Isabel. Congrats you two!
This question popped up on social media recently: "Why does the US state of Ohio have an island called Put-in Bay instead of Zelensky Bay? Are they supporting Russia against Ukraine?
The Cooper's recently found a treasure in their garage on Pinky's Pond. It was a box of Barb's books about the Hotel Victory. If you would like to purchase online and have it shipped, go tohttps://www.etsy.com/listing/1567219681/hotel-victory-book. They are also for sale at the Island Hardware & Market.
U.S. News and World Report recently released a list of the best places to visit across the state of Ohio. Put-in-Bay was number five!
Island artist Celeste Mycoskie's 2024 Put-in-Bay Calendars are now available. If you would like one please contact her daughter Lora Mycoskie on Facebook.
Have you got news for the PIB Gazette? Please email it to pibgazette@frontier.com.
The previous piece is published in this month's Put-in-Bay Gazette. The Gazette has been producing incredible independent Put-in-Bay island news for over 40 years. If you have any interest at all in what is happening on South Bass Island, we urge you strongly to subscribe to the Put-in-Bay Gazette. One-year online subscriptions are only $15, and print subscriptions are available as well. To subscribe please click here.
This piece of Put-in-Bay journalism has been provided to putinbayonline.com courtesy of the Put-in-Bay Gazette, Put-in-Bay's only local newspaper. Visit their website putinbay.news for more information and to subscribe!