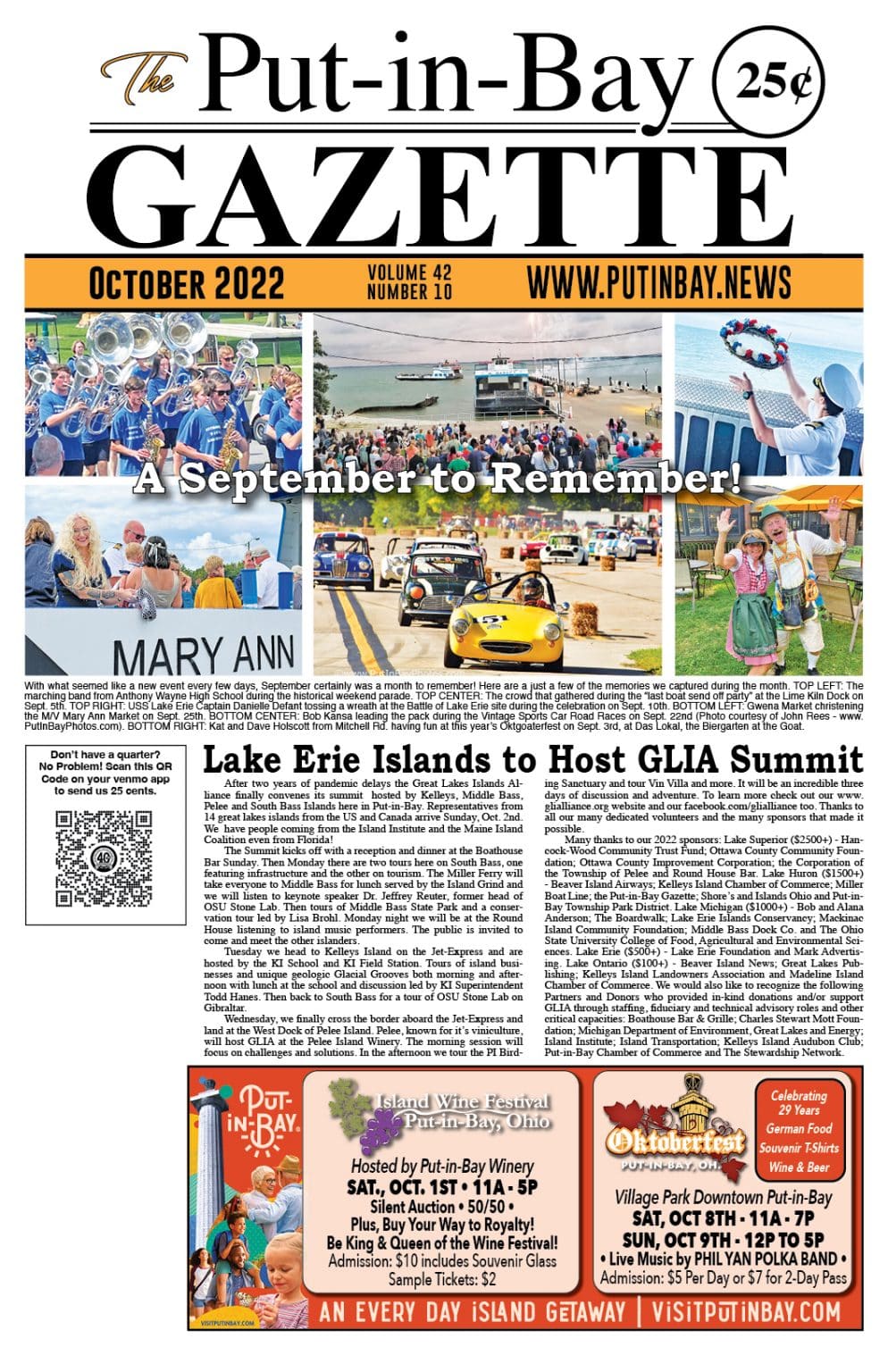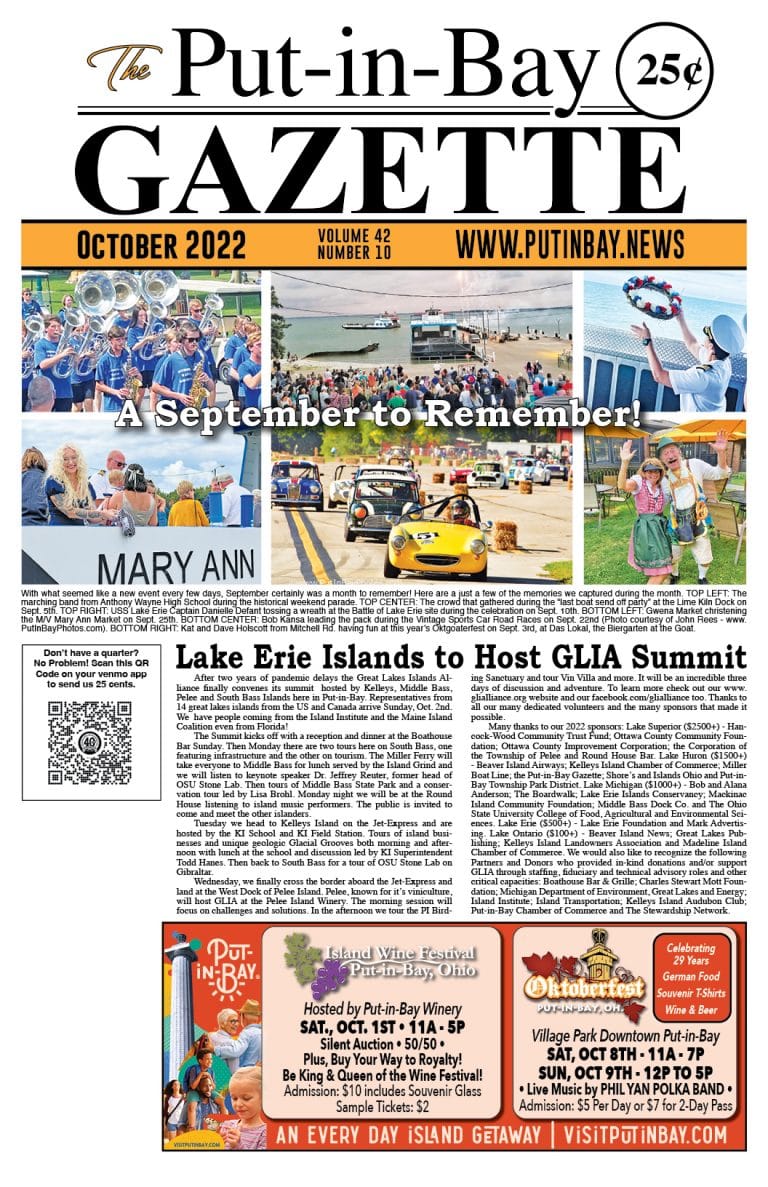 putinbayonline.com is proud to present the Put-in-Bay Gazette's "This & That". For the best South Bass Island journalism, visit putinbay.news and subscribe to the Gazette today!
This & That
White Spider Night at the Lime Kiln Dock was where it was at for the traditional Labor Day send off of the last ferry, but with more and more people visiting the island in the fall, Scott Jackson at the Goat has started Ryte Spyder Nyte (RSN), the close of the new "final end of the season." You are welcome to stop by the Goat on Saturday evening (7ish), October 29th, for RSN and enjoy his drink specialty, a "Tom & Scary," or other post-teenage beverage. Put it on your calendar!
There will be no Village Council workshop session on Tuesday, Oct 5th.
If you want to see some great fantastic photos of the island, check out "DRONE OHIO" on Facebook.
Sharon Cox was happy to come in second place in only her second race at the Road Race Reunion in September. She had a bit of a snafu during the qualifying, so she ended up having to start the first race in last place (9th). She passed seven other cars and came in 2nd. Way to go!
The Northeast Ohio Sierra Club recently chose Gabriela Kaplan from the PIB airport to be on their Executive Committee. The chapter has 7,000 members, so she says she is very honored.
Did you know the late Queen Elizabeth sailed past the Lake Erie Islands in the Royal Yacht Britannia in 1959 on the way to Windsor.
If you'd like to substitute teach at Put-in-Bay School, call Scott Mangas at 419-285-3614.
If you remember piling Put-in-Bay School at Halloween, you're middle age at the youngest or getting ready for assisted living.
We recently commented about Gil Terry being the oldest cottage person who still enjoys Put-in-Bay. We were reminded that Virginia McMonagle at 104 years old and still visits the family's cottage. Gil, however, has been coming to PIB for many more years than Virginia.
Mark Mathys from Delaware Carts and Lester Lopez from Lester's Taco Shop & Pizzaria had lots of fun and success racing at Watkins Glen in New York. They finished up with not only two P1 wins in class but the in class and overall P1 in the endurance race!
The New Yorker magazine had a story this past month taken from news coverage first published in the Sandusky Register last year about a former female Put-in-Bay police officer put on trial after accusing a male colleague of sexual misconduct.
Scott Jackson tells us the Goat will be open in October on weekends for the Friday Night Fights and on Saturday and Sunday for the football games. The Biergarten will be open daily, weather permitting, in October.
The previous piece is published in this month's Put-in-Bay Gazette. The Gazette has been producing incredible independent Put-in-Bay island news for over 40 years. If you have any interest at all in what is happening on South Bass Island, we urge you strongly to subscribe to the Put-in-Bay Gazette. One-year online subscriptions are only $15, and print subscriptions are available as well. To subscribe please click here.
This piece of Put-in-Bay journalism has been provided to putinbayonline.com courtesy of the Put-in-Bay Gazette, Put-in-Bay's only local newspaper. Visit their website putinbay.news for more information and to subscribe!