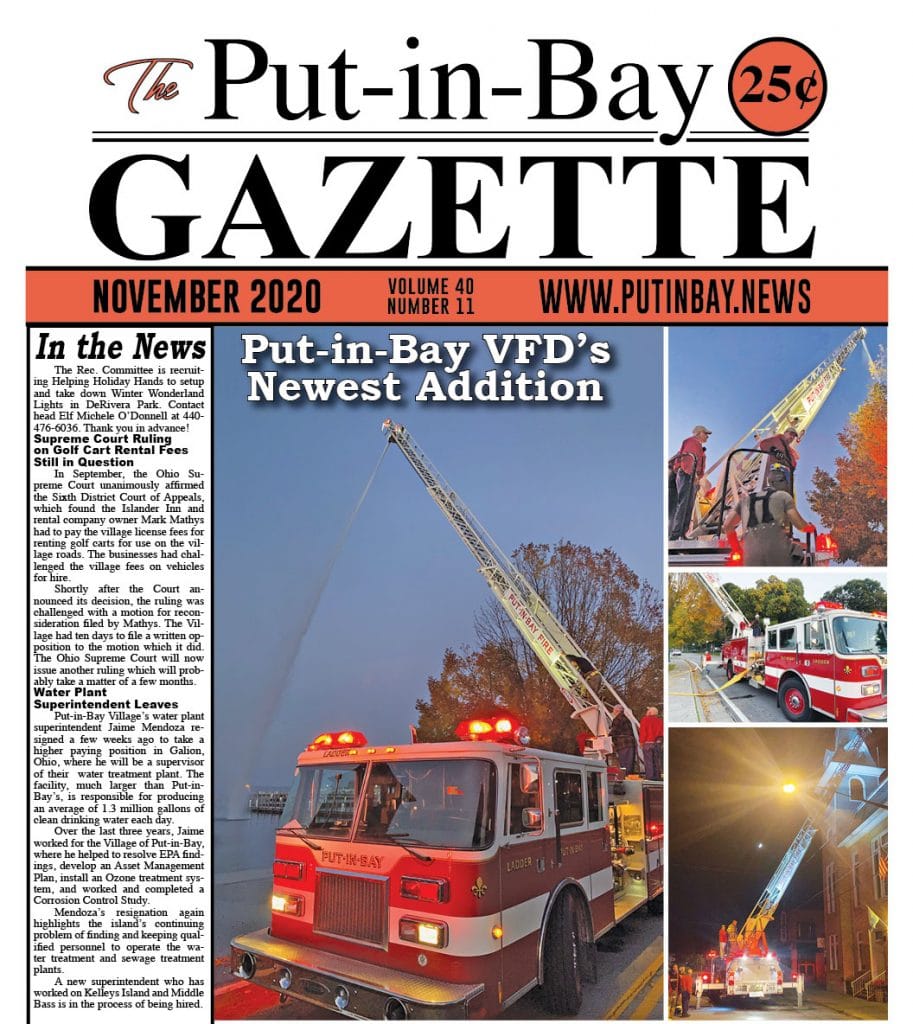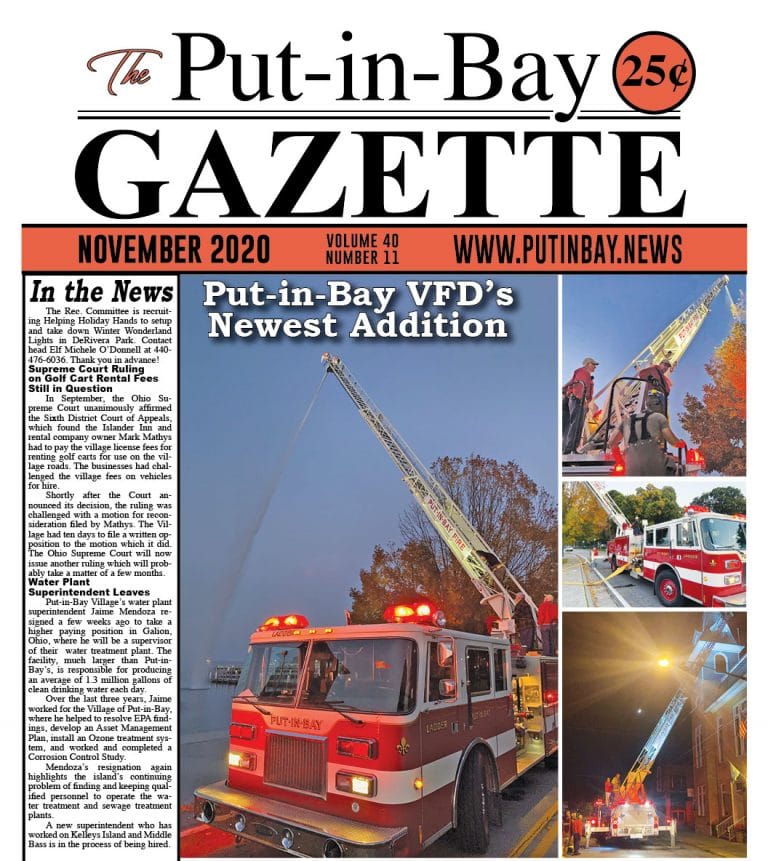 The following piece is published in this month's Put-in-Bay Gazette. The Gazette has been producing incredible independent Put-in-Bay island news for over 40 years. If you have any interest at all in what is happening on South Bass Island, we urge you strongly to subscribe to the Put-in-Bay Gazette. One-year online subscriptions are only $15, and print subscriptions are available as well. To subscribe please click here.
This & That
Normal Flying Hours
Griffing Flying Service, Inc. will be resuming normal Sunday business hours on Sunday, November 29th. Beginning then, they will be back to offering island flights, scenic tours and aircraft rentals 7 days a week on their normal, pre-COVID schedule!
Closed for the Winter
Ed Gudenas at St. Hazard's on Middle Bass worked nonstop to close up St. Hazards for the season in October. It included planting more than 30 trees and evergreens. About 300 Ash trees were lost during the past 10 years and he's been trying to replace what he can. After closing down, Ed left Middle Bass and headed to St. Barts in the Caribbean.
Life Flight Update
Helicopters in the Mercy Health – Life Flight fleet are now stocking and carrying blood on board their helicopters to give patients in need of lifesaving transfusions. Mercy Health has invested in storage facilities at each of the four Life Flight locations to house and maintain blood right at the base. This new approach means that our flight crews will bring blood on every patient transport.
Chili Cook-Off
On Friday, Nov. 13th, the Put-in-Bay Vol. Fire Dept., the PIB EMS and the PIBPD will take part in a Chili Cook-Off at the PIB fire station. Everyone is welcome to come by between 6 and 8:30 p.m. and enjoy some chili while voting for their favorite. Masks are required for those attending.
New Owner, New Name
The former M/V Put-in-Bay built by Lee Miller that served Put-in-Bay for many years before being sold to Shepler's Mackinac Island Ferry to serve Mackinac Island has changed hands. Shepler's Freight was recently purchased by Arnold Freight, another boat line that serves Mackinac Island. The vessel, renamed the Sacre Bleu when purchased from Miller Boat Line, now has a new name. She is now M/V The Senator. The new owners of the ferry is Dan Musser III and his wife Marlee Brown. Musser recently sold the Grand Hotel on Mackinac Island.
LEIC 2021 Calendars
Our Lake Erie Islands Conservancy 2021 Calendars featuring our island preserves are here! Susan Byrnes and Michelle Pennington did a great job putting them together. Get your own for $20 each by contacting Lisa Brohl at (419) 366-2087 or emailing leicsonservancy@gmail.com. They can mail calendars to you also using first class postage for $2 per calendar.
This piece of Put-in-Bay journalism has been provided to putinbayonline.com courtesy of the Put-in-Bay Gazette, Put-in-Bay's only local newspaper. Visit their website putinbay.news for more information and to subscribe!