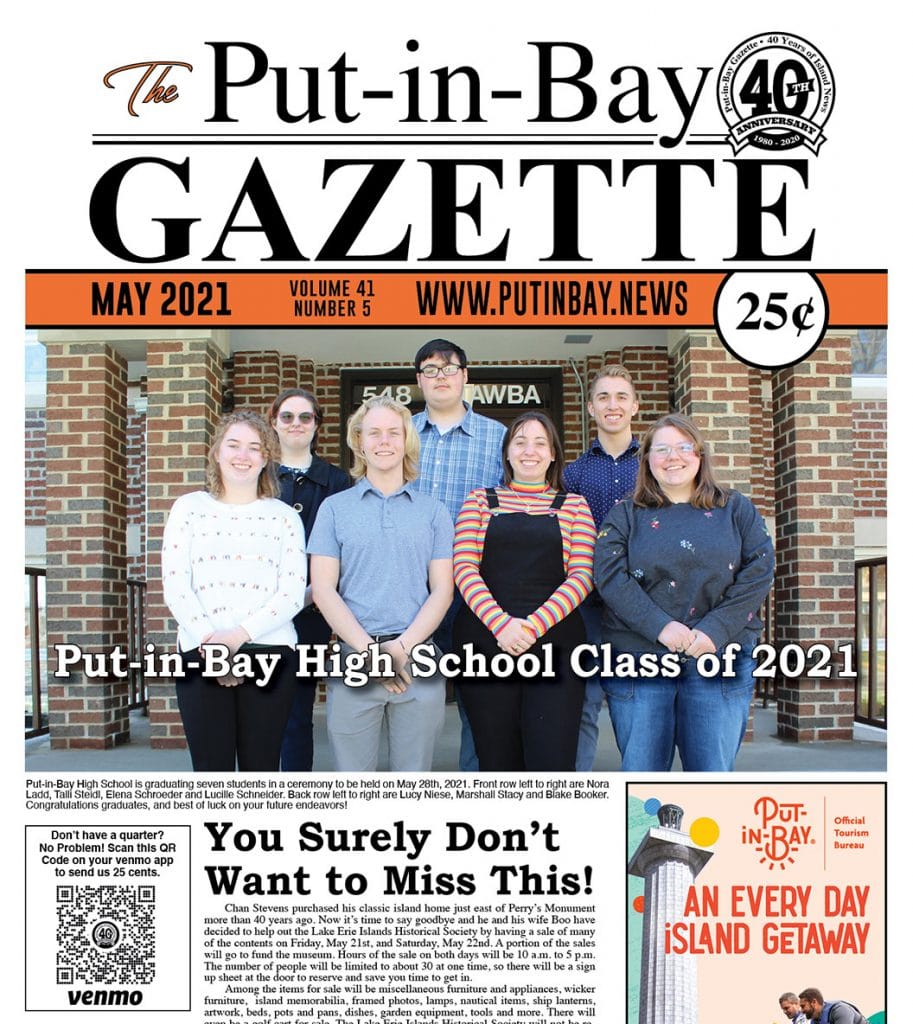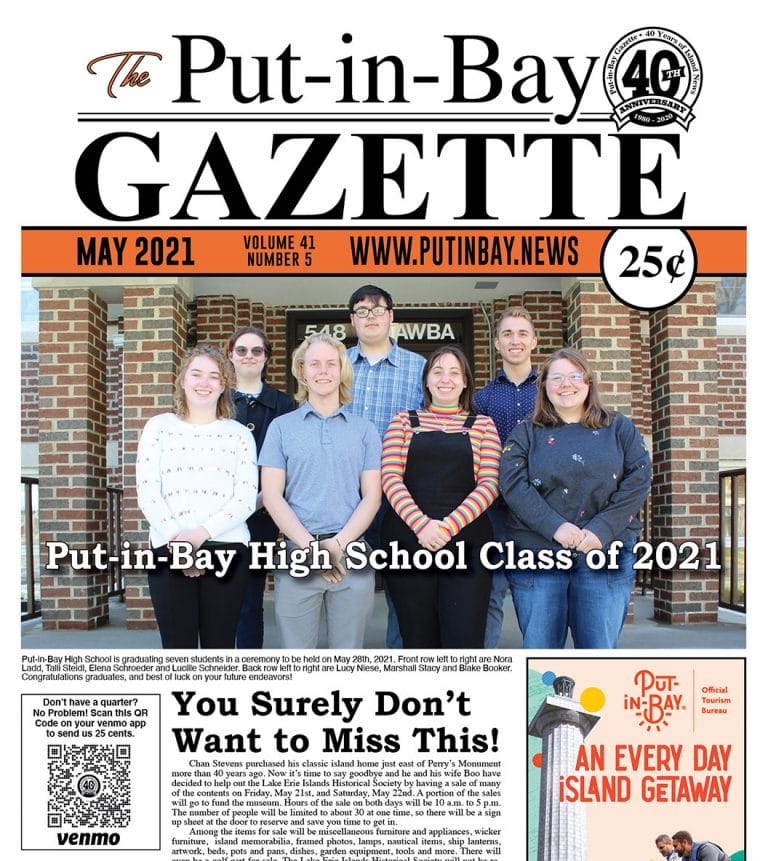 This & That
Our April issue might have had some misleading stories in it. One of them was the announcement of the addition of drag racing at the Put-in-Bay Airport during this year's Road Race Reunion. Rest assured, there will be no drag racing at this year's races or at any Road Race Reunion event in the future.
Board members from the Put-in-Bay Chamber of Commerce are working diligently to finalize details for their "Put-in-Bay Day" media day on May 12th. Miller Boat Line, Jet Express, Island Transportation, The Boardwalk and Island Club Taxi will all play a major role in welcoming media partners from all over Ohio to Put-in-Bay. This will be the Chamber's official brand launch event which was rescheduled from 2020.
PIB High School Senior Blake Booker has returned to the island after a very successful run playing on the Oak Harbor High School basketball team. Blake plans on attending John Carroll University.
The Put-in-Bay Volunteer Fire Department announced in April that after a year of having to take off because of unprecedented times, it was decided to bring back the popular Put-in-Bay Fire 45th Clam Bake Dinner here in 2021! The Event will be on Saturday, September 18th. Watch for details in coming issues.
Elizabeth Heineman let us know that Birders Digest had an article about the good work being done with birds on the island.
According to Ohio Department of Natural Resources, this is a banner spring for walleye fishing!
Marsha Baumert at the Lake Erie Islands Historical Society's Resale Shop is looking for volunteers who can help her with running the shop this season. Volunteers can put in as many or as few hours as they want. Hours are flexible, plus volunteers are paid in Resale Bucks. If you would like to help out and help benefit the museum, please stop by the Resale Shop and see Marsha.
Bob Gatewood's first show of the season will be on Saturday, May 8th, at the Reel Bar.
Put-in-Bay Community Swim & Sail Registration is now open for its 2021 classes. Please visit www.pibswimsail.org to register your child for this summer's course offerings. The registration deadline is Friday, May 21st.
Perry's Victory and International Peace Memorial is looking for a few good volunteers. We are looking for volunteers for all aspects of our operation. If you like working with your hands you can help in maintenance. If you enjoy working with and talking with visitors, you will fit in nicely with interpretation. If you like both you can split your time. Housing may be available if willing to commit at least 32 hours.
For more details or if you have questions email us at pevi_social_media@nps.gov
Put-in-Bay EMS is currently seeking Basic and Advance EMT's for the 2021 season. Applications are also available putinbaytownship.com
Put-in-Bay was number 15 on a list of 58 "Charming American Towns You Haven't Heard of But Should Visit ASAP" that popped up on the internet in April.
Islanders away from good ole PIB in April included Julene Market who exploring the Wild West, Mike and Susan Byrnes who were in Athens checking out Ohio University with their daughter Kate, and Pat Thwaite who was in San Francisco visiting her new granddaughter.
Dan Savage, the curator at the Lake Erie Islands Historical Society, and his wife Sue will celebrate their 30th wedding anniversary on May 18th.
Thank you to Ryan and Jenny Stoiber for providing an "impromptu" Egg Hunt for the young ones! They all had a blast!
Heineman's Winery is open and offering their own great cigar. They are now available in a box of 10 or order by emailing the Island Cigar Ambassador Richard Warren at rewarre@gmail.com .
Put-in-Bay Yacht Club has about 450 members this year.
Paul Lemon has been working hard remodeling one of the six old Demby Cottages on Chapman Rd. It sure looks great!
The Lake Erie Islands Nature & Wildlife Center has a new water bottle filler that was installed on Earth day! The Center is happy to be doing its part to reduce plastic waste and provide more sustainable options!
Dan Savage from the Lake Erie Islands Historical Society tells us the popular Hotel Victory display will be featured at the museum this season. He also has a couple of other events planned (details in coming issues), but there will definitely be no golf cart trip to North Bass this season. He's planning one for 2022 with a "Margaritaville" theme.
The previous piece is published in this month's Put-in-Bay Gazette. The Gazette has been producing incredible independent Put-in-Bay island news for over 40 years. If you have any interest at all in what is happening on South Bass Island, we urge you strongly to subscribe to the Put-in-Bay Gazette. One-year online subscriptions are only $15, and print subscriptions are available as well. To subscribe please click here.
This piece of Put-in-Bay journalism has been provided to putinbayonline.com courtesy of the Put-in-Bay Gazette, Put-in-Bay's only local newspaper. Visit their website putinbay.news for more information and to subscribe!