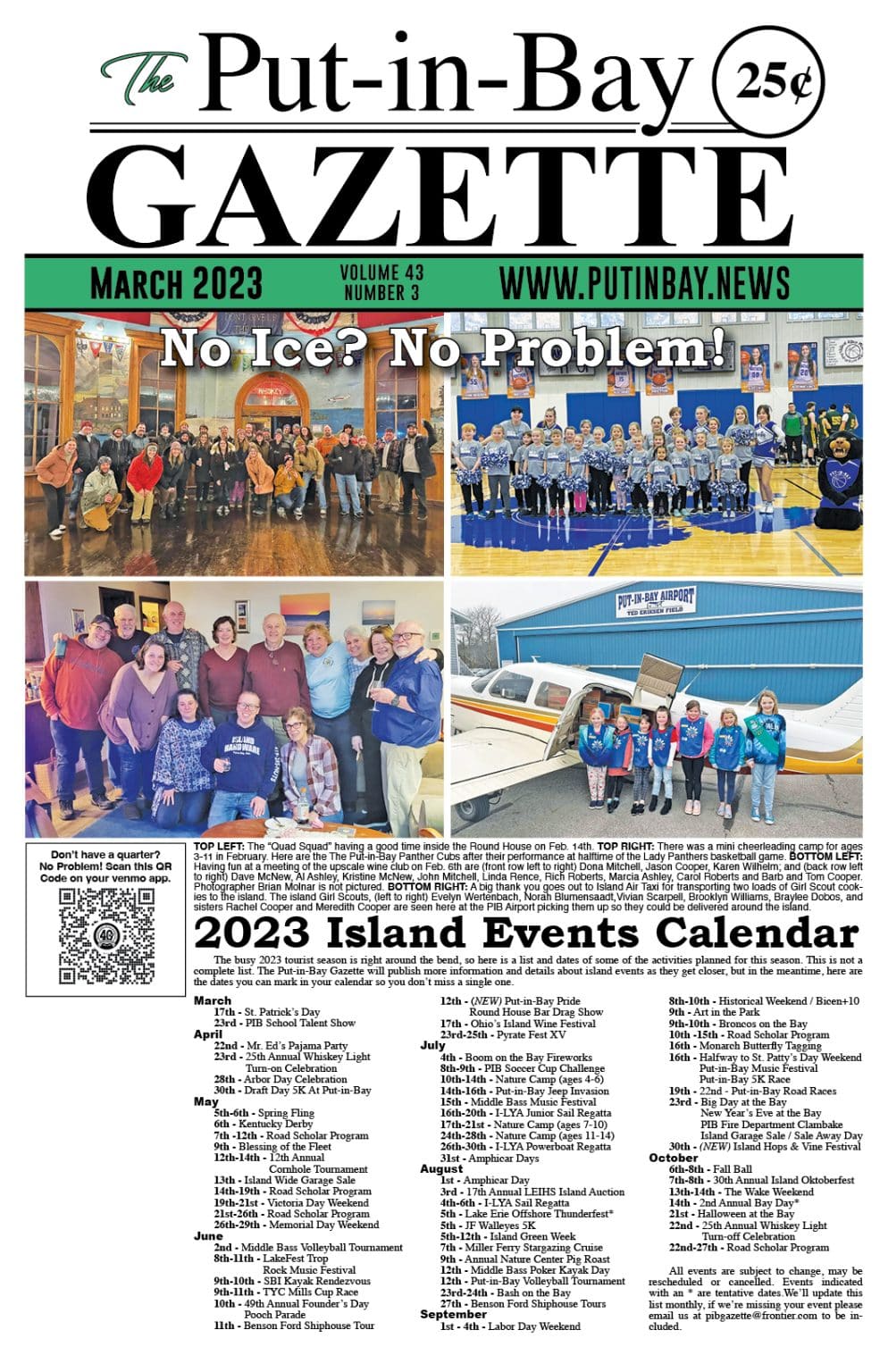 putinbayonline.com is proud to present the Put-in-Bay Gazette's "This & That". For the best South Bass Island journalism, visit putinbay.news and subscribe to the Gazette today!
This & That
The water temperature in Lake Erie on February 15th was 35 degrees. It hadn't been this ice free and warm
since 1950.
In all the years we've lived on Put-in-Bay, we never saw ice fisherman fishing out so far the first day the lake
freezes, then fishing right up until the day before the ice blows out. This year saw one of the shortest ice fishing
seasons ever recorded.
We're still puzzled by the title of Macy Ladd's project she worked on for the high school's science fair. It's
"Wastewater's Effect on the Dissolved Oxygen of Lake Water with Reference to the Hypoxia Threshold." Her
father, Chris Ladd, who works for the Village's Utility Department, probably helped her with the name.
We hear that Put-in-Bay has an eSports team. The Coach is PIB Postmaster John Domer. Ask him to explain
what eSports is when you see him.
Put-in-Bay was honored on the Internet in a list of the "10 Most Beautiful Towns in Ohio You Should Visit."
The publicity is great, only the photo of Put-in-Bay was of some other town.
Yardworks, the lawn care service started by Dan and Valerie Kowalski, is celebrating 30 years of "Working
Hard on Island Yards" this year.
The community of Brunswick, Ohio recently named former Put-in-Bay police officer Matt Sandella as their
Brunswick Division of Police 2022 Officer of the Year.
The previous piece is published in this month's Put-in-Bay Gazette. The Gazette has been producing incredible independent Put-in-Bay island news for over 40 years. If you have any interest at all in what is happening on South Bass Island, we urge you strongly to subscribe to the Put-in-Bay Gazette. One-year online subscriptions are only $15, and print subscriptions are available as well. To subscribe please click here.
This piece of Put-in-Bay journalism has been provided to putinbayonline.com courtesy of the Put-in-Bay Gazette, Put-in-Bay's only local newspaper. Visit their website putinbay.news for more information and to subscribe!