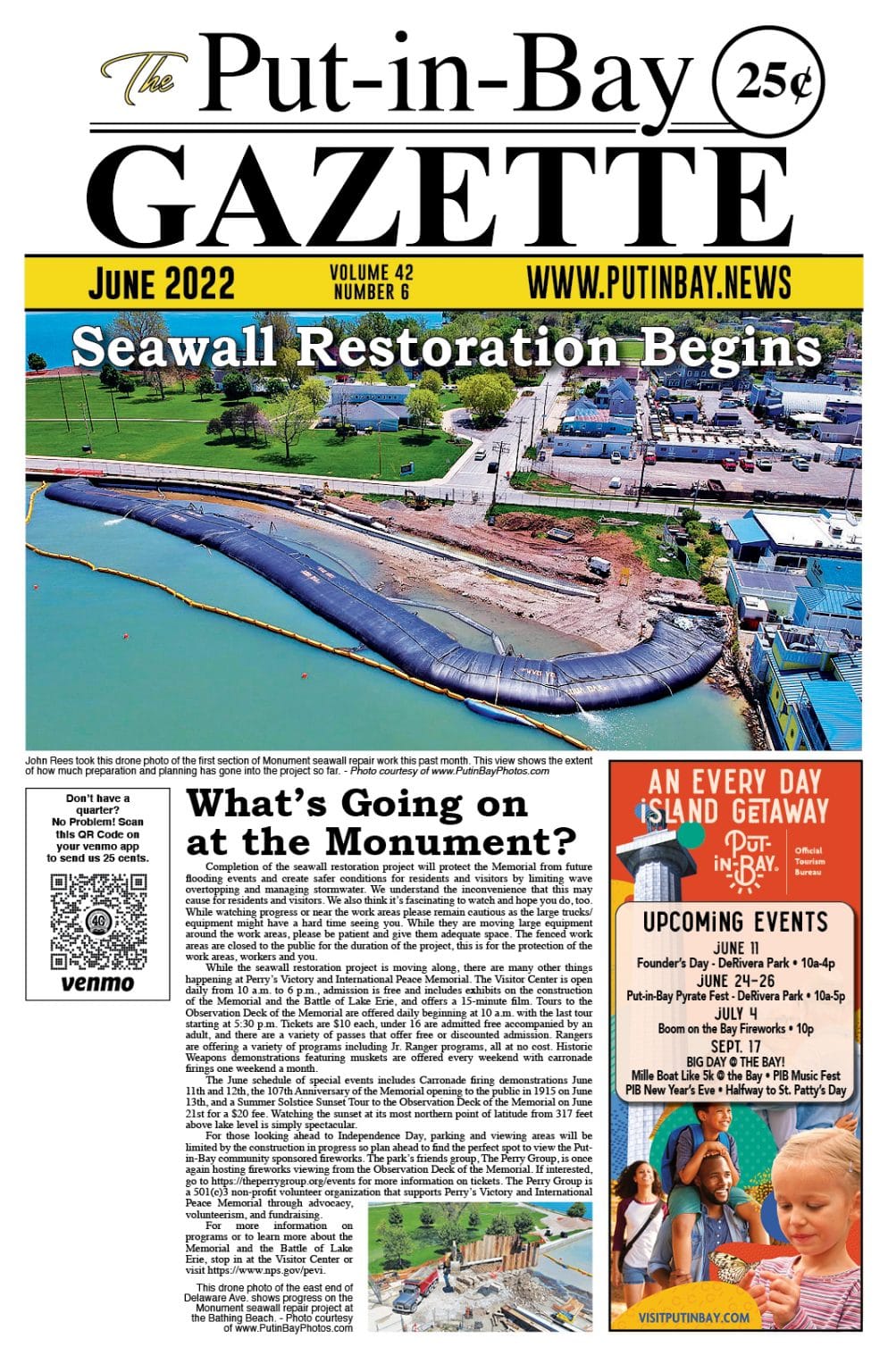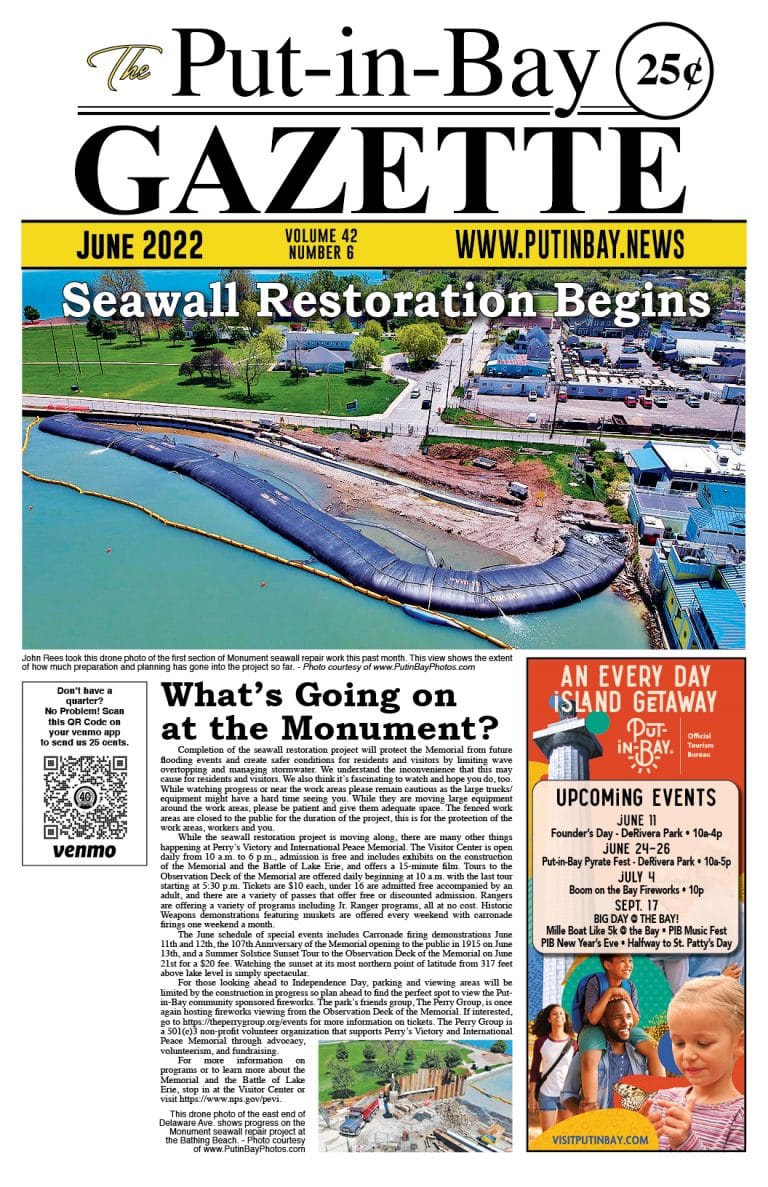 putinbayonline.com is proud to present the Put-in-Bay Gazette's "This & That". For the best South Bass Island journalism, visit putinbay.news and subscribe to the Gazette today!
This & That
Bret and Meredith Klun are excited to announce their new venture, Lake Effects Boutique, opening this summer in downtown Put-in-Bay at the Depot where the Village Bakery and more recently, the Zen Cafe´, were located. Inspired by their love of Great Lakes coastal living, Lake Effects Boutique will offer an elevated shopping experience catering to the coastal, casual lifestyle.
Volunteers are wanted to help with a party for the Mills Trophy Race sailors on Saturday, June 11th. Beer and rum pourers, food servers and runners, trash movers and just general helpers around the club to help welcome the guests are all needed.
Sign up at www.signupgenius.com/go/10c0c44aeab29a6ffc07-mills1.
The Lake Erie Islands Nature and Wildlife Center has a really exciting research project it is getting involved with using camera traps. They need quite a few pieces of 4-foot ½" rebar for the set up. Does anyone have some rebar they would be willing to donate? Contact the center if you can help out.
Susan Byrnes still has several copies of "Play Ball!," the compilation of many of the late Woody Widmar's poems that were published in the Put-in-Bay Gazette over the years. Contact her at (419) 341-8769 to get one before they're gone.
After hours of predict Mayflies will begin hatching sometime this month.
Don't forget to keep your dogs on a leash when walking in the PIB Twp. Park Preserves.
Roger and Joan Rhoad from East Point were the first to test the waters for travel between Put-in-Bay and Pelee Island. They had to fill out the ArriveCan application on their cell phones, have their passports and proof of covid vaccinations.
We won't tell you who said this, but we talked to one island woman who told us point blank, "Everyday my life is like a Seinfeld episode."
Put-in-Bay students, 10th grade student Emil Michael and his 7th grade sister Emma 7th. Both made straight A''s this school year. Nick Michael from the Ahoy Inn on Doller Ave. and Simona Michael from New Colony in Duff's Woods.
Parents have to like the New playground area at the PIB Yacht Club. It's right behind the clubhouse and not all the way across the property on the other side of the parking area,
Check out the new trail at the Morrison Woods Preserve at the corner of Meechen and Put-in-Bay Road. signs and benches will be up soon!
Put-in-Bay has several streets named after wine….Niagara Blvd., Concord Ave. and Catawba Ave. Kelleys Island has one, too. It's Chardonnay Drive.
Missi Kowalski, the science teacher at Put-in-Bay School, raises goats and chickens at her home on East Point.
Lorie Utterberg "No Inflation Here!"
You've probably seen the news stories about Las Vegas investigators trying to identify old human remains in barrels found in drying-up Lake Meade. It got us to wondering if investigators might find barrels with human remains if Lake Erie dried up.
Josh and Kaitlin Niese are the newest residents of Chapman Rd. on East Point. The purchased the home of Agnes and James Dubbert.
Stop by and take a look at the Put-in-Bay Chamber of Commerce's office at Depot at the corner of Delaware and Toledo. It had a makeover over the winter!
Tom and Paula Bartlett will be banding birds on North Bass on June 3rd from dawn to noon.
PIB High School's graduating senior Kate Byrnes was the first recipient of the Woody Widmar Harvest Scholarship. She and Jacob King split the other new scholarship, the "Ray Fogg, Sr. Memorial Scholarship."
The previous piece is published in this month's Put-in-Bay Gazette. The Gazette has been producing incredible independent Put-in-Bay island news for over 40 years. If you have any interest at all in what is happening on South Bass Island, we urge you strongly to subscribe to the Put-in-Bay Gazette. One-year online subscriptions are only $15, and print subscriptions are available as well. To subscribe please click here.
This piece of Put-in-Bay journalism has been provided to putinbayonline.com courtesy of the Put-in-Bay Gazette, Put-in-Bay's only local newspaper. Visit their website putinbay.news for more information and to subscribe!