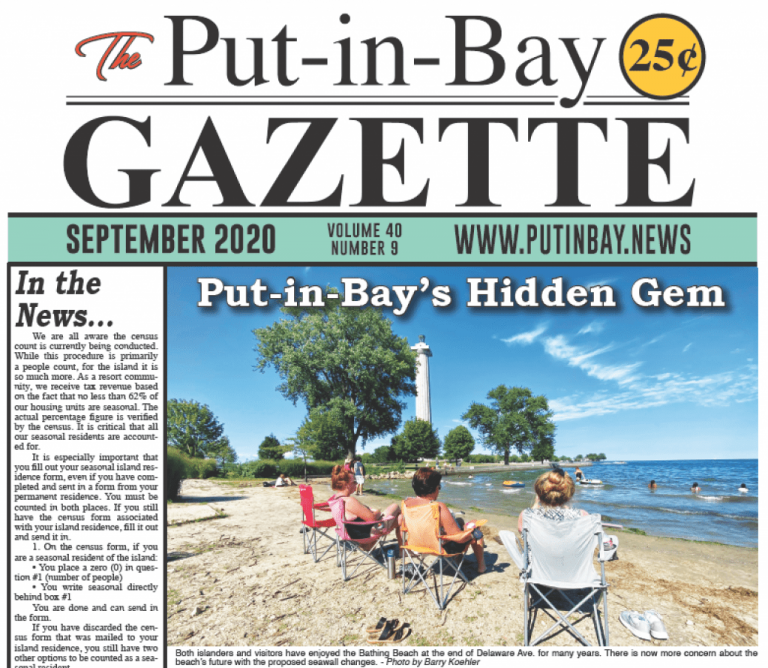 The following piece is published in this month's Put-in-Bay Gazette. The Gazette has been producing incredible independent Put-in-Bay island news for over 40 years. If you have any interest at all in what is happening on South Bass Island, we urge you strongly to subscribe to the Put-in-Bay Gazette. One-year online subscriptions are only $15, and print subscriptions are available as well. To subscribe please click here.
How I Learned to Stop Worrying and Love the Virus
I'm lucky that people recognize me with a mask. I can tell you it has been a challenge sometimes to know who we're talking to when we meet friends on the street here in Put-in-Bay. I have wiped and sprayed and baked my mail all while observing the 6-foot rule since March. Doing just about everything possible to avoid the VIRUS. They call it COVID fatigue.
It started that first day in spring after the Governor lifted the lock down "shelter in place order" and we walked out on to Langram Rd. to see if anyone was here. Were they wearing a mask? Did they have underlying conditions? At first most people were on board with the "guidelines." Why not?
When you embrace the COVID life you have extra time on your hands. You can clean out the attic, lose weight, spend less time shopping, and stay away from busy stores. Unfortunately, it's so easy to become socially despairing during this pandemic. If we heed all the warnings we would have the most limited life. No time with our friends, no parties, no church. Forget about visits with the parents and grandparents. We'd miss weddings and funerals and other social gatherings.
But you know there are people out there that are sure it's all a conspiracy and others I know that will testify that it is terribly real and they have been personally affected by COVID. It all depends on whom you talk to.
Some folks might even tell you a story about a person they love who had it and died. But you look around and see so many others that seem unaffected by the idea that a mysterious virus lurks around them, and they willingly broadcast their rejection of it. Not going to be swayed. Not going to wear a mask. No way. Not at the Island general, not today.
So finally, I figured out that not everyone's on board, but that's ok. Either way, I have doubled down on staying alive. Lots to lose nothing to gain from being wrong. Remember in Stanley Kubrick's classic film "Dr. Stangelove" there is this unbelievable sequence of events that leads to the launching of a nuclear bomb. (Watch this movie, one of the 25 best comedies of all time)
There's that climatic scene where actor Slim Pickens, cowboy hat and all, has to "save the world" by assisting the bomb out the bomb door of the B-51 bomber. Think of it as a metaphor for COVID. We all try to ignore or wish that "bomb" did not get loose but here we are.
I guess it's easy to feel a bit overwhelmed. Many give in and venture into a COVID world with no mask or hand sanitizer feeling like they have almost no chance to change the virus trajectory. It's at that point they decide that it's easier to be scared of a stranger than a friend. That's a false negative. Everyday against great odds, negative press, and constant fear, many willingly play a game of Russian COVID-19 Roulette.
Go to any bar here and you'll see that people are having fun. Why can't that be me? But we have to embrace it. There's a good chance that before we get THE vaccine 70% of us will be exposed to COVID. Those annoying media "pundits" remind us daily to wear your mask, stay social distanced and save lives.
Remember, it's easy to give in and on the upside loving the VIRUS has never been easier. Enjoy a few beers with friends, forget about social distancing, that mask won't stand a chance. Like Slim Pickens ridding that nuclear bomb out the plane, you can visualize that In the end we'll all be dancing check to check at the swim up bar! But not me!
Here I am still betting on being alive, being vigilant, socially isolated, on the "best practices" path all the way to the end, whenever that may be. As that famous WWII song tells us, "We'll meet again, don't know how, don't know when."
This piece of Put-in-Bay journalism has been provided to putinbayonline.com courtesy of the Put-in-Bay Gazette, Put-in-Bay's only local newspaper. Visit their website putinbay.news for more information and to subscribe!