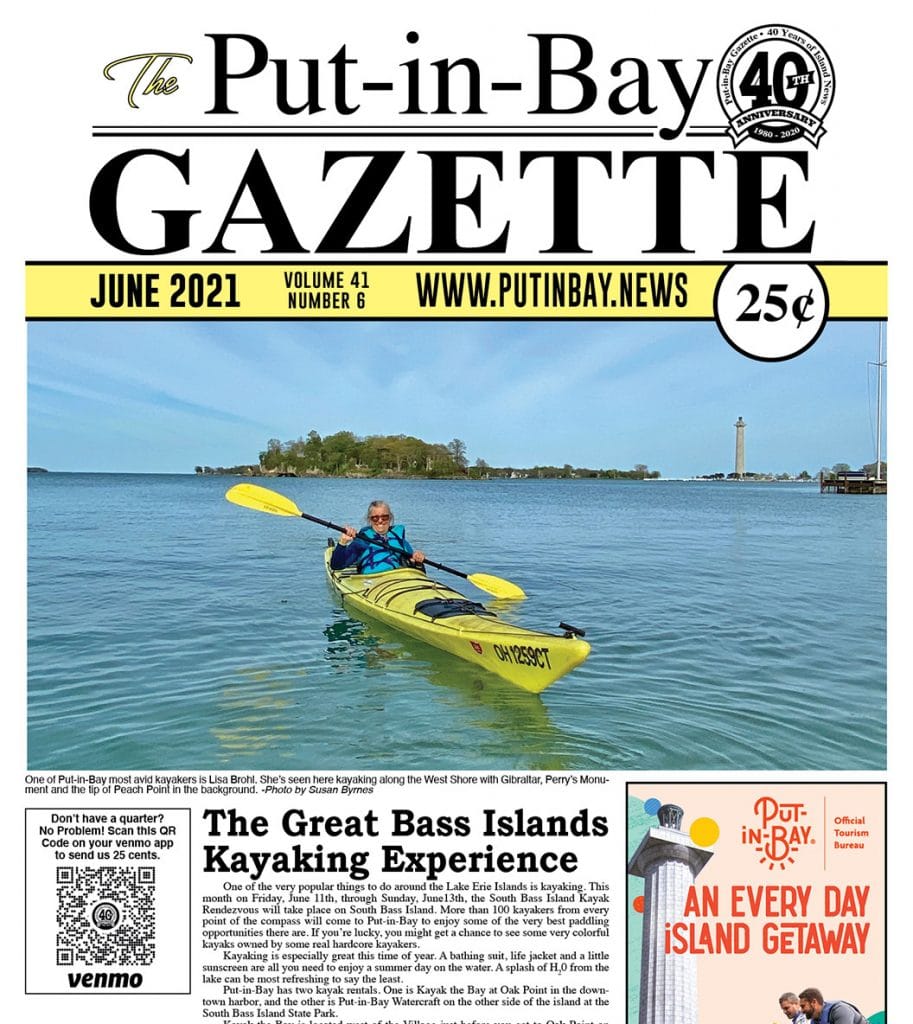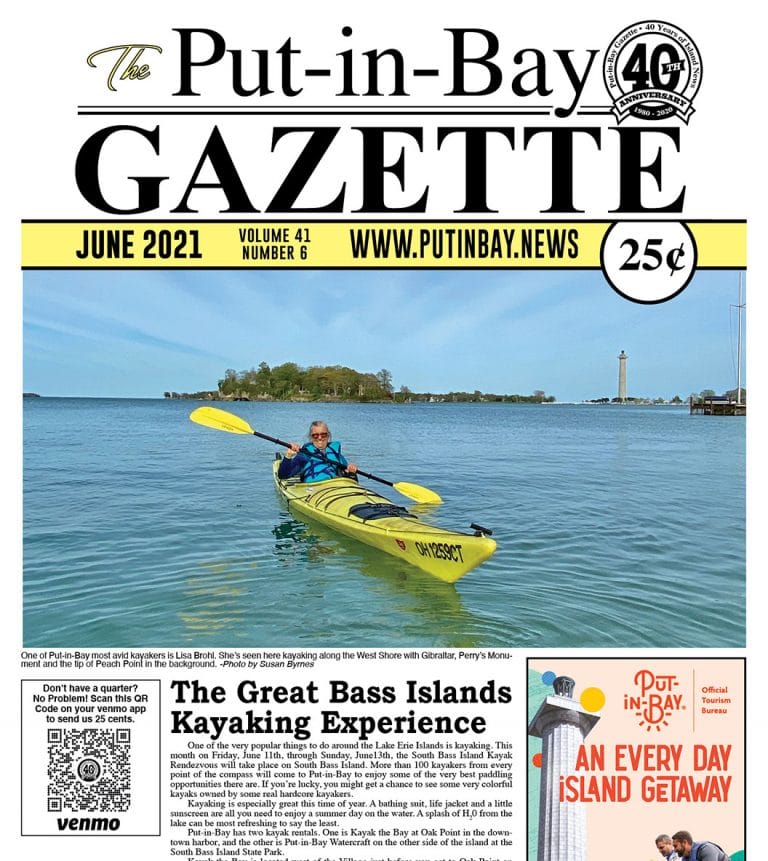 Garlic Mustard, Pulled!
The City of Green near Akron, Ohio issued a challenge as to which community can pull the most garlic mustard in a day! Put-in-Bay accepted the challenge and had a great group of volunteers who showed up to help us meet it!
Brendan Morgan of EnviroScience rallied the PIB volunteers at the Cooper's Woods Preserve on Saturday, May 8th, from 9 a.m. to 2 p.m. He showed everyone the difference between the invasive garlic mustard and other native wildflowers and spoke about the importance of removing it from our woodlands. He and fellow EnviroScience employeeJack Harper supplied everyone with heavy contractor bags that volunteers filled with garlic mustard and brought back for him to weigh. A personal tally was kept for all as well as our total for the group that day. Thanks to Lake Disposal who worked with us to supply a dumpster for the day at a discounted rate!
Over five hours, thirty-four PIB volunteers removed 1,845 pounds of garlic mustard from the woods! They pulled 56 lbs/person with a figure of 24/lbs/per person/per hour.
The Island's top picker was Caroline Jackson at 94.7 pounds total. Lake Erie Islands Conservancy board member Susan Byrnes placed 2ndwith 63.2 lbs. Sheri Murphy was third with 39.4 lbs. Placing 4th, 5th, 6th& 7thwas the Gilmore family with 36 lbs. apiece, for a total of 144 lbs. Coming in 8thwas Cody Kowalski with 32.2 lbs. Ninth was Greg Ziebarth who hauled in extra bags after the pull was over.
Both communities were declared winners with such great participation!!Green's top "puller" at Southgate was Green Mayor Gerard Neugebauer, made four trips to the scale, totaling 90.89 pounds of unwanted growth. Elkins said Green's volunteers pulled 1,160 pounds of garlic mustard out of Southgate Park and averaged 11.9 pounds per person per 2½-hour shift.
Mike Elkins, Green's administrator of Parks Planning and Development, said: "This competition isn't about which community wins. The real winners are our nature preserves — Southgate Park in Green and Cooper's Woods in Put-in-Bay. We all are winners for what was accomplished today."
Articles about the challenge can be found on the front page of the Akron Beacon Journal on May 11th. Google "Garlic Mustard Pull Put-in-Bay" and you'll find more interesting info.
PIBTPD Commissioner Kendra Koehler and the PIB Community rallied to get some great prizes for participants and winners. There were T-Shirts and 15 gift certificates from The Goat and the Biergarten, ten gift certificates from Cameo Pizza for subs and pizza, The Reel Bar donated T-Shirts and a grand prize gift certificate. The Forge also gave a grand prize gift certificate. The Lake Erie Islands Historical Society gave two grand prizes for family entrances to the museum, a four-piece Hotel Victory collection, a Bass Islands lake chart, a copy of Bob Dodge's Isolated Splendor, a Hotel Victory hat, an island fishing poster, a large "Don't Give Up the Ship" flag, plus "Don't Give Up the Ship" flasks, mugs and masks. The Lake Erie Islands Conservancy provided t-shirts for the first 25 participants and the Put-in-Bay Gazette provided special refillable water bottles for all participants. Gifts from Kendra and Jeff Koehler included a Monarch Butterfly book, two Put-in-Bay pennants, a Sara Booker print, an historical society framed print of the Lake Erie Islands, several homemade face masks and a Perry's Cave Family Fun Center Child's Combo Ticket. Thanks once again to the Put-in-Bay community for their generosity and help with Cooper's Woods.
The Lake Erie Islands Conservancy is working with EnviroScience to remove invasive plants/trees from our Cooper's Woods Preserve with funding from the Conservation Fund. They will be removing amur honeysuckle later this year by cutting and applying herbicide to the base. You can see their work from last fall with the piles of the cut brush left behind. We will continue to work on the invasives in June and in November.
Participants included: PIBTPD Commissioners, Lisa Brohl, Kendra Koehler and Kelly Faris, Marty Faris, Caroline, Liesl and Cal Jackson, Ben, Mark and Lisa Berens, Susan and Kate Byrnes, Macy Ladd, Lilian Frederick, Sally Stuckey, Doraine Toms, Colleen Mooney, Linda Frederick, Valerie Chornyak, Erin, Travis, Madden and Knox Gilmore, Dianne Smith, Cody, Caleb and Missi Kowalski, Roger Parker, Paula Hubner, Eli Heineman, Eric Rothlisberger, Madeline, Greg and Amy Harrison, Sheri Murphy, Sue Ferguson, and Paula and Greg Ziebarth,
Thanks to all!!!
The previous piece is published in this month's Put-in-Bay Gazette. The Gazette has been producing incredible independent Put-in-Bay island news for over 40 years. If you have any interest at all in what is happening on South Bass Island, we urge you strongly to subscribe to the Put-in-Bay Gazette. One-year online subscriptions are only $15, and print subscriptions are available as well. To subscribe please click here.
This piece of Put-in-Bay journalism has been provided to putinbayonline.com courtesy of the Put-in-Bay Gazette, Put-in-Bay's only local newspaper. Visit their website putinbay.news for more information and to subscribe!