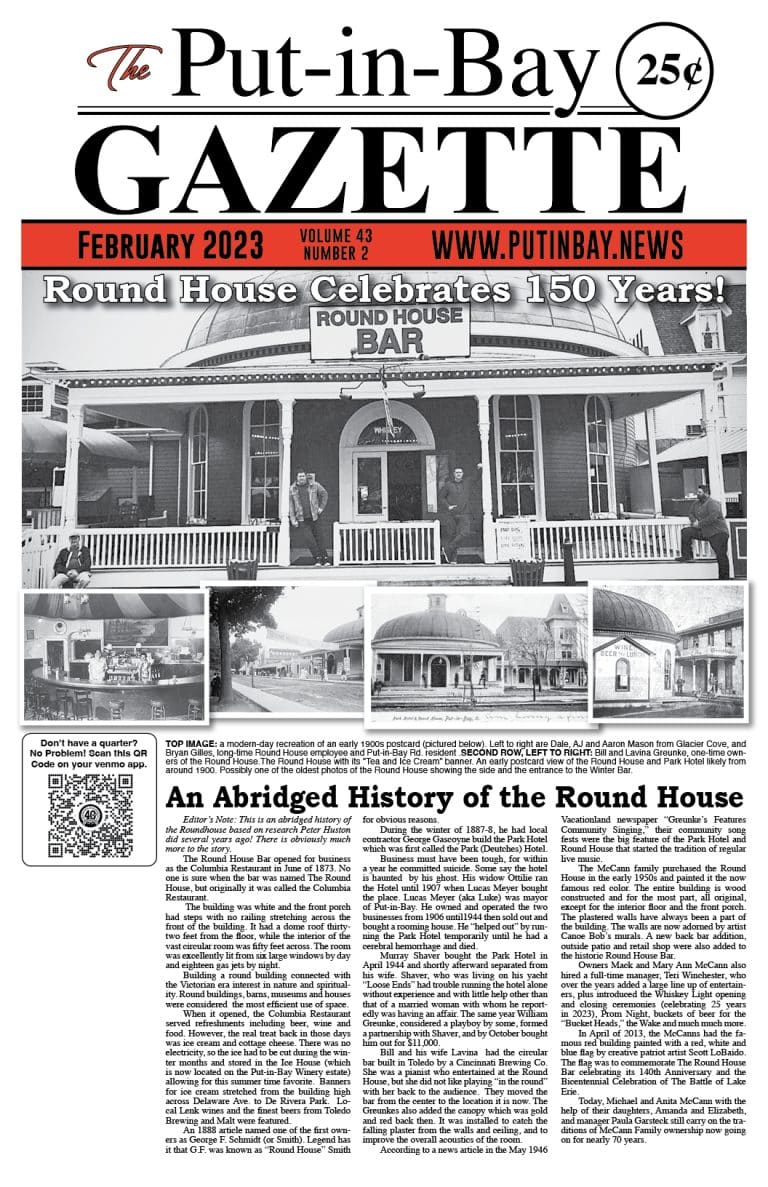 putinbayonline.com is proud to present the Put-in-Bay Gazette's "This & That". For the best South Bass Island journalism, visit putinbay.news and subscribe to the Gazette today!
This & That
We got a note telling us we had last year's PIBYC officers mistakenly printed in our "Who Is Who?" list in last month's issue. We'll get the list right one of these days.
If you're looking for a gift for that special someone, you might consider calling Miller Boat Line at (800) 500-2421 for gift cards to ride the ferry.
Ninety years ago on February 16th, 1933, William Held and four others dropped a car through the ice while attempting to drive from Kelleys Island to Put-in-Bay. Held was the only one not rescued. The car was retrieved, but lost a year later after being left on the ice unattended. A wind blew it and about 30 shanties away during the night.
With no planes, lots of fog and open water in early January, Jeff and Jennifer Glauser-Marshall from Middle Bass still had their boat in the water so they could get their son Colin to school at Put-in-Bay. They even made it over for a basketball game thanks to Uncle Bob Glauser.
We missed the Crew's Nest having a booth at this year's Progressive Cleveland Boat Show. They did however sponsor Nashville Crush on Saturday, January 14th, and had a few of their key employees on hand to represent the club and Put-in-Bay.
The Island Hardware & Grocery Store is working on getting a liquor license so they can sell carryout beverages.
Did you know the Lake Erie Islands Nature and Wildlife Center has a Critter Cam on Middle Bass Island? Tune in and become a Citizen Scientist as you identify animals from your own home. Go to zooniverse.org/projects/leinwc/island-critter-cam .
Onlyinyourstate.com recently chose Kelleys Island for its list of 12 Incredible Charming Small Towns Near Cleveland to visit.
A subscriber from Hawaii recently asked, what's wrong with Ray Fogg? All I see are his posts on Facebook to "Pray for Ray…" We're not quite sure how to answer that. Can anyone out there help us?
They recently put in new flooring in the office at the South Bass Island State Park.
Gino Sciallis, former chef at the Goat, is selling his Nonno Gino Food Truck that he has in Naples, Florida. Anyone who is interested please email him atnonnoginofoodtruck@gmail.com. Scotty and Caroline Jackson from the Goat ran into him in Florida in early January and he says he plans on retiring on the island of Sicily.
We hope you got your Girl Scout cookie order in. Selling cookies this season were Braylee Dobos, Rachel Cooper, Isla Koch, Vivian Scarpelli, Norah Blumenstaddt, Brooklyn Williams, Erin Stapleton and Evelyn Wertenbach.
Have you got news for the PIB Gazette? Please email it to editor@putinbay.news.
The previous piece is published in this month's Put-in-Bay Gazette. The Gazette has been producing incredible independent Put-in-Bay island news for over 40 years. If you have any interest at all in what is happening on South Bass Island, we urge you strongly to subscribe to the Put-in-Bay Gazette. One-year online subscriptions are only $15, and print subscriptions are available as well. To subscribe please click here.
This piece of Put-in-Bay journalism has been provided to putinbayonline.com courtesy of the Put-in-Bay Gazette, Put-in-Bay's only local newspaper. Visit their website putinbay.news for more information and to subscribe!