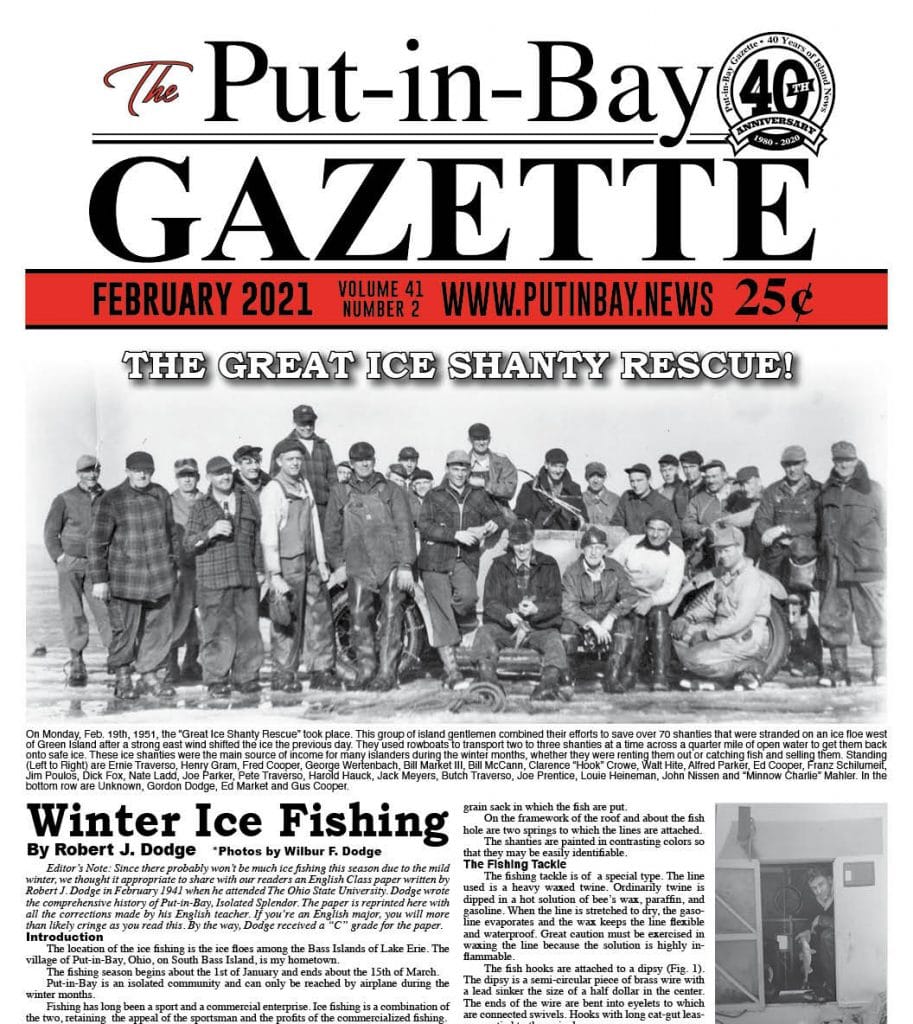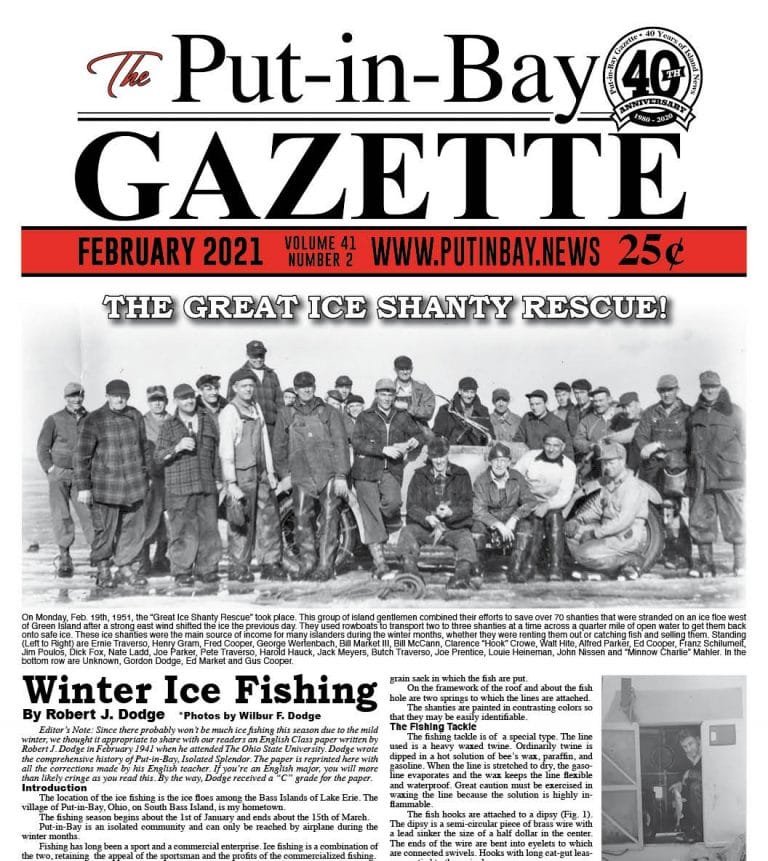 This & That
If you're wondering about all the open water this winter, you're not alone. According to the Great Lakes Environmental Research Laboratory the Great Lakes just set a record for lack of ice at only 3.9% coverage. The previous record low as 5% back in 2002. The average cover is 53%.
According to the three-month weather outlook from NOAA for the islands in February, March and April, we can expect above average precipitation and above average temperatures.
We hope you got your Girl Scout cookie order in when the girls were taking orders in January.
This month's Birthday of the Month is Sue Zura Moxley (PIBHS Class of 1968). Her special birthday is February 27th. We will leave it to the reader to figure out her age.
According to the Ohio Department of Natural Resources, there are 707 eagle nests in Ohio, 90 of them are in Ottawa County. We know several are on the Bass Islands.
Terry Jenkins reports he spotted at least two bucks and a few does strolling through his backyard where he lives in Victory Woods. He spotted one buck with a huge rack that he's seen several times.
Did you know that the family of U.S. Representative Anthony Gonzalez, one of the Republicans who voted to impeach Donald Trump in January, has had a summer home on Put-in-Bay for several years, and he can be seen jogging on East Point occasionally?
It sounds from postings on social media that campsites at the South Bass Island State Park are already booked up for the Put-in-Bay Road Race Union in September (9/19 – 9/24).
Judy Berry is the new President of Council, which means she is the vice mayor of Put-in-Bay.
Teddy McCann paid a visit to Don and Tami Dress in the Florida Keys in January.
Sisters Anna and Meredith Engel visited the Grand Canyon in January.
Does anyone have an idea of how many people are living on the islands this winter?
You can still get your 2021 Lake Erie Islands Conservancy calendar at the Hardware Store or Freshwater Remedies. You can also text Lisa Brohl at (419) 366-2087. The calendars are $12.
Jordan Market was sworn into the army last September and will be head to basic training in March. He was also selected to go to Officer Candidate School at Ft. Benning, GA.
Heineman Winery finalized the purchase of Stonehenge recently. Dustin Heineman and his family are moving to the home there.
Corey Cadez was spotted on the shoreline by the North Bass dock trying to find a signal that would allow him to get on the internet so he could do his school work.
There are four Village of Put-in-Bay Council seats coming up for election in November.
Someone asked on social media why there was either a French or Italian flag flying from the Crew's Nest's office docks. FYI – it's the flag of Ireland.
The Crew's Nest announced that now through the end of February its initiation fee is waived for all new members! Visit their website to fill out an application.
FYI – Annie Parker's one and only phone number is 419-341-1496. Annie is officially a "No More 285er!"
A little note to our subscribers…..Some of you get the paper in the mail the day after it is mailed from the Sandusky post office. Some get it several days and weeks after it is mailed, but the post office set a delivery record recently. Subscriber Janis Wilhelm Allard didn't get her December issue delivered until January 26th. The paper was mailed to her on December 2nd. We just want everyone to know that the post office is responsible for that kind of service and it is completely out of the hands of the Gazette.
The Put-in-Bay Yacht Club Ladies Auxiliary is excited to share the availability of their new PIBYC merchandise, available online! A year-round addition to the seasonal Ship's Store at the Club, the PIBYC Online Shop has a variety of PIBYC merchandise available 24/7, with options to customize with your family/boat names and ship direct to your home.
The previous piece is published in this month's Put-in-Bay Gazette. The Gazette has been producing incredible independent Put-in-Bay island news for over 40 years. If you have any interest at all in what is happening on South Bass Island, we urge you strongly to subscribe to the Put-in-Bay Gazette. One-year online subscriptions are only $15, and print subscriptions are available as well. To subscribe please click here.
This piece of Put-in-Bay journalism has been provided to putinbayonline.com courtesy of the Put-in-Bay Gazette, Put-in-Bay's only local newspaper. Visit their website putinbay.news for more information and to subscribe!