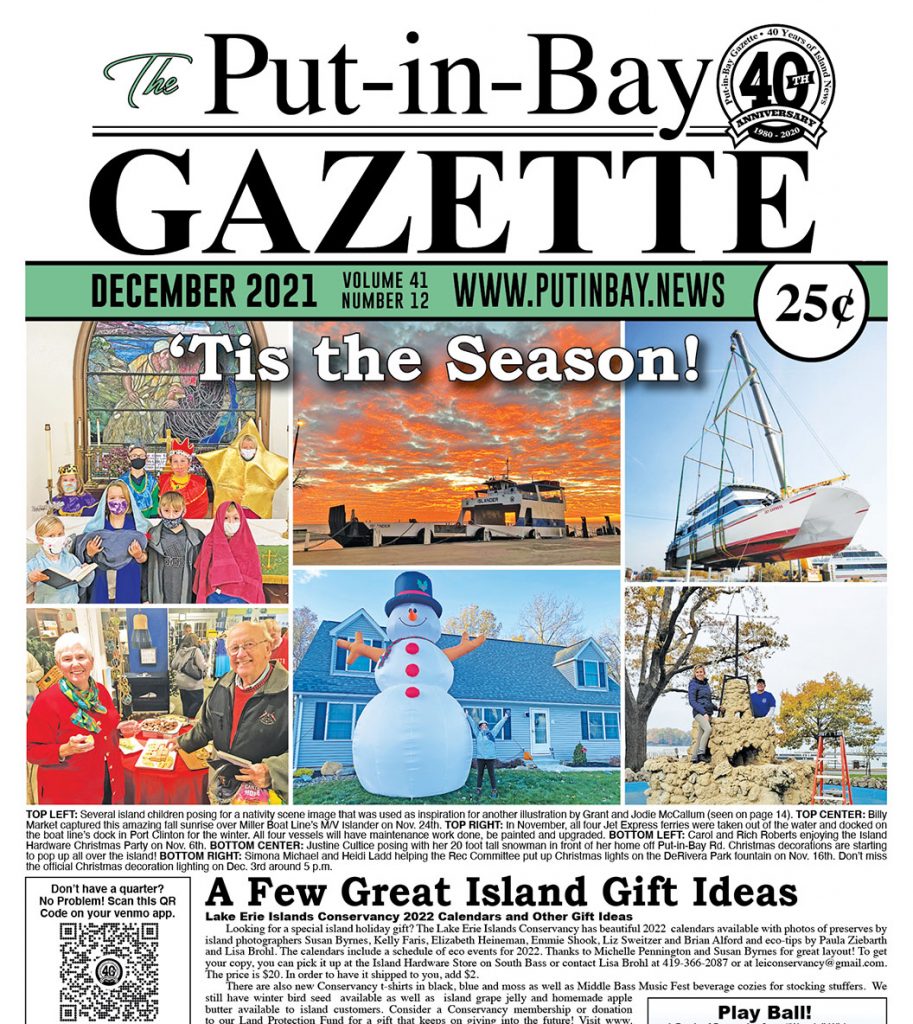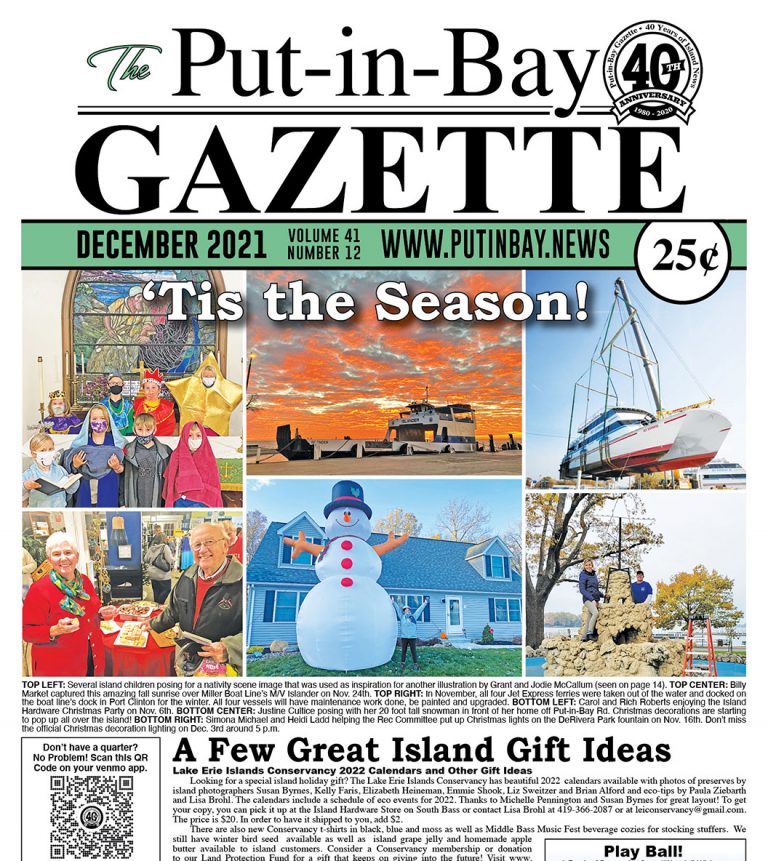 putinbay.com is proud to present the Put-in-Bay Gazette's "This & That". For the best South Bass Island journalism, visit putinbay.news and subscribe to the Gazette today!
This & That on Put-in-Bay for December 2021
Halloween this year was fun! The weather was cool for the great Kids Halloween Parade in DeRivera Park on Saturday, Oct. 30th, and even nicer the next night when the little ones, and some big ones, too, combed the island trick or treating. The kids also got to start trick or treating an hour earlier this year. The guys at the hardware store published an island map showing where kids could get treats. We heard Martin Ketchem and his helpers Aaron Schroeder and Nancy Tanner had a very scary show for the kids on Mikes Drive on East Point. Glenn Cooper was also up to his old scary tricks. While the kids were at the front door getting treats, he would sneak into their car and when they went to get back in, he'd scare the living daylights out of them.
If you see Kelly Faris this month, wish him some of the best. He turns 80 on Wednesday, December 8th.
The 2021 Lake Erie algal bloom turned out to be more severe than scientists predicted. The 2021 cyanobacterial bloom ended up measuring a 6.0, or moderately severe. This year's Lake Erie bloom was slow to develop (late July), and reached a peak from late August to early September, mostly in U.S. waters.
Rich and Carol Roberts from the West Shore tell us they are going to stay on the island this winter. It's the first time for the longtime summer residents. Stephanie Thanasiu tells us she'll be on the island, too. We wish them all the best of luck!
EnviroScience was on the island the first week in November to remove invasive amur honeysuckle from the Cooper's Woods and Benjamin Woods Preserves. Thanks to The Conservation Fund for the restoration funds.
As we go to press, we learned of the passing of Terri Moore, a former owner of Maple Cottage. There will be an obituary in next month's issue.
Matthew Stacy has already begun posting on social media about jobs available at Perry's Cave Family Fun Center this coming season. Many island and summer cottage youngsters starting as young as 12 years old have had summer jobs there over the years.
If you are looking for accommodations this winter, Commodore Resort is open.
The previous piece is published in this month's Put-in-Bay Gazette. The Gazette has been producing incredible independent Put-in-Bay island news for over 40 years. If you have any interest at all in what is happening on South Bass Island, we urge you strongly to subscribe to the Put-in-Bay Gazette. One-year online subscriptions are only $15, and print subscriptions are available as well. To subscribe please click here.
This piece of Put-in-Bay journalism has been provided to putinbayonline.com courtesy of the Put-in-Bay Gazette, Put-in-Bay's only local newspaper. Visit their website putinbay.news for more information and to subscribe!