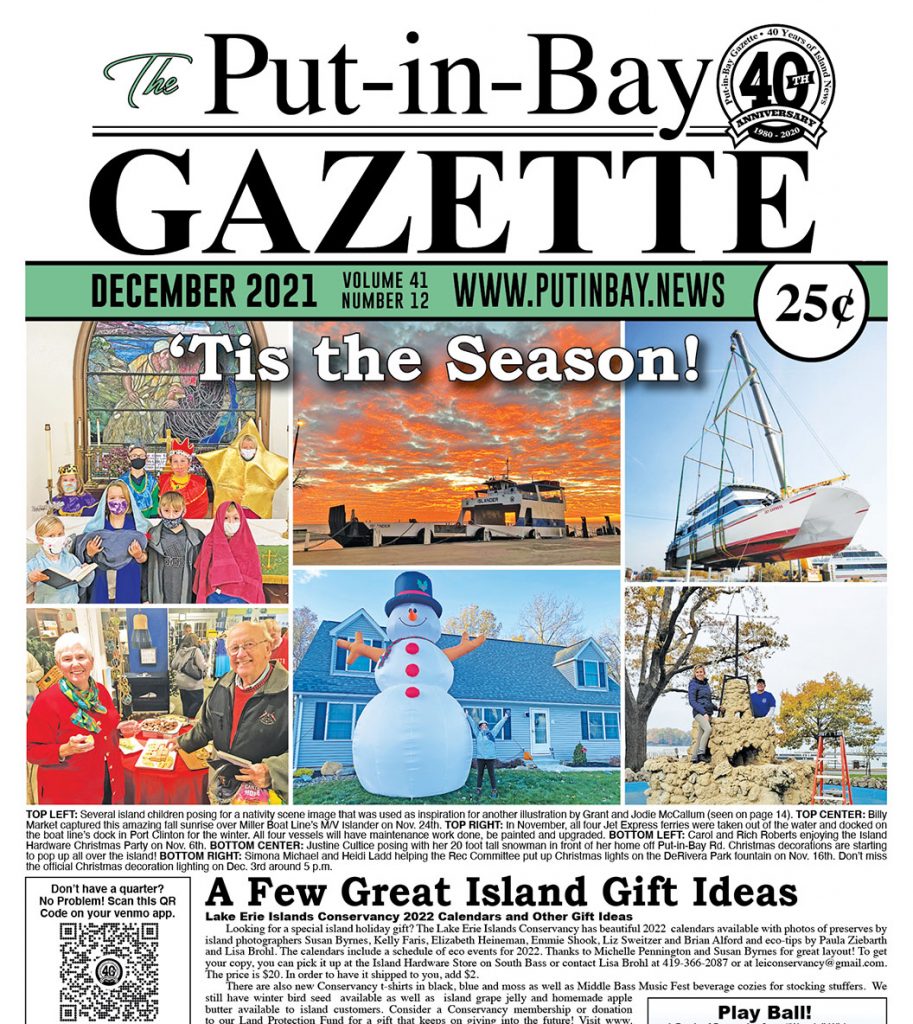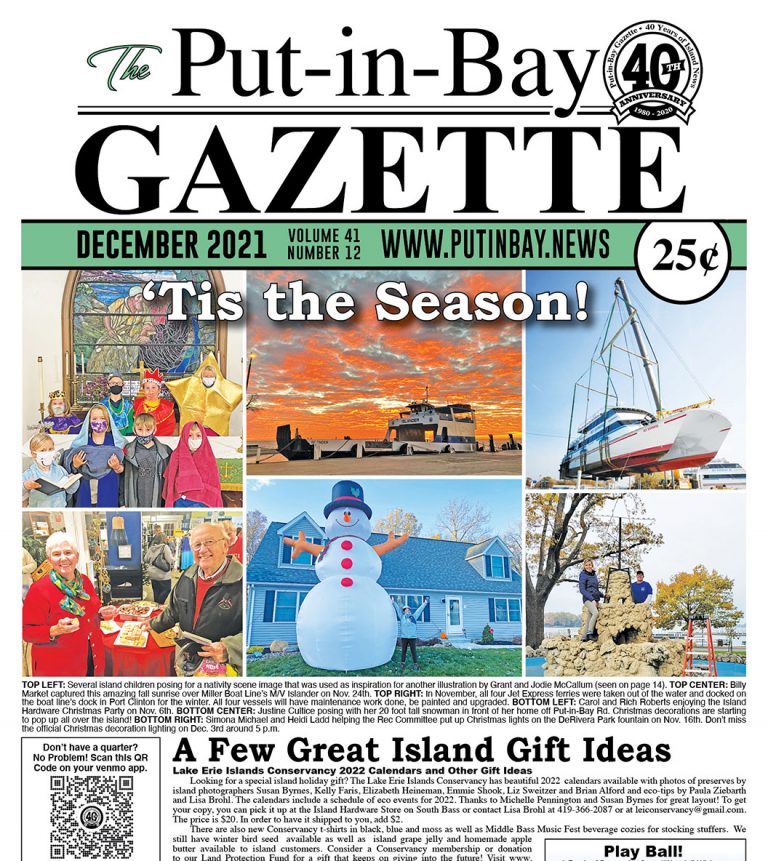 putinbay.com is proud to present the Put-in-Bay Gazette's Environmental News. For the best South Bass Island journalism, visit putinbay.news and subscribe to the Gazette today!
Audubon Christmas Bird Count 2021
The Annual Audubon Christmas Bird Count will be held in the Lake Erie Islands Count Circle on Sunday, December 19th. Participants will be needed on Kelleys, Pelee, and the Bass Islands that day. On South Bass, volunteers are needed to listen for owls in the early morning, travel the island bird watching during the day, and to watch their feeders at home. On South Bass, someone is needed to spend time at the island preserves to watch that day. Any amount of time is good. There is a form that will help with observations, recording time of day, time spent, distance traveled, weather conditions and a bird checklist. The preserves are also listed as ebird hotspots – Massie Cliffside, Dodge Woods, Scheeff East Point, Cooper's Woods, Jane Coates Wildflower Trail etc. If you are interested in watching your feeders or traveling the South Bass Island for all or part of the day, call Lisa Brohl at (419) 366-2087 or e-mail at leiconservancy@gmail.com.
Birders or feeder watchers are needed to help with Middle Bass and North Bass Islands, too. Contact Teddi Keith Morris at (614) 373-7533 or (419) 285-0042 to participate on Middle Bass.
John Pogacnik, the official Count Circle Compiler, will be coordinating the efforts on Kelleys Island. Please correspond with him at jpogacnik@hotmail.com or with Tom Bartlett at hthomas.bartlett@gmail.com if you wish to help at Kelleys.
Participation in the Christmas Bird Count is free and a lot of fun! The data gathered over 100 years of the count show important trends in bird populations.
Thank You
It is that time of year again to fill your bird feeders and get ready for the annual Audubon Christmas Bird Count! Thanks to all who ordered bird seed this year to make our Lake Erie Islands Conservancy sale a success-it takes an island! We especially wish to thank Kip Nickerson Titgemeier's Feed and Garden Store in Toledo for working with us, Heineman Winery for the use of their truck, Miller Boat Line for getting the vehicle over and back, Gary Kowalski for diesel fuel for truck, Russ Brohl for picking up the seed, Rudy Rence, Mike and Joe Byrnes, and Pinky Batt for delivery help, Kelly and Marty Faris for taking orders, and to Dustin and Ed at Heineman's Winery for allowing us to store the seed in their building while we distributed. We really appreciate everyone's support and so will the birds!
The Final Chapter of The Friends of Cooper's Woods has Closed
At an Island-wide meeting held at the Town Hall on July 12th, 2001, an overwhelming majority of people expressed their desire to preserve Cooper's Woods. The Friends of Cooper's Woods was born.
The goal – the only goal — of the group was the preservation and protection of the 18.7 acres of Cooper's Woods. The Friends of Cooper's Woods became a 501 (c) (3) charity organization to "Save Cooper's Woods."
And over the next 20 years, meetings, fundraising, court cases, legal fees and more meetings ensued. Finally the goal was reached on February 3rd, 2020, when the Trustees of the DeRivera Park Trust – the owners of the woods — sold the property to the Lake Erie Islands Conservancy. Cooper's Woods is now preserved and protected forever as a natural area.
Consistent with the by-laws of the organization, on Wednesday, November 10th, 2021, Mary Parker, Treasurer of the Friends, closed out the checking account and presented a check in the amount of $5,745.03 to Lisa Brohl, Chair of the Lake Erie Islands Conservancy. Lisa Brohl stated, "The check from the Friends of Cooper's is extremely appreciated and the funds will be used for land protection. The Lake Erie Islands Conservancy was honored to purchase Cooper's Woods and to ensure that it will be protected as a natural preserve — forever."
And the final chapter in the Friends of Cooper's Woods: The filing of the Dissolution of the non-profit, charitable organization.
A major "Thank You" to all who made this vision become a reality. And a special "Thank You" to Roger Parker who spearheaded the formation and direction of the Friends of Cooper's Woods.
The previous piece is published in this month's Put-in-Bay Gazette. The Gazette has been producing incredible independent Put-in-Bay island news for over 40 years. If you have any interest at all in what is happening on South Bass Island, we urge you strongly to subscribe to the Put-in-Bay Gazette. One-year online subscriptions are only $15, and print subscriptions are available as well. To subscribe please click here.
This piece of Put-in-Bay journalism has been provided to putinbayonline.com courtesy of the Put-in-Bay Gazette, Put-in-Bay's only local newspaper. Visit their website putinbay.news for more information and to subscribe!