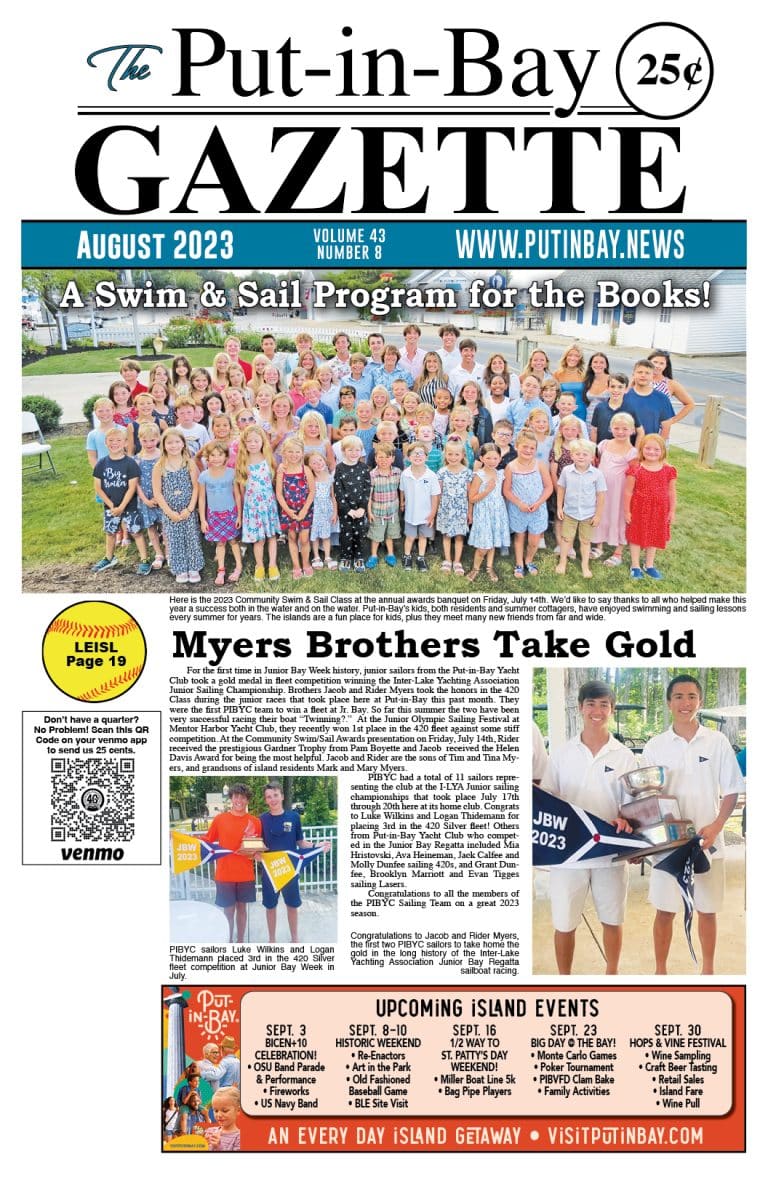 putinbayonline.com is proud to present this article from the Put-in-Bay Gazette. For the best South Bass Island journalism, visit putinbay.news and subscribe to the Gazette today!
Mystery Solved
Recently, Marilyn Paselsky from the Put-in-Bay Yacht Club had an inquiry from someone on the mainland about an antique token about the size of a quarter that had P.I.B.Y.C., H.C. and a crescent and a star on one side and a big "5" on the other. The token ended up on eBay, the internet auction site.
It turned out to be a Put–in-Bay Yacht Club/Hotel Crescent trade token from 1911. T.B. Alexander, the owner of the Hotel Crescent (H.C.) at that time, was also the commodore of the Put-in-Bay Yacht Club (P.I.B.Y.C.), plus he used the crescent and star on his marque on his hotel building. The "5" probably stood for 5¢, which in 1911 would be about $1.50 in today's dollars. If it stood for $5, that would be almost unthinkable for a trade token with a $150 value in today's dollars.
The token was sold on eBay for $155.
If you are interested in Put-in-Bay and island collectibles, be sure to check out the Lake Erie Islands Historical Society's fundraiser auction on Thursday, August 3rd, on the lawn at Heineman Winery. View of both live and silent auction items starts at 2 p.m. and bidding at 4 p.m.
The previous piece is published in this month's Put-in-Bay Gazette. The Gazette has been producing incredible independent Put-in-Bay island news for over 40 years. If you have any interest at all in what is happening on South Bass Island, we urge you strongly to subscribe to the Put-in-Bay Gazette. One-year online subscriptions are only $15, and print subscriptions are available as well. To subscribe please click here.
This piece of Put-in-Bay journalism has been provided to putinbayonline.com courtesy of the Put-in-Bay Gazette, Put-in-Bay's only local newspaper. Visit their website putinbay.news for more information and to subscribe!