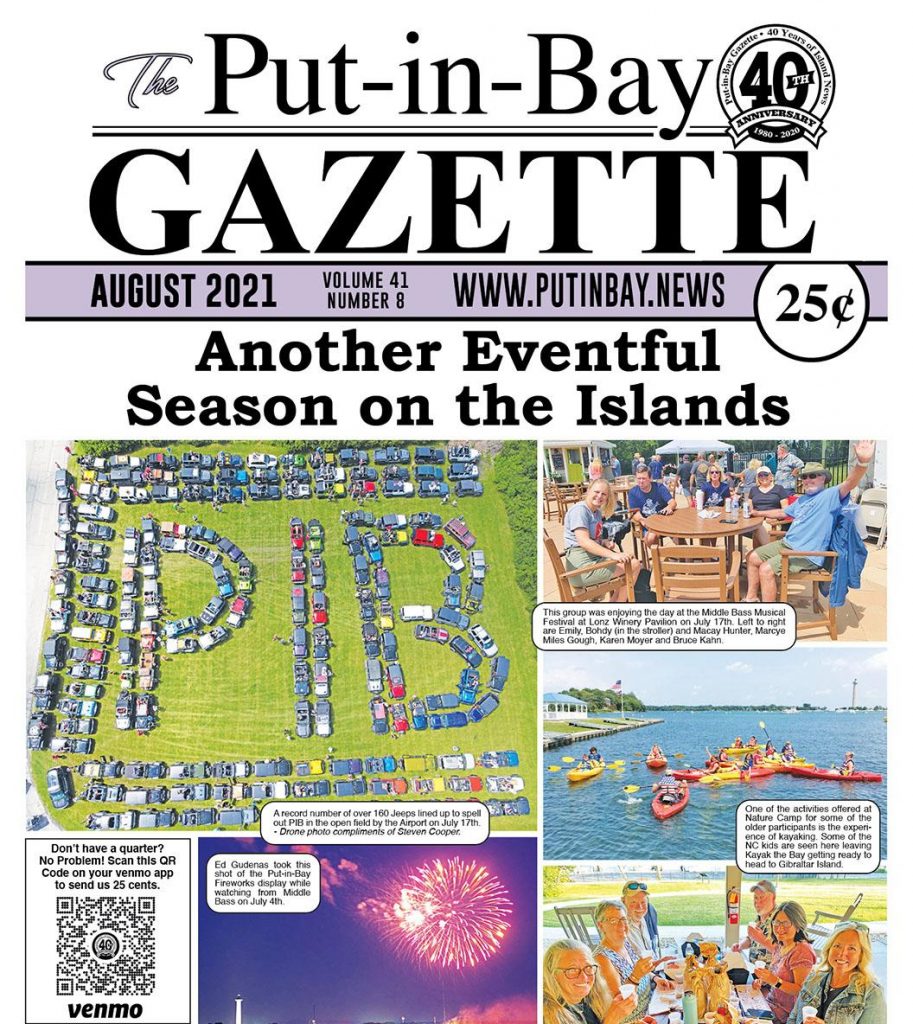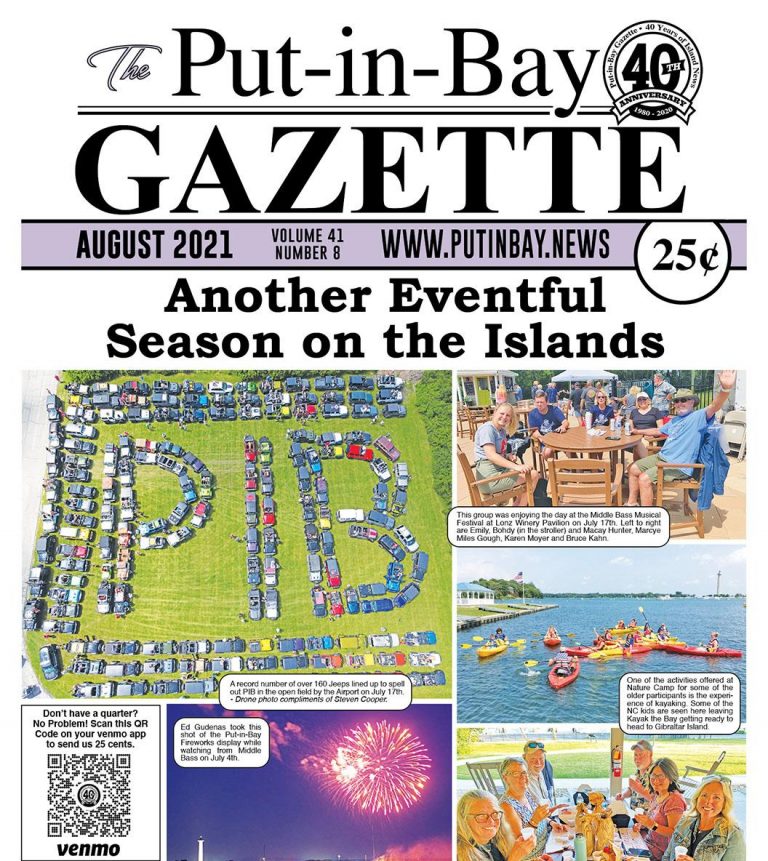 putinbay.com is proud to present the Put-in-Bay Gazette's Island Diary. For the best South Bass Island journalism, visit putinbay.news and subscribe to the Gazette today!
This & That
Thirty years ago during the hot summer of 1991, Eric Zeitzheim, George Allen from the Round House and others drank a beer on every Lake Erie island leaving an iconic red Roundhouse bucket as proof of their presence.
Larry Knaser tells us he will be sending the flock of peacocks around his house to Rattlesnake Island as soon as he can catch them.
Lifelong (and then some) islander Marsha Parker tells us she hardly recognizes most of the people she sees in photos or are written about in the articles in the Gazette.
Anyone remember going to the Monument to watch the submarine races?
Erika Suttmann Crossley (PIBHS Class of 2001) has a new job as a Counsellor at a boarding school in Berlin, Germany.
Did you know that on top of being a Coast Guard licensed boat captain, Miranda Kreuger also has her real estate license? She is currently the listing agent for the Riddle's home, Longhouse, on Put-in-Bay Road.
Miller Boat Line recently sponsored Helen Brohl's inaugural podcast about the Great Lakes called North Coast Chronicles and the episode on Mayflies with Dr. Carmen Trisler! Helen is Russ Brohl's sister and spent her younger years on the islands. Carmen is a longtime resident of Doller Ave. here at Put-in-Bay.
Bids are again being solicited by Perry's Monument for the work to be done on the north-ern and southern sea walls that protect the park grounds there. Work on the project was supposed to start this fall, but has now been delayed until next spring.
Did you know that longtime summer home owner Gabriela Kaplan, MD, has been recognized by Marquis Who's Who Top Doctors for dedication, achievements, and leadership in radiology. Gabriela was appointed an ambassador of the World Poetry Society Intercontinental and maintains a membership with the Cleveland Astronomical Society, the Radiological Society of North America and the Sierra Club. Notably, she was the recipient of a Partners in Conservation Award from the World Wildlife Fund in 1999 and a Presidential Representative Award of Merit. She has been featured in Who's Who in America, Who's Who in Medicine and Healthcare, Who's Who in the World and Who's Who of American Women.
Andrew Majercik was sworn in as Put-in-Bay's newest police officer in July.
Bingo has returned to the Town Hall, every Wednesday at 8 p.m. Over 100 players showed up for bingo one Wednesday in July!
A special thanks to volunteer Susan Ferguson for picking up trash at our preserves! She was recently at the Scheeff East Point Preserve where she found pieces of a boat washed up on the beach. If everyone was concerned about litter in our parks, that would be great!
This year's Boom on the Bay fireworks display had a record number of contributors. The Community Fireworks Fund had over 175 businesses and residents donate. You can see the list on page 9 of this issue.
The previous piece is published in this month's Put-in-Bay Gazette. The Gazette has been producing incredible independent Put-in-Bay island news for over 40 years. If you have any interest at all in what is happening on South Bass Island, we urge you strongly to subscribe to the Put-in-Bay Gazette. One-year online subscriptions are only $15, and print subscriptions are available as well. To subscribe please click here.
This piece of Put-in-Bay journalism has been provided to putinbayonline.com courtesy of the Put-in-Bay Gazette, Put-in-Bay's only local newspaper. Visit their website putinbay.news for more information and to subscribe!