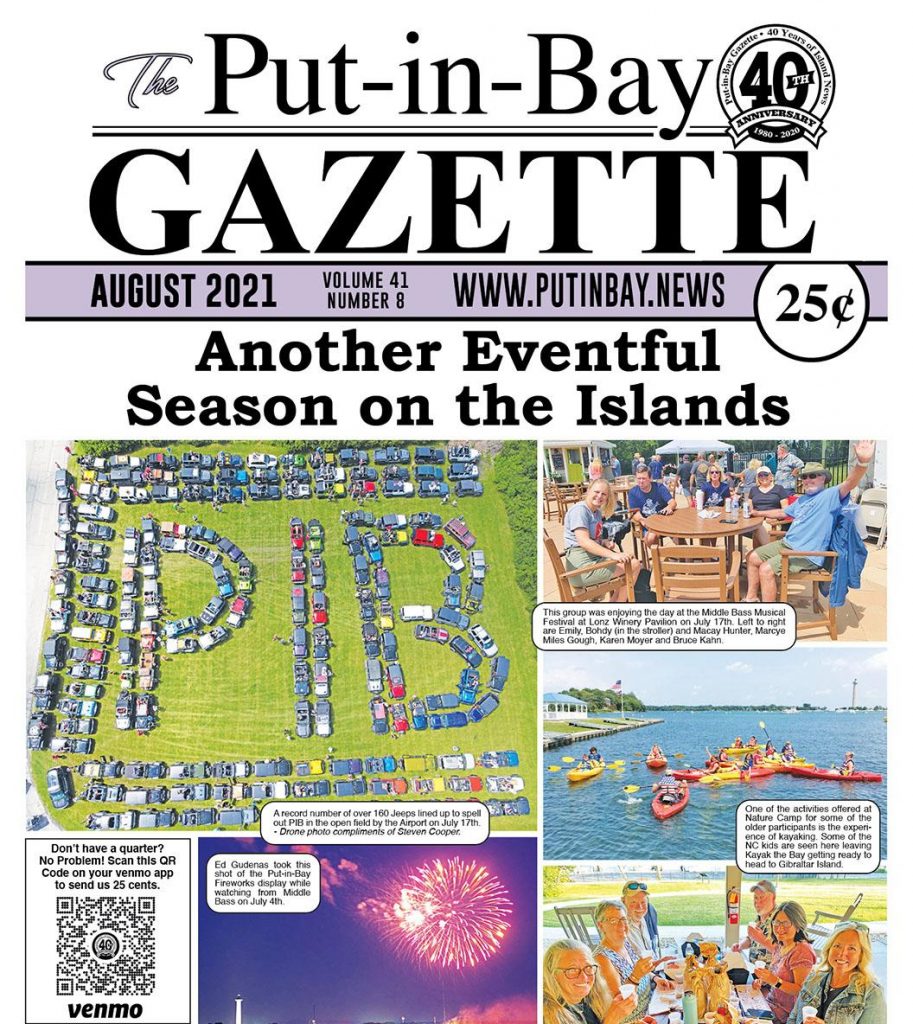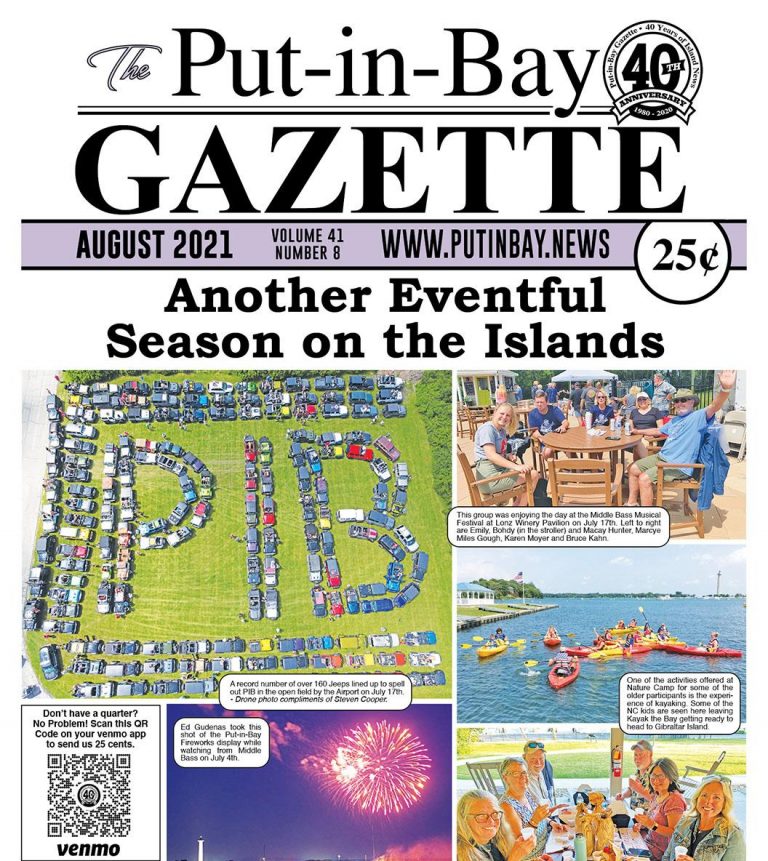 putinbay.com is proud to present the Put-in-Bay Gazette's Island Diary. For the best South Bass Island journalism, visit putinbay.news and subscribe to the Gazette today!
Ohio Geological Survey Releases New Lake Erie Publication
The Ohio Geological Survey is excited to announce the release of its latest publication, Geologic Guidebook to Ohio State Parks in the Lake Erie Region (Guidebook 24). Authored by geologist Mark Jones, Guidebook 24 offers a close examination of the natural history of Lake Erie as revealed by the geologic features easily observed in the State Parks located along its shores and on its islands. The guidebook features nearly 100 color photos and illustrations that tell the story of Ohio's Great Lake. The guidebook is 86 pages and coil bound.
GB-24 is available for download at https://ohiodnr.gov/.
Hard copies are available for purchase ($22 plus tax and shipping) by contacting the Geologic Records Center, 614-265-6576 or geo.survey@dnr.ohio.gov.
Pick up your copy and explore Lake Erie in a whole new way!
An Island Goose Duck Chase
When it rains, a small pond forms in the lawn next to the Resale Shop at the island Museum. Shop manager Marsha Baumert noticed a mother duck with nine ducklings using the pond, but later noticed the mother was resting close to the gravel walkway leading to the furniture building. As she passed by, Marsha would greet the feathered mother, even telling her what a good momma she was.
A bit later, she realized the mother was in some distress.
After calling around to Kendra Koehler, Lisa Brohl, Jeanette Luecke and Bobbi Dobos, Marsha was able to get the phone number of "Back to the Wild," the group that takes in injured and sick animals. The problem was how to get the brood over to Castalia before things went south.
Marsha put a pillowcase over the mother's head and managed to get her into a cardboard box, much to the mother's dismay. The next chore was to round up the ducklings who were running about the lawn like chickens with their heads cut off. Thanks to customer Tara Clarke from Mt. Vernon, Ohio, Dan Savage, Ellen Ballas and Barry Koehler who chased around the lawn Keystone Cop-style, rounding them up and putting them in the box with their mother.
The wheels of island ingenuity continued to turn when a Back to the Wild's volunteer offered to drive to the Catawba Miller Ferry Dock. A quick call to Miller Boat Line and soon the family of ducks was on its way via ferry to Catawba where they were picked up and transported to Castalia where the mother duck was rehydrated with an IV and treated with antibiotics. We hear she is now back to health tending her family and will soon be released.
Cork, the Natural Closure
By Donnie Winchell
Donniella Winchell is the Executive Director of the Ohio Wine Producers Association and chair of their Vintage Ohio Wine Festival. Robert Gottesman's vision [longtime owner of Meiers Wine Cellars. Lonz and Firelands Wineries, with his commitment to world class grapes on North Bass Island] helped launch her career nearly 40 years ago. She serves on many national committees and is a member of the Ohio Wine and Ohio Agriculture Halls of Fame as well as the recipient of several national awards for the OWPA's commitment to growing grapes and producing award-winning wine in Ohio.
One of the many 'mysteries' surrounding the story of wine is the use of cork as the primary closure for fine vintages. The ritual of smelling the cork before a sample is poured contributes to the 'uniqueness' of the wine experience. However, beyond this somewhat pretentious role, the cork does perform an important function in preserving wine quality.
After bottling, the most important thing standing between a great bottle of aged wine and vinegar is the small plug of tree bark from the cork oak tree. It allows the very slow transpiration of oxygen that helps the wine mature in the bottle, yet it prevents direct exposure to air which would induce spoilage.
Well over half of the world's cork is grown in southern Portugal and is harvested from trees that are at least 25 years old. Once the cork oaks are fully mature, their bark is stripped into large slabs about every 9 years. Corks, like grapes, are natural products and are subject to individual variation. The longer and finer corks are more expensive because they are cut from the bark with the fewest flaws. And a tree would obviously need more than the minimum renewal phase for a 3 ? inch fine grade cork as opposed to the time needed for a 2 inch average grade cork.
After cutting, the cork may spend a full year in the forest before it is transported for processing. Once they reach the factory, slabs are graded and boiled in water to kill any existing microorganisms. They are then stacked, flattened and allowed to air dry. Slabs are cut into strips and corks of varying lengths are punched out. Any excess pieces are collected and ultimately used for the ubiquitous corkboards, shoe soles and tiny slides used to keep chairs from scratching wooden floors.
Most corks are bleached after grinding, shaping and shaving. They are then rinsed and sun or vacuum dried. Ideally the moisture content is held to 6-8% to keep the cork somewhat pliant, yet inhibit the growth of molds and unwanted microbes. The finished products are graded, bagged and vacuum sealed before shipment to various distributors
Sometimes tiny microorganisms buried deep within the bark resist boiling, occasionally bleach residue remains despite extensive rinsing and periodically mold will collect as the corks slowly air dry. In these cases, corks may cause 'wine taint' which results in musty odors or other off aromas in finished wines. About 2-3% of all bottled wines show some degree of cork taint. These problems. along with skyrocketing prices and occasional political instability in Portugal, account for the growing interest contemporary winemakers are showing in plastic 'corks,' screw caps and other new types of closures.
However, despite the potential problems, cork remains the closure of choice for the vast majority of international winemakers. Tradition and the average wine consumer's fascination with the accoutrements of wine appreciation assure that corks will central role in the business of wine production for many years to come.
For additional information: dwinchell@ohiowines.org
The previous piece is published in this month's Put-in-Bay Gazette. The Gazette has been producing incredible independent Put-in-Bay island news for over 40 years. If you have any interest at all in what is happening on South Bass Island, we urge you strongly to subscribe to the Put-in-Bay Gazette. One-year online subscriptions are only $15, and print subscriptions are available as well. To subscribe please click here.
This piece of Put-in-Bay journalism has been provided to putinbayonline.com courtesy of the Put-in-Bay Gazette, Put-in-Bay's only local newspaper. Visit their website putinbay.news for more information and to subscribe!