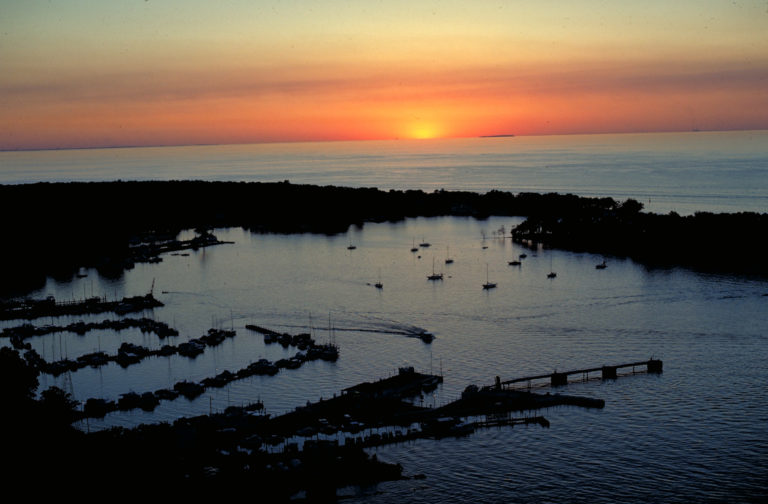 The Top 10 Kid-Friendly Things to Do at Put-in-Bay
While Put-in-Bay is known for its nightlife and party scene on the weekend, the mid-week island vibe is incredibly kid-friendly.  Bringing your kids up to Put-in-Bay could be the affordable getaway your family has been dreaming of.  There are so many family-friendly memories to be made here.  Here are the top 10 kid-friend things to do at Put-in-Bay.
Perry's Cave Family Fun Center
The Perry's Cave Family Fun Center is a must-do.  Once there you will find that you could spend two whole days there.  The most popular attraction here is the cave itself. Guided tours are offered and will take you down into the cave to take pictures, talk about how they were formed and the history behind the cave itself! Make sure you listen to the guide because there is a lot to learn.
You will also find the Butterfly House where you can walk through a room full of thousands of colorful butterflies.  Inside, you'll also find a lot of signs with fun facts about the butterflies themselves.  Although you're not allowed to touch them, they might come and land on your shoulder and say hello.
Other activities here include the War of 1812 Holes Miniature Golf, Laser Tag, Fort amazing, Rock Climbing, Antique Car Museum, gift shops, and DanDee's Snack Shack.  As previously mentioned, this is a must-do.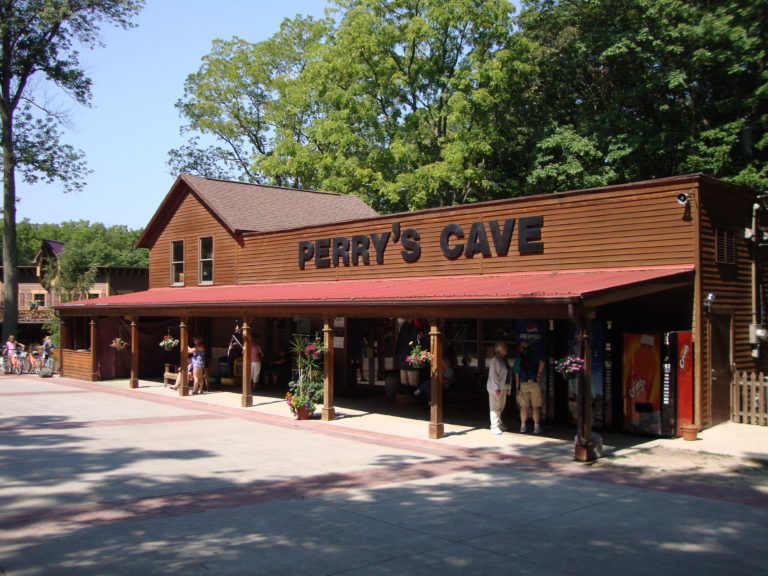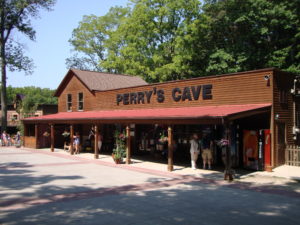 Rent a Golf Cart
The best way to get around on Put-in-Bay is by golf cart.  You can reach every corner of the island and check out everything it has to offer.  Besides, we've never seen a sad kid on a golf cart at Put-in-Bay.  The best golf carts are with Island Club Golf Cart Rentals.  So rent a golf cart and have yourself a blast with your family!
DeRivera Park
Named after the founder of Put-in-Bay, Jose DeRivera, you can locate the park right in the heart of downtown.  It offers a great view of the harbor and includes a lot of fun things to do.  You can take a picture and check out the cannons from the war of 1812.  DeRivera Park also has a great playground with lots of fun little games for the kids to play.  It is the perfect place for a family picnic!
Aquatic Visitors Center
Operated by The Ohio State University and the Ohio Department of Natural Resources, the Aquatic Visitors Center is a great place to bring your kids.  It used to be a fish hatchery up until 1988. It then became an educational facility with the OSU Stone Laboratory and OSU's island campus on Lake Erie that focuses on marine biology research.
Inside you will find opportunities to learn about interesting research taking place and learn about Ohio's fishing culture.  Kid activities include a wall puzzle, coloring sheets, and fishing off the dock!  You find open tanks where you can see the fish close up and on Saturdays the center hosts kids programs. Make sure you check it out.
Lake Erie Islands Nature & Wildlife Center
The Wildlife Center on Put-in-Bay is another kid's favorite. It offers a lot of information on the wildlife of the Lake Erie Islands, fun picture opportunities, and a great little nature trail.  There is also a cute little frog pond in the back!
Visit the Beach at the State Park
Putting the State Park as #6 on the list of kid-friendly things to do might be harsh.  It could easily be #1 or #2 on someone else's list.  The South Bass Island State Park has a great little beach that's perfect for skipping rocks and going for a swim.
If you plan to stay the night, they have a campground and a small cabin.  There are also beautiful cliffs to look over.  Finally, the state park provides one of the best sunsets you'll ever see!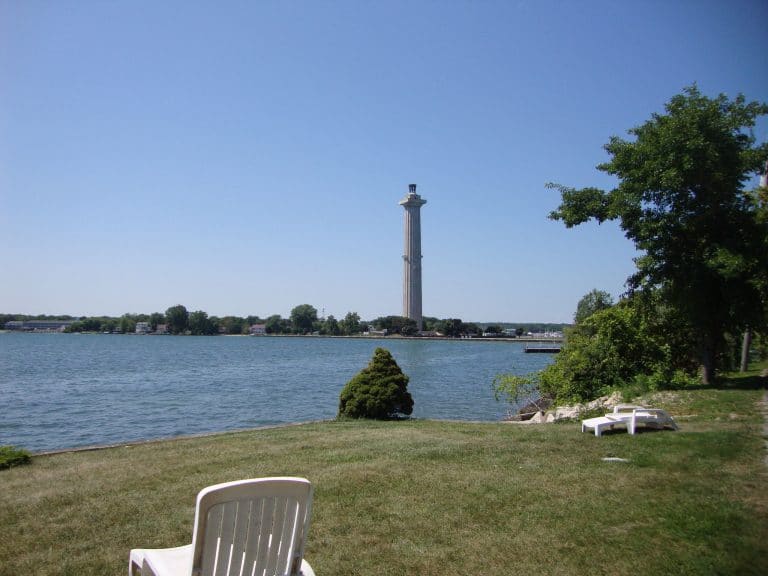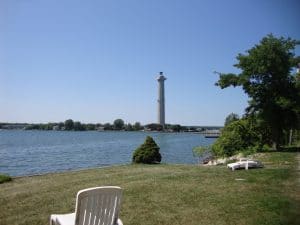 Perry's Victory and International Peace Memorial
This is one that is hard to miss. The Perry's Victory and Peace Memorial is a homage to Commodore Oliver Hazard Perry who led a fleet to victory in a marquee battle of the War of 1812.  It stands tall at over 350 feet and can be seen from the mainland.
Take your kids up to the top of the tower and if you're lucky you'll be able to see Canada! Once on top, the views are spectacular where you can see all the Lake Erie Islands.  We seriously recommend you plan a visit!
Put-in-Bay Tour Train
Consider taking the Put-in-Bay Tour Train to learn all about the island.  You'll learn a lot about the history of the bay, the present-day island life, and what it is like to live at the Put-in-Bay all year round.
The price of the loop includes one loop around the island consisting of 5 different stops.  You can get out at each stop and hop on the next train which runs about every 30 minutes.  The 5 stops are Perry's Cave and Family Fun Center, The Heinemann Winery & Crystal Cave, Perry's Victory & International Peace Memorial.
Put-in-Bay Candy Store
Located right downtown next to TJ's Smokehouse the Put in Bay Candy Bar is like visiting heaven on Earth for those with a sweet tooth.  They have the best chocolate bar, an amazing selection of rock-candy, and an amazing ice cream store.  Be sure to check it out! The Candy Bar is a must when it comes to kid-friendly things to do at Put-in-Bay.
Kimberly's Carousel
Riding the Carousel downtown is a great way to see your kid smile.  The hand-carved and the painted carousel is located right next to the Candy Bar and kids love it.  There is always fun music playing as well.  It is even fun for the parents to ride it too!