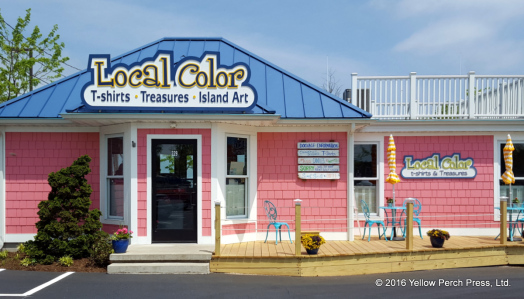 Local Color is a great shop with Key West inspired gifts and apparel.  Stand out from the crowd with a fun selection from here.  The prints inside have been produced locally, and are ever-changing.  Stop in and see some of the creative offerings at Local Color.
Local Color Location
This shop is located on the grounds of the Keys Restaurant complex.  The lovely waterfront location makes this a popular stop.  Also, the proximity to the Jet Express dock makes it a great starting and stopping point for day trip guests.  Just look for the brightly colored buildings and you'll find this Caribbean themed destination.
Local Color Location
You will find Local Color right under the shadow of Perry's Victory and International Peace Memorial in historic downtown Put-in-Bay. Perry's Monument is Put-in-Bay's most famous landmark. Standing at 352 feet high, it is the world's largest Doric column, and the fourth-tallest monument in the United States! The monument is a tribute to Commodore Oliver Hazard Perry, and the forces he led to victory in the Battle of Lake Erie. The Battle of Lake Erie was perhaps the most significant moment in the War of 1812. The monument also stands as a commemoration of the peace between America, Canada and the United Kingdom since the War of 1812.
You could come to Local Color just to get a great view of the monument, but while you're here, stop in. You'll get to enjoy one of Put-in-Bay's quirkiest and most unique shops!
You might want to stay an extra day with all the Put-in-Bay attractions! There is plenty to do on the island for all ages so check out our lodging options at our Put-in-Bay resort, hotels, condo, and rentals. The sooner you book, the sooner you can get on a Put-in-Bay ferry!