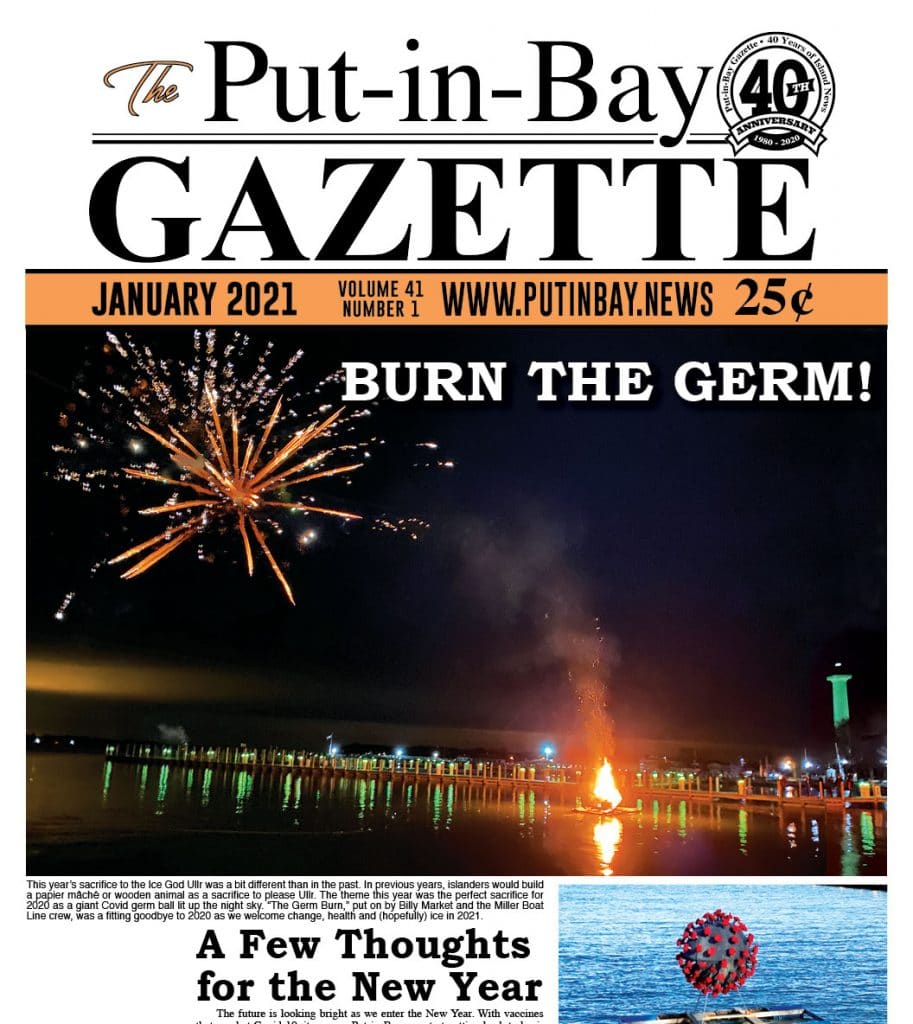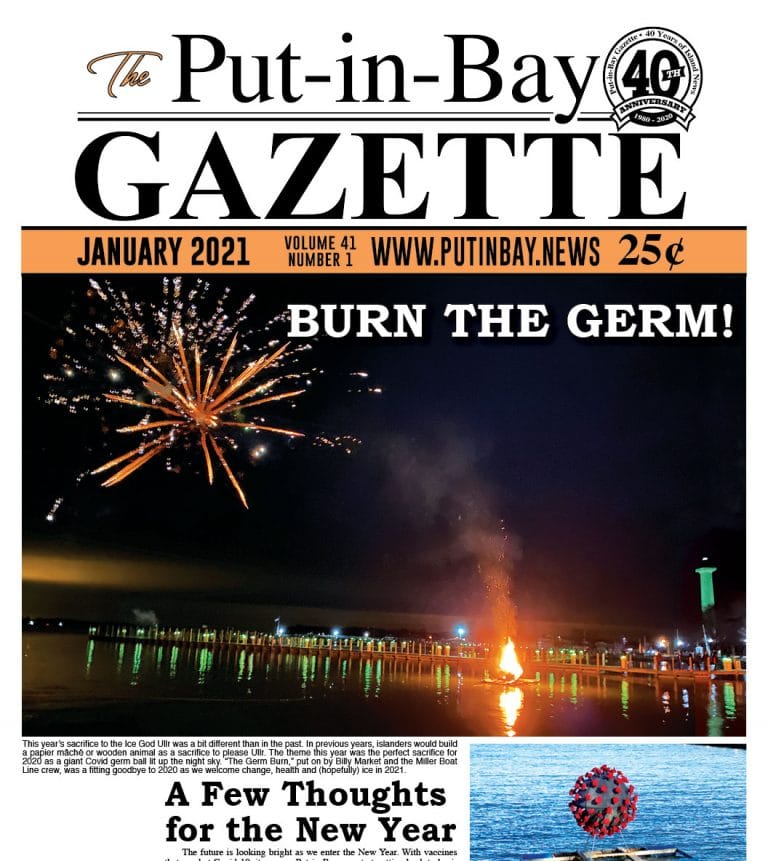 Covid Shots for Islanders
The first two islanders had their first Covid shots before the New Year. Both are healthcare workers, Patrick Rogers, head of the PIBEMS, and Jenni Stoiber, a doctor who commutes to the mainland to treat patients at the Ohio Veterans Home in Sandusky.
Everyone wants to know when more people will begin to get their shots, but according to the latest information we have, no one is quite sure what that timeline will be.
Rogers says both he and PIBVFD Chief Greg Dobos were asked for the names on their rosters. These people all fall into the first responder category and it makes sense for them to be getting vaccinated as soon as possible. Dobos, however, told the Gazette that due to the size of his department and the number of calls, Put-in-Bay was on the bottom of the totem pole when it comes to getting shots for his volunteers. Dobos was not optimistic about health services coming to the island to give vaccinations due to the logistics and the difficulties of keeping the vaccine frozen and then thawed before they go bad.
We also talked to Chris Joyce from the Senior Center to find out if there were any plans for the Ottawa County Health Dept. coming to the island and giving Covid shots like they did in the fall for flu shots for island seniors. The first vaccine had just been approved and she reported that there were no plans at that time.
Peter Huston has been meeting with County officials via Zoom and the topic of coming to the island and vaccinating island seniors has been discussed, but nothing definite has been decided. Having the island's senior citizens fly off the island for shots is really impractical, so the Health Dept. coming to the island and giving shots at the Senior Center really makes sense. Peter was optimistic this will happen; the only question is if and when.
Just before the end of year, this message came from Jeremy Bingham , the director of the Ottawa County Health Department:
"At this time we are still vaccinating Tier 1A which will take at least another couple of weeks yet minimum. We can't move to 1B until the state says so. We have already been in communication with EMS and have a plan to vaccinate all first responders including police and fire. We will also be vaccinating all school employees at that time. This is 2-3 weeks out and depending on vaccine allocation. We have a long way to go before we can do the public, but we will do the best we can. We have over 44,000 people to vaccinate. We will continue to communicate this information once it becomes available."
No one seems to know any details yet about how younger island residents will fare when it comes to getting the vaccine, but hopefully vaccines will be had by all by the time the 2021 tourist season begins.
In the meantime, islanders wait for officials and medical personnel to make definite decisions about the availability and timetable for them to get their vaccinations.
Thank Yous…
On behalf of Empty Bowls by the Lake and the many families whose lives are touched by Second Harvest Food Bank and local food pantries, I wish to thank you for your support and the generous donations to our online auction. Even amidst a pandemic, you found a way to reach out and help others. We raised $5600 for organizations that feed those who are food insecure. Thank you so very much for your part in this effort. I wish you a merry Christmas and a happy and healthy New Year! -Laura Kirchner
The Put-in-Bay Township Park District wishes to thank Richard Gump of Gump Construction, Kenneth Fox, Eric Nowak, Nick Fresch, and his crew for their donation of time and materials this fall. The group strengthened sign posts at Scheeff East Point Preserve, installed a bench at the Massie Cliffside Preserve, and put in signs, benches, and fencing at the Cooper's Woods Preserve – all in a time when we needed it done quickly for the public dedication of Cooper's Woods. The Lake Erie Islands Conservancy and Put-in-Bay Township Park District are extremely grateful to the continuing support from these generous individuals.
A big thank you goes out to the Put-in-Bay Recreation Committee for the wonderful holiday lights in DeRivera Park. Michelle O'Donnell and her decoration committee expanded the display with new lights and decorations.
The previous piece is published in this month's Put-in-Bay Gazette. The Gazette has been producing incredible independent Put-in-Bay island news for over 40 years. If you have any interest at all in what is happening on South Bass Island, we urge you strongly to subscribe to the Put-in-Bay Gazette. One-year online subscriptions are only $15, and print subscriptions are available as well. To subscribe please click here.
This piece of Put-in-Bay journalism has been provided to putinbayonline.com courtesy of the Put-in-Bay Gazette, Put-in-Bay's only local newspaper. Visit their website putinbay.news for more information and to subscribe!