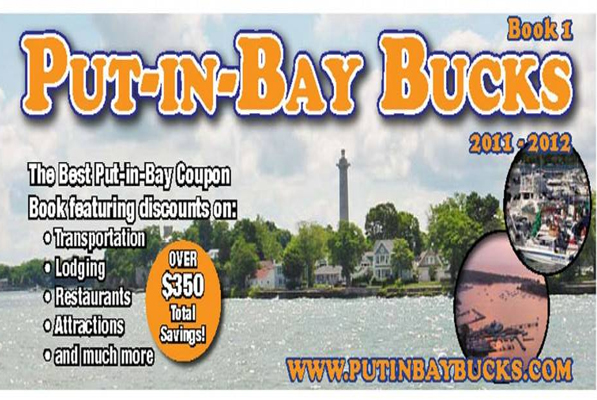 Bay Bucks Coupons are the premier saving option for a trip to Put-in-Bay.  Inside the booklet, there are many island discounts.  The total value is hundreds of dollars.  Participating businesses represent both Put-in-Bay and Middle Bass Island.  There are over 60 businesses participating in the booklet.  So, there is a considerable amount of savings.  Savings for such great attractions as Put-in-Bay Para Sail or Kayak the Bay.
Bay Bucks = Real Savings
A day trip to Put-in-Bay involves a few steps.  First, drive to one of the ferry terminal.  The Miller Ferry offers passenger and vehicle service from Catawba Island.  The Jet Express offers passenger service from Port Clinton.  Then, set sail for South Bass Island.  Once on the island, there is a host of shops, restaurants and attractions.  The Bay Bucks Coupons will help in all of these aspects.  There are discounts for some of Put-in-Bay's best stores and the most fun things to do.  So, a trip to the island is not complete without Bay Bucks.  Grab yours today and realize the benefits.
Additionally, there are discounts for lodging on the island in the Bay Bucks Coupon book.  Staying over on Put-in-Bay is the preferred way to experience it all.  Waking up on the island will put everything in perspective.  There truly is an aura about Put in bay.  A feeling of happiness and joy seems to permeate the ground.  Therefore, don't hesitate to plan a trip to the island.  Whether a day trip or an overnight stay, it will be a trip that won't be forgotten.  Put-in-Bay truly is a very remarkable place. One worth including on a bucket list.
Lastly, proper planning will ensure a trip to Put-in-Bay is a resounding success.  Incorporating the benefits of Bay Bucks will be a great way to get the most for the money.  See you at the bay… Put-in-Bay Ohio!