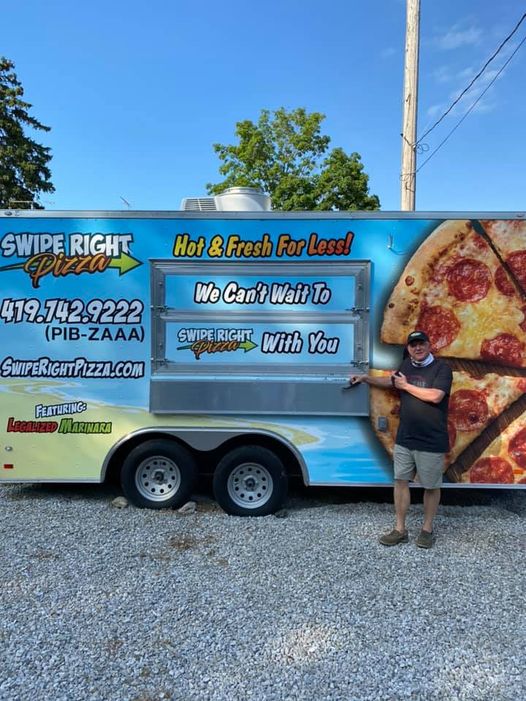 The Newest Pizza Joint on the Island! – 419-742-9222
Swipe Right Pizza's goal is to provide our guests pizza that's hot & fresh for less on Put-in-Bay, Ohio! Our specialty is late night pizza when it tastes the best!
Located right next to Joe's Bar (1400 Catawba Ave, Put-In-Bay, OH 4345), Swipe Right Pizza is a great last minute stop on your way back to the Island Club or State Park.

Made with the freshest ingredients, this Pizza is so good you can even lick the box! (not recommended, please do not attempt at home, stunt lickers used for the scene)
All of our Swipe Right Pizzas feature legalized marinara sauce! You won't find this anywhere else on the island. Once you taste it, you'll be hooked!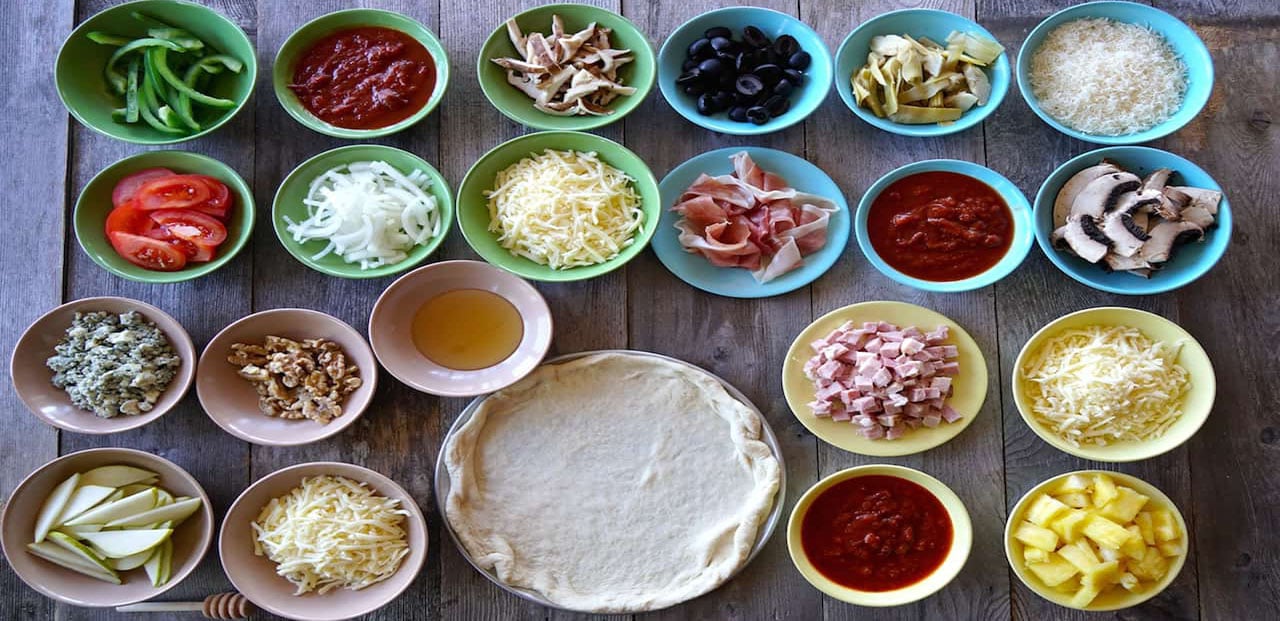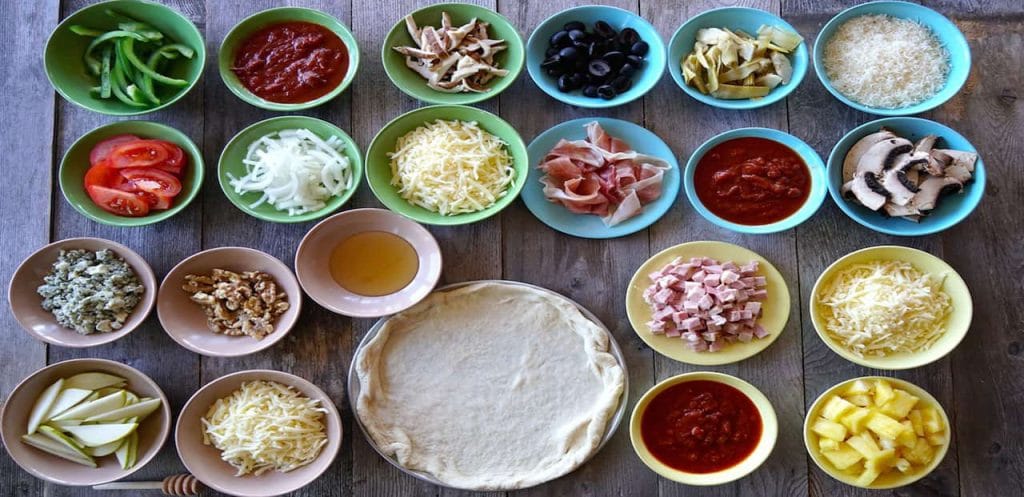 Our menu is fun and full of surprises, featuring signature pizzas such as the "Lorena Bobbitt" featuring mushrooms, onions and banana pepper. The Lorena Bobbitt pizza is meatless, of course.
Those with boring taste buds can try "The Karen" at Swipe Right Pizza. The Karen comes with plain cheese and free phone access to the manager for any complaints. Contact The Manager by email if you wish or call 419-742-WAAA (9222).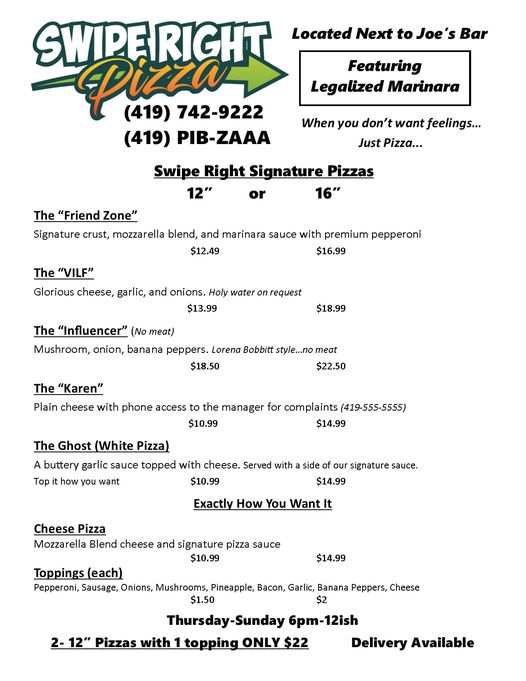 A Short and Sweet History of Pizza
Pizza can be defined as flat bread baked from leavened dough, embellished with toppings that can include, but are not limited to, cheese and a tomato-based sauce. If we accept that definition, it may be hard to discover when pizza was first consumed.
In 2200 BC, we know that Egyptian flat bread was sometimes topped with a spread called "dukka." Evidence of flat bread in Italy from 2000 BC suggests that proto-pizza may not have been confined to Egypt, even 4000 years ago. From 930-730 BC, the Persians, Etruscans and Greeks started making something we can identify more clearly as pizza. However, there is much we do not yet know.
In 12,000 BC, Egyptians ground wild grass seeds into flour, but to make what food products? The flour could have made flat bread, some perhaps topped with toppings. The first pizza could predate recorded history. It could have been as essential a part of early human civilization as leather and the flint knife.
Both a Meal and a Plate
Virgil's Aeneid (19 BC) describes a meal where both the plate and what was on it were eaten, in other words, pizza was and is a meal on an edible plate. Flat bread preserved under Vesuvius's volcanic ash in 79 AD was divided into eight equal segments like pizza of today. Pizza's functional value was and is its convenience, palatability and nutritional value, but for how many millennia and in which countries? An aerated crust was probably softer and easier to eat than other foods, allowing teeth and their owners to last longer, perhaps enabling human survival as did protective clothing and the spear.
The history of pizza has been somewhat easier to track during the past two millennia. What has evidently remained constant throughout untold millennia is the appeal of pizza, its utility, ability to satiate and versatility. In the twenty-first century, it has been enjoyed aboard the International Space Station. It may have first been consumed in the Fertile Crescent at the dawn of civilization. No matter how you slice it (pun intended), you will enjoy every last bite of your Swipe Right Pizza!