Description
Frosty Bar on Put-in-Bay is an island staple.  For over 60 years, visitors have flocked for piping hot pizza and icy cold beer.  Moreover, the beer stays cold as they are served in an icy cold mug.  Additionally, Big Man's Burrito Stand is at the rear of the property.  Here, the dining options include Mexican fare.  Frosty Bar has something for everyone.
The location is ideal.  In the heart of downtown Put-in-Bay on Delaware Avenue is where one can find Frosty's. The picturesque DeRivera Park is located across the street.  Additionally, the Jet Express ferry terminal is just a short stroll away.  From this location, guests can access the majority of Put-in-Bay Attractions.  Get a ride here with the very best Put-In-Bay Taxi and grab a Frosty Mug!
Frosty Bar Menu Options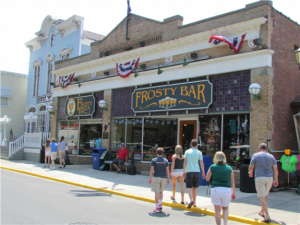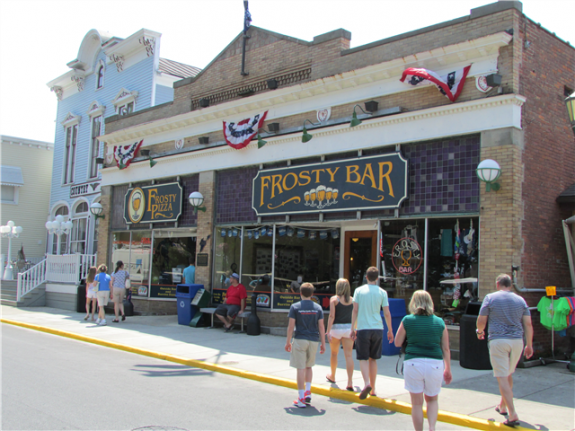 The menu is full of savory options.  First, to start the day off right, a hearty breakfast is offered.  Eggs cooked to order, breakfast sandwiches, pancakes and more highlight the menu.  Also, there is a daily breakfast special. Examples include Corned Beef Hash, Philly Cheese Steak Benedict and Billy's Banana Pancakes.
The delectable options continue on for lunch and dinner.  Most notably, the pizza at Frosty's is legendary.  Cheese and toppings are piled high on their thick crust.  Also, there is a variety of specialty sandwiches.  Options include the Italian Sub, Gyro and Buffalo Ranch Chicken.
For great savings, be sure to check out the Family Meal.  For one low price, guests recieve a large pizza, family salad, bread sticks and four sodas.  Dine inside the bar area, outside at Frosty's backyard or take out and enjoy in the park.  Regardless, diners are sure to leave full and satisfied.
Lastly, be sure to check out the entertainment.  On weekends, a local DJ spins tunes into the wee hours of the night.  Dance to your hearts content under the stars or inside this classic Put-in-Bay eatery.  So, come hungry, leave happy and entertained!
Testimonials
Christine K: "Such a historic building with a beautiful bar area and creative, seasonal mixed drinks available. I had the tasty Dog Pound Punch, with a part of the proceeds going to the Humane Society. Good beers on tap and breakfast options, too!"
Josh S: "If you're not into the night life, this is still a great place to go to for breakfast. I think it's the best breakfast in town. there is a server there named Derek. If you need info on anything going on in Put In Bay, just ask him. He has been here for a long time and he will take the time to share his knowledge with you."
Mackenzie D: "Best bar & restaurant on the island, hands down!! Perfect for all 3 meals, Breakfast- amazing service & blueberry pancakes! Lunch- enjoy a walking taco out on the back patio, while watching a live band. Dinner – get that pepperoni pizza, and enjoy a cold one while watching a live band or sports game inside!!"
Karrie P: "We ate breakfast on a Sunday. We were seated quickly and our waitress was great. Our food was done fast and everything was good. Bought a couple shirts and the man selling them was helpful about showing us the shirts and helping to find a size. Always a good spot to stop."
Tereasa W: "Love it! Been going there all my life! Pizza is the best, thin crust, tons of cheese and many toppings. Bar on one side, eating on the other! If you go to PIB you have to go to Frostys for breakfast and later for pizza!"