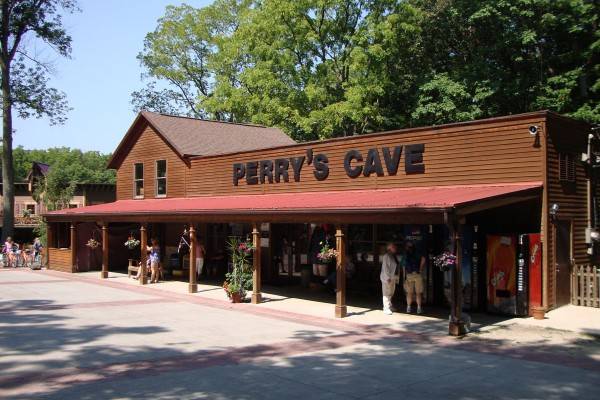 Perrys Cave is the centerpiece of a great Put-In-Bay Attraction.  Here, guests can take tours of the cave.  Also, visitors can learn about its formation, history and more.
Perrys Cave Location
The cave is located in the Perrys Cave and Family Fun Center.  This is located on Catawba Avenue, between Joe's Bar and The Goat Restaurant.  Additionally, Heineman Winery and Crystal Cave are across the street.  Furthermore, the fun center has a great amount of activities.  Here, the Butterfly House, War of 1812 Mini Golf and Gem Stone Mining are located.
About Perrys Cave
The cave lies about 52 feet below the surface of Put-In-Bay.  Discovery is accredited to Oliver Hazard Perry.  He is believed to have found it in 1813.  More importantly, he used water from the cave for his men.  Perry is responsible for defeating the British in the Battle of Lake Erie.  The cave is 165 feet wide by 208 feet long.  Furthermore, the heavily encrusted calcium carbonite has formed interesting formations.  These include stalagmites, stalactites and cave pearls on the walls.  Inside, the temperature remains at 50 degrees year round.  Also, the lake inside is notable.  It rises and falls with the levels of Lake Erie. So, some speculate that it may connect to the lake underground. read more